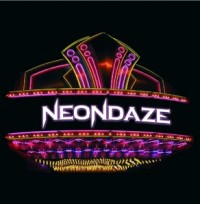 NEONDAZE 'NEONDAZE' (ARTIST SERVICE/MUSIC BUY MAIL)
Not to be confused with the band NEON DIVER, whom also come out of Sweden and delivered an awesome demo a few years ago. Also from Sweden is this NEONDAZE, whom are playing Melodic Hardrock dangerously close to WIG WAM, 80s BONFIRE and THE POODLES, with big DEF LEPPARDish harmonyvocals during the ready-to-sing-a-long choruses! The band is made up from ex-members of POLE POSITION, REPTILIAN and MISS BEHAVIOUR, whom all have released very good Melodic Hardrockalbums that have all been reviewed by us in the past. Now they came together and recorded an album as NEONDAZE, with as lead singer MARCUS LUNDGREN, whom was discovered by guitarist LARS BOQUIST after watching the Swedish National TV one night. Marcus took part in the TV-Show STAR SEARCH in Sweden performing an AC/DC song and although he did not win the contest, he was invited to join NEONDAZE and now their debut has been released on which he sings rather nicely. A strong Melodic Hardrockalbum is the result,with 12 tracks, of which the highlights are "Intoxicated" (DEF LEPPARD chorus), "Live 4 Tonight" (a very catchy tune, radio-hit-ready!), "Dreamscape" (huge chorus!) and "Stop crying" (80s WHITE LION). Without a doubt a highly recommended album to MHR fans and especially fans of THE POODLES, WIG WAM and BONFIRE will be eaten this huge sounding album alive! Check out the band at: www.neondaze.net and www.myspace.com/neondaze
(Points: 8.5 out of 10)
TRAGEDIAN 'DREAMSCAPE' (ARTIST SERVICE/MUSIC BUY MAIL)
TRAGEDIAN is a band from Hamburg, Germany playing typical Euro Power Metal on their first CD 'Dreamscape', which features guest appearances by (ex-) members of GRAVE DIGGER, REBELLION, RED CIRCUIT, RHAPSODY OF FIRE and J.R. BLACKMORE GROUP. The band's CD sadly does not really sound as good as these bands and actually will go down in music history as a very standard Melodic Power Metal record. Think 90s EDGUY, HELLOWEEN, SONATA ARCTICA, STRATOVARIUS, but then a few levels lower… not bad at all, but a bit too standard… Probably only interesting for die-hard fans. Check them out at: www.tragedian.com
(Points: 7.7 out of 10)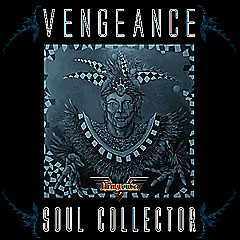 VENGEANCE 'SOUL COLLECTOR' (METAL HEAVEN/ROUGH TRADE)
Legendary Dutch Hardrockband VENGEANCE returns with their 2nd 'comeback' album after the much praised previous 'return' CD 'Back in the ring' from 2006. 'Soul collector' is the name of the record and boy does this sound huge and pure Hardrock the way it should sound, of which even AC/DC could be jealous of I think. VENGEANCE is making here another pure VENGEANCE record, with uptempo and midtempo pure Hardrock pieces and of course the wonderful melodic rockballads "What the hell" and "Lean on me". Maybe nothing new is brought here, but it is nevertheless a real true traditional Hardrockalbum that sits nicely between EDGUY, AC/DC, KROKUS and Y&T, with superb guitarwork of son and father Somers. Must-have of course for the VENGEANCE fans!
(Points: 8.3 out of 10)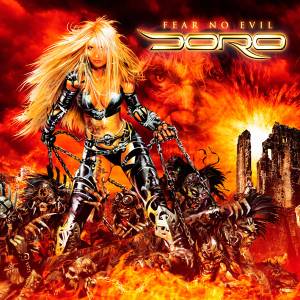 DORO 'FEAR NO EVIL' (AFM RECORDS)
DORO celebrates her 25th year anniversary in 2008 and her new CD 'Fear no evil' will be released in 2009. The album continues the style of her previous records, which is the Melodic Heavy Rock style she has become known ever since starting a solo career. The new album contains 13 new songs, with some of them about her anniversary ("Night Of The Warlock", "Celebrate" and "25 Years". Besides the typical DORO ballad here and there ("Herzblut"), the CD is filled with like said before typical DORO Heavy Rock/Metal. Nothing new and also nothing really sensational can be heard here, some songs even might be seen as very standard, but for a DORO fan it still is a nice album to have in the collection, although one is always hoping for a WARLOCKish album, as back then she was at her best, doing the almost Speed Metal kinda thing some 25 years ago when she started in the music business. Anyway, with melodic heavy rocksongs like "It kills me", "On the run", "I lay my head" and "Long lost for love" DORO shows she can still sing in her typical DORO way and rock pretty hard with good strong melodies, while being backed up by some top musicians! To be released in late January 2009.
(Points: 8.2 out of 10)
MORNING 'MOMENTS OF TRUTH' (SNAKEBITE RECORDS)
'Moments of truth' is the 2nd CD of the Dutch female fronted Gothic Metalband MORNING. They were formed in 2000 and released their debut 'Hour of joy' in 2005. Now they are making their comeback with a very impressive new album that contains big sounding typical female fronted Melodic Gothic Metal, really in a pure Dutch tradition of bands like EPICA, AFTER FOREVER, SENGIR, NEMESEA, DELAIN… 'Moments of truth' sounds quite edgy sometimes, but every song is featuring a superstrong melody. The CD was produced by GAIL LIEBLING, who worked with SYMPHONY X in the past, and you can clearly hear the band's new material sounds heavier and contains many Progressive Metal influences (not only thanks to the production, but also the superb musicianship of the band). 13 songs are included, of which the highlights are "Killing truth" (excellent tempo changes), "Let's escape" (AFTER FOREVER meets DELAIN), "Disorder" and "My gift in deep red". If you're a fan of the female fronted Metalsound of the present day (with a slight Progmetal touch), well then you MUST check out the new MORNING CD. It is at times as good as EPICA, AFTER FOREVER and DELAIN, so don't let this one pass you by! More info at: www.morning.nl
(Points: 8.8 out of 10)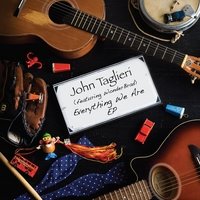 JOHN TAGLIERI 'EVERYTHING WE ARE EP' (INDEPENDENT)
It's been a while since we reviewed JOHN TAGLIERI's CD 'Leap of faith' record and that is a shame, because this was a really great AOR record that got a very good review from us and with some ups and downs the following years, John now finally gets back to the style of that classic record, because his new EP 'Everything we are' is pure classic 80s AOR, uptempo and super melodic, with catchy hooks and memorable choruses all over the place, such as in the songs "Open up to me", "Lonely together" (awesome tune) and "Living without you". It also sounds to my ears like a cross between NELSON circa 'Life', early 80s RICK SPRINGFIELD and late 80s BON JOVI, with a modern touch in a song like "Booty call". Definitely go check it out if you like catchy 80s AOR, more at: www.johntaglieri.com
(Points: 8.4 out of 10)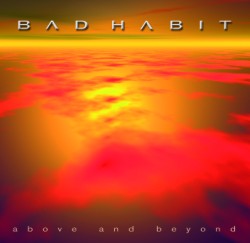 BAD HABIT 'ABOVE AND BEYOND' (AOR HEAVEN/ROUGH TRADE)
The Swedish band BAD HABIT has had a long history behind them, which started in the mid 1980s when releasing their classic mini-debut LP 'Young and innocent'. What followed were 7 more releases, although the band quit a few times in between. However, they are once again back with a new CD titled 'Above and beyond', this time signed to AOR HEAVEN. Musically they continue their AOR style as on all their previous albums and it does sound pretty good actually, although nothing new is brought here. Nevertheless songs like "A lot to learn", "My confession", "Let me tell you", "Just a heartbreat away", "Let me be the one" and "Don't want to say goodbye" are catchy AOR tunes in the classic 80s Scandi/BAD HABIT style, although for some of us maybe a bit too polished and crystal clear as these songs could easily be entries for the Eurovision Song Contest as well (ABBA choruses), but with LORDI and WIG WAM also participating in that contest in recent years it is nothing to be ashamed of anymore! Anyway, still a pretty catchy album, with also some bluesier tunes here and there, all in all, a nice comeback of this legendary Swedish AOR band. More info at: www.badhabitvip.com
(Points: 8.4 out of 10)
SOMETHING SALLY 'FAMILIAR STRANGERS' (DAWORKS RECORDS)
SOMETHING SALLY is a Norwegian 3-piece band with a female singer (Ane Hagness Kiran aka SALLY) and a radio-ready impressive Melodic Poprocksound a la THE CORRS. This is music that is perfect for the long Summerdays and very suitable for radio-airplay. Without a doubt, songs like the uptempo Poprockers "Garden of Eden" and "Visualize" and the semi-midtempo ballads "The taste", "Not a stranger" and "Circles" (AORish) are very impressive tunes. Well-known singer JOSS STONE makes a guest appearance on the song "Tip of my tongue", which is the only somewhat more Soul/Jazz/Blues kinda tune, as the rest of the CD is like said before catchy Melodic Poprock. More info at: www.daworks.com and www.somethingsally.com and www.myspace.com/somethingsally
(Points: 8.3 out of 10)
ELA 'PASSION' (NO CUT RECORDS/TWILIGHT/SOULFOOD) ELA FEAT. J.R. BLACKMORE 'OUT OF TIME MINI-CD' (NO CUT RECORDS/TWILIGHT/SOULFOOD)
ELA is a female singer, who on her Mini-CD 'Out of time' got a little help from none-other than J.R. BLACKMORE, who of course is the son of legendary guitarist RITCHIE BLACKMORE (DEEP PURPLE, RAINBOW, BLACKMORE'S NIGHT). Where his father has actually quit making Rockmusic for the past 15 years, his son is a guitarist who has done some projects here and there, including one with ex-JADED HEART singer MICHAEL BORMANN during the mid 1990s. Anyway, here he is playing on the mini-CD 'Out of time' of ELA and also wrote a song ("Tears of the dragon"). This mini-CD contains 6 tracks in total, of which only the titletrack "Out of time" can also be found on her official first full-length CD 'Passion'. This song is a great catchy midtempo melodic rocker a la ERIKA. The other songs on the mini-CD are 3 originals (mostly written by MARTIN ENGLER), an instrumental version of "Out of time" and the UFO cover "Queen of the deep" as well as a couple of videos, so for a mini-CD alone quite interesting, as only 1 song can be found on the full-length CD 'Passion'. The album 'Passion' is a good slightly modern and updated sounding Melodic Rockalbum that sounds like a cross between ERIKA and KELLY CLARCKSON, with some Finnish production style influences here and there. Highlights are the midtempo "Out of time", the ballad "After the rain" and the uptempo pure ERIKA Melodic Poprockers "The sun will shine again", "Make my day" (early PAT BENATAR meets KELLY CLARCKSON/THE VERONICAS) and "Why can't I". Maybe a little too polished here, but fans of catchy female fronted melodic rock will love this. The mini-CD is heavier and punchier, with ELA singing in a sorta LITA FORD vocal range, which makes this a more Melodic Hardrock orientated album (examples are "Mad about your love", "Dynamite" and the UFO cover "Queen of the deep". Go check ELA at: www.ela4you.de and www.myspace.com/ela4u
(Points: 8.3 out of 10)
ALL MUSIC GUIDE TO ROCK –THE DEFINITIVE GUIDE TO ROCK, POP AND SOUL 3RD EDITION BOOK' (BACKBEAT BOOKS/DE HASKE PUBLICATIONS)
I am a maneater when it comes down to Music Encyclopedia and I have seen quite a lot Encyclopedia in my life, but the ALL MUSIC GUIDE TO ROCK is definitely the biggest and heaviest that ever existed. A stunning 1,400 pages are filled here with reviews and ratings of over 14,000 albums from 2,200 artists in over 400 styles. So this is not just an encyclopedia specified on 1 genre, because lots of genres are presented, taking some of a genre's most influential acts instead of spreaking them all out in 1 book. Therefore bands are missing, a lot unfortunately, but on the other hand it gives you a complete overview of the Pop and Rock genres from scratch (the early 1900s) until the present day. Happily, for once an encyclopedia is kind to the AOR/Melodic Rock genre and gives albums of JOURNEY the good ratings and reviews they deserve. So that makes this a rather interesting read, although of course this is more an encyclopedia to have in your collection, so you can use it frequently to look something up when one requires further reading on a specific act. Like said before not every band is included, as for instance very important bands like MANOWAR, DREAM THEATER, SURVIVOR and thousands more are not included, but like the title predicts it is more a guide to Rock, Pop and Soul, so also a lot of Pop, Soul and even R&B acts are included, making this a very diverse encyclopedia. It's the 3rd edition and probably the largest book ever published. The lettertype is very small, so nearing approx. 5,000 words on 1 page, which makes it in total a swapping 7 million words in 1 book! Anyway, each included act is featured with a short biography on their career, after which the full or part of their discography is rated, with their most important albums also reviewed. The reviews have been done by hundreds of contributors from all over the world and this book is of course just a 'part' of a much bigger database, so it is not complete, however that is never possible with encyclopedia on music. On the other hand, this is one of the best guides to Rock and Pop available at the moment.
All the way towards the end of the book, literally on the final pages of the book we are surprised by a very nice overview of all genres, so-called essays, in which we can find all information on where a subgenre originated from, complete with some nice graphs and with a sort of family tree. All together an amazing book that will never leave you bored for the rest of your life! It is also gives me personally the motivation to carry on with my own Encyclopedia, entirely based on AOR and Melodic Rock, hopefully filling it up with every act ever recorded a song that can be described as AOR or Melodic Rock, believe me this will be an even bigger book than this ALL MUSIC GUIDE, but will not be finished before 2015-2020 I am afraid. Anyway, this ALL MUSIC GUIDE TO ROCK is available through: www.dehaske.com and www.backbeatbooks.com and www.musicplayer.com
(Points: 8.6 out of 10)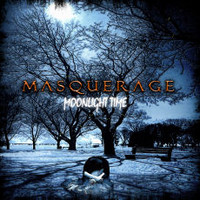 MASQUERAGE 'MOONLIGHT TIME' (INDEPENDENT)
MASQUERAGE is a Finnish band, which features former CELESTY singer KIMMO PERAMAKI. They already released a CD in the past, making this new CD 'Moonlight time' their 2nd album so far. Musically they are playing pure European Melodic Metal that should be put somewhere between EDGUY, AXXIS and MAIDEN. Lost of uptempo tunes with catchy choruses and high pitched vocals, that is the name of the game here and have to admit that it does sound pretty impressive for an independent record. Higlights between the 9 included tracks are "I don't believe in you" and "Everlasting good luck" (very strong uptempo melodic heavy rockers, also a bit like PINK CREAM 69), the EDGUYish "Silver wings" and the midtempo "Doctors order". This band is a must-have for fans of Melodic Heavy Rock/Metal in the EDGUY style, that's one certain thing after listening to the new album of MASQUERAGE, which is definitely a high quality album! More info on MASQUERAGE at: www.masquerage.net and e-mail at: masquerage@masquerage.net
(Points: 8.3 out of 10)
OCTANE GYPSY 'TOUGH LUCK MILE' (INDEPENDENT)
OCTANE GYPSY is a Hollywood based female fronted band with a sorta 80s CINDERELLA/KIX kinda raw Sleazy Hardrock'n'Roll sound on their new mini-CD 'Tough luck mile'. 4 songs are included, mostly uptempo rockers sounding like they used to sound (although currently the AC/DC, ROLLING STONES kinda riffs are very popular again!), with a ballad such as "Double shift" slowing things down. The female singer has a raw voice perfectly suitable for this type of Rock and Roll the AC/DC way and that combined with some very strong guitarwork it is a good one to look out for. It also reminds me a lot of CHEETAH, but not sure if anyone remembers that band! Check it out for yourself at: www.octanegypsyband.com and e-mail at: swede@octanegypsyband.com
(Points: 8.3 out of 10)
DYONISIS 'DYONISIS' (INDEPENDENT)
Here we have a UK based band playing calmer Gothic Rock/Metal with a sort of epic/ambient touch, reminding a bit of IONA and a lot of the Dutch band REINCARNATUS. A song like the Acapella "Pretty at a distance" is perfectly suitable in the December month I am reviewing this disc, a sorta Christmas kinda tune, but also pure Medieaval sorta feeling you get when hearing this song. The rest of the material rocks more, but in a laid-back kinda direction, a la IONA as said before. 9 songs are included and DYONISIS consists of 2 female vocalists and 2 male musicians and the music sounds very relaxing (just listen to the beautiful "Step away", a must-have for fans of IONA, REINCARNATUS and also MOSTLY AUTUMN. Make sure to check out this band at: www.myspace.com/dyonisis and e-mail them at: band@dyonisis.info
(Points: 8.1 out of 10)
EXILIA 'MY OWN ARMY' (AFM RECORDS)
Unfortunately not much info on this band, but EXILIA is a female fronted band and their heavy modern guitar riff based Melodic groovy Metal is only a cry away from a band like BENEDICTUM, SINERGY and DORO. The female singer has a very raw voice that can easily be heard through the heavy guitar riffs, but still she is able to provide some very strong melodic choruses, such as in the lovely semi melodic heavy rocker "Far from the dark". Most of the songs are midtempo and groovy, very very heavy and modern, but happily always melodic and memorable. All together a nice album that will probably do well with the Metalfans who like it when female singers sing as raw as the male singer (!). Most surprising song is the PHIL COLLINS cover "In the air tonight", which now finally sounds cool, as if DORO has covered it! Check out their site at: www.exilia.com
(Points: 8.2 out of 10)
RICK SPRINGFIELD 'TAO' (ROCK CANDY RECORDS)
ROCK CANDY RECORDS is by far the best re-issue label in the music scene, because their re-issues are truly superb, with extensive liner notes, interviews, essays and lots of pictures of the re-issued act, besides of course trying to come up with the best possible remastered sound of the new re-issue. All their releases have a remarkably huge sound as if the original albums have been re-recorded recently, but every re-issue really gets the full treatment, so coming close to remastering perfection. Besides the 'Living in Oz' re-issue, also the 'Tao' album of RICK SPRINGFIELD has been re-issued. This album was originally released in 1985 and now 24 years later re-issued, sounding very impressive and more mature than the Poprock albums Rick had released prior to 'Tao', although one needs to understand that this was not Rick's finest effort. Nevertheless, it was a real modern sounding album back in the mid 1980s, sorta MR. MISTER style Hi-Tech AOR/Poprock with some very strong lyrics. Songs like the uptempo rockers "Written in Rock", "Celebrate youth", "Dance the world away", the ballad "The poiwer of love" and the midtempo "State of the heart" still sound very fresh today the day, although like mentioned before it is a definite mid 1980s Hi-Tech record. The liner notes and pics in the CD booklet are very 'eye-catching' and fun to read. By the time of this release, Rick wanted to be a serious musician and not just another teenidol. Actually ever since 'Tao' Rick never looked back much again and has always tried experimenting with his Melodic Poprocksound, which can also be heard on his latest effort 'Victoria's secret'. If only the people who know "Jessie's girl" would also knew about Rick's all other releases, then they would probably want to buy these awesome re-issues on ROCK CANDY RECORDS that all capture Rick's more mature and memorable material that also showed Rick's songwriting talents… More at: www.rickspringfield.com and www.rockcandyrecords.com
(Points: 8.6 out of 10)
RICK SPRINGFIELD 'LIVING IN OZ' (ROCK CANDY RECORDS)
After 2 very successful albums ('Working class dog' and 'Success hasn't spoiled me yet') in the early 80s, both filled with some of the most catchy Melodic Poprock of all times, Aussie RICK SPRINGFIELD was a Rockstar in the USA back in 1983. He was already in his 30s and had already been a Soap Opera actor besides releasing quite a lot albums on his own and in bands before he had that big break with "Jessie's girl" in 1981, after which he became a teenage superstar. By the mid 1980s this was all over and Rick could fully concentrate on some more serious music. In between he released in 1983 the record 'Living in Oz', which was actually a pure AOR/Melodic Rockalbum with typical hooklines and choruses that revealed influences of SURVIVOR, STARSHIP and TOTO. Despite a few hi-tech Poptunes ("Human touch" and "Tiger by the tail"), most of the songs are pure AOR/Melodic Rock based, of which the highlights are the uptempo rockers "Alyson", "Affair of the heart", "Living in Oz", "Motel eyes", "Souls", "Me and Johnny" and "I can't stop hurting you", all filled with deadly catchy hooklines and memorable choruses. The full hi-tech synthesizer and keyboardwork that was not present on Rick's earlier albums gave it a very fresh sound and even now 25 years later it sounds fresh and very clear. This is also thanks to the incredible remastering job (done by GREG FULGINITI in Hollywood), because therefore now it sounds HUGE and simply blows up your speaker when playing it loud and clear! The only track not mentioned is closing track "Like father, like son", which is a very impressive song, a sort of ballad with only string attached, really beautiful! Together with a very extensive booklet that includes a full story/essay on Rick written by MALCOLM DOME, an interview with Rick and also loads of pictures of Rick and his singles, this is a HIGHLY RECOMMENDED CD, one of the better re-issues done this year! More at: www.rickspringfield.com and www.rockcandyrecords.com
(Points: 9.0 out of 10)
AUTOGRAPH 'SIGN IN PLEASE' (ROCK CANDY RECORDS)
When I first heard the album 'Sign in please' of the American Melodic Rockband AUTOGRAPH it was the summer of 1993. Yes, 9 years after it's release and in a time when this kind of music was absolutely forbidden. Somehow I started checking out all those great 80s releases I missed out during the original period of release, due to the fact I was just a kid when this album was first released in 1984. Anyway, back in 1993, which now is more than 15 years ago, I was stunned by the incredible energetic driven sound of it. This was first of all thanks to the superb drumsound this record captures, which was brought to the attention by drummer KENI RICHARDS and mainly the fantastic production of NEIL KERNON (who later produced classics with a big sound by MICHAEL BOLTON, SHY, AVIATOR and QUEENSRYCHE). Keni sadly died just very recently and so his legend now continues on with this tremendous re-issue of the very first AUTOGRAPH album 'Sign in please', their finest effort and probably one of the best Melodic Hardrockalbums of the earlier 1980s. Besides the huge drumsound, also the songs, the keyboards, the EDDIE VAN HALENish guitarwork, the catchy hooks, etc. it was all part of the AUTOGRAPH sound. The band had released their debut and showed an own face, the AUTOGRAPH sound! They scored a major US Hitsingle with "Turn up the radio", but in the end this was the least interesting on their debut album, because 'Sign in please' offered fantastic classic Melodic Rocksongs, such as "Send her to me", "Friday", "All I'm gonna take", "In the night" (a midtempo semi-ballad, one of the best of all times!!!) and "Thrill of love". Those 5 songs showed AUTOGRAPH at their very best and those 5 legendary Melodic Hardrock cuts (opening song and final 4 tracks) as well as the other 5 (+ a remixed version of "Turn up the radio") do now sound even bigger and better than ever, thanks to the remastering job of JON ASTLEY. It's AUTOGRAPH's 2nd re-issue on ROCK CANDY RECORDS, whom also re-issued the 3rd album 'Loud and clear' sometime ago and also here providing extensive liner notes and pics of AUTOGRAPH's very short fifteen minutes of fame in the USA during 1984. The AUTOGRAPH story actually ended a few years later, but lead singer/guitarist STEVE PLUNKETT has kept the flame burning through the years with more or less new AUTOGRAPH releases, but one can never forget that amazing debut, which now has had it's best CD release. More info at: www.rockcandyrecords.com
(Points: 9.3 out of 10)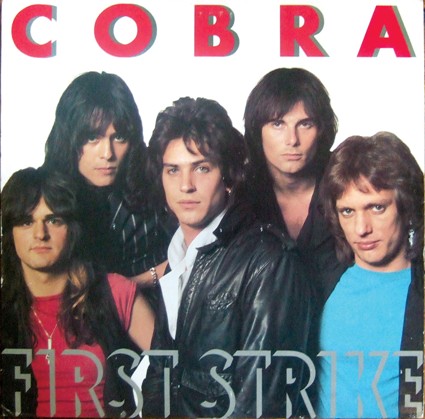 COBRA 'FIRST STRIKE' (ROCK CANDY RECORDS)
With 2 KROKUS members (MANDY MEYER and TOMMY KEISER) in the line-up of this Swiss band one would have expected a pure KROKUS album and 'First strike' was indeed a little KROKUSish Hardrock, but thanks to the lead vocalist it surely sounded different, because none-other than ex-SURVIVOR singer JIMI JAMISON fronted this short-lived band called COBRA. They released only 1 album in 1983, which now has been re-issued on ROCK CANDY RECORDS and … sounding better than ever! COBRA played typical pure 1980s tough Hardrock, yet with an American approach, so melodies pop in here and there, with Jimi's fantastic vocals as a true extra instrument. Only 1 year later he would go on sing on the Greatest AOR Record Of All Times (SURVIVOR's 'Vital signs'), but in 1983 he was in COBRA and sang also on a bunch of wonderful tunes, such as the MHR songs "Only you can rock me" (not the UFO song, but with a lovely hook) and "Travellin' man" as well as the AORish songs "I've been a fool before", "Looking at you" and "What love is". Somehow this record was destined to become obscure and so it really took 26 years before it would be available on CD. Thanks to ROCK CANDY RECORDS also this COBRA classic is now on CD. More info at: www.rockcandyrecords.com
(Points: 8.8 out of 10)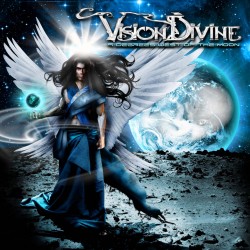 VISION DIVINE '9 DEGREES WEST OF THE MOON' (FRONTIERS RECORDS/ROUGH TRADE)
Back in 2004 the Italian band VISION DIVINE released one of the best Power Metal albums of all times, the 10+ points given 'concept album 'Stream of Consciousness'. It was the first album with new lead singer MICHELE LUPPI, who replaced FABIO LIONE (LABYRINTH, RHAPSODY). Michele is probably the best Italian singer of all times, incredibly talented and his love for AOR music also paved the way for Fabio to return to VISION DIVINE in 2008, because Michele wanted to concentrate on doing AOR projects in the future. Call it a pity or not, but the 2 albums Michele released with VISION DIVINE after 'Stream of consciousness' never reached that high level. Now with new blood or should we say old blood, VISION DIVINE returns with a new album titled '9 degrees west of the moon', produced by TIMO TOLKKI (STRATOVARIUS), it sounds like a cross between the early VISION DIVINE (with Fabio) and STRATOVARIUS. Higlights between the 11 included tracks are "Fly" (a great uptempo Melodic Metal tune), "Letter To My Child Never Born" (Melodic Power Metal), "Out in open space" (pure STRATOVARIUS uptempo Melodic Metal), "Violet loneliness" (HELLOWEEN/PINK CREAM 69 style chorus) and the wonderful "The Streets Of Laudomia". Maybe not original and not as good as that classic VISION DIVINE album 'Stream of consciousness', still a good album that will easily find it's way to the fans of Italo Melodic Power Metal!
(Points: 8.7 out of 10)
TALL STORIES 'SKYSCRAPER' (FRONTIERS RECORDS/ROUGH TRADE)
After the JOURNEY debacle in 2006, ex-vocalist STEVE AUGERI went through times, but made a comeback recently as singer with the (reunited) TALL STORIES during the FIREFEST festival in the UK. He was also in the middle of the recording process of a new TALL STORIES, which was his original band he quit in the early/mid 1990s, just before replacing STEVE PERRY in JOURNEY. Musically TALL STORIES, also on this new album, is more akin to LED ZEPPELINish Heavy Rock. It has nothing to do with AOR/Melodic Rock, but it is good to see Steve singing quite well again and releasing a good strong album with TALL STORIES again, titled 'Skyscraper'. It will not be album of the year, but it's still a quality album to check out if you're in the mood for some melodic heavy rock a la LED ZEPPELIN, KINGDOM COME, TESLA, LILLIAN AXE…
(Points: 8.2 out of 10)
EVER SINCE THE DAY 'STAY SILENT FOREVER' (INDEPENDENT)
2 tracks are on the CD-single debut of the Finnish band EVER SINCE THE DAY. They are playing catchy Melodic Poprock not too far away from SUNRISE AVENUE. Both "Stay silent" and "Forever" are quite catchy melodic uptempo Poprockers and are making you long for a full-lentgh CD. This CD-single already shows that EVER SINCE THE DAY has potential. More info at: www.eversincetheday.net and www.myspace.com/estd and e-mail at: band@eversincetheday.net
(Points: 8.2 out of 10)
ASSIGNMENT 'DISUNION DENIED' (GP PRODUCTION/TWO SIDE MOON PROMOTIONS)
ASSIGNMENT is a German band, of whom we reviewed their debut CD 'Progressive changes' a few years ago and now they have a new one out titled'Disunion denied'. Musically it is filled with pretty impressive Melodic Progressive Metal that sounds a little technical here and there, kinda like the PSYCHOTIC WALTZ and POVERTY'S NO CRIME kind, yet also with some IRON MAIDEN influences. 9 songs are included, most of them uptempo and filled with strong melodies and some crushing guitarwork. Recommended band, more info at: www.assignment-music.com and www.myspace.com/assignmentmusic.com
(Points: 8.1 out of 10)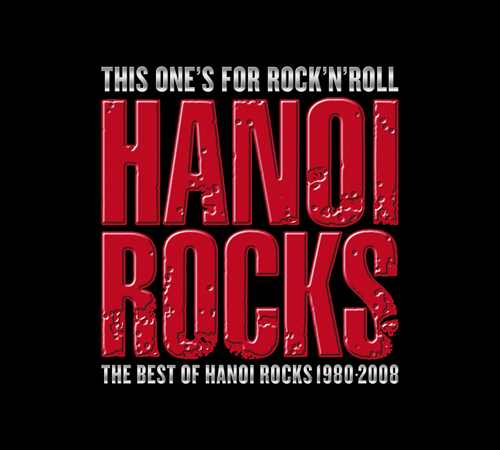 HANOI ROCKS 'THIS ONE'S FOR ROCK AND ROLL' (JOHANNA /BACKSTAGE ALLIANCE)
HANOI ROCKS was one of the very first Finnish Hardrockbands to break out of their homecountry. It was the time when there were almost zero bands in Finland and HANOI ROCKS was pretty much the only act. This in total contrast of today's incredible huge scene in Finland with hundreds of excellent melodic rock, metal and gothic acts. But in the early 1980s HANOI ROCKS were one of the only Finnish bands out there and they had their fifteen minutes of fame throughout the 1980s in other parts of the world as well. However, in Finland they are a cult act, still today being regarded as the ultimate Finnish Rockband, although nowadays of course there are many more bands coming out of Finland whom are also much more popular than HANOI ROCKS has ever been. Nervertheless, to get a good view of this band, this new compilation CD 'This one's for rock and roll' offers the best songs of HANOI ROCKS. 2 discs with 33 tracks in total, including legendary tracks, such as "Tragedy" (almost pure melodic rock), "11th street kids", "High school" (one of their best tunes, a real 80s Party Rock Classic), "Don't you ever leave me" (the ballad) and "Until I get you". Especially their early material was very strong, sounding like a mix between 80s Melodic Poprock, late 70s UK Punkrock, 70s Glamrock a la NEW YORK DOLLS and THE ROLLING STONES. Later albums saw them move more into a rougher Rock and Roll sound like LA GUNS, THE CULT, GNR, AEROSMITH…,, although here and there still quite some old style tracks appeared on their newer albums (such as "Obscured" and "You make the earth move") and actually after repeated listens the band did not change that much after all. The slight difference between the older and newer tracks is on the other hand not that strange if you consider the fact that the band broke up in 1985 and reformed 16 years later, but still all 33 songs clearly have one thing in common, because it is only rock and roll and we like it! This 2-CD sounds and looks very impressive, really giving a good detailed view of this legendary band of their early years (1981-1985) on CD 1 and 2nd revival on popular demand (2001-2009) on CD 2, which still continues this present day with new material. Check out their website at: www.hanoirocks.com
(Points: 8.1 out of 10)
SOLITAIRE 'PREDATRESS' (EKTRO RECORDS)
Here we have some True Teutonic Metal from the band SOLITAIRE. They are coming out of Finland and this is the first album of them I review since their 2002 album 'Rising to the challenge'. Musically nothing much changed and most of the time also this new SOLITAIRE CD (their 4th) is filled with faster pure 80s Underground style Teutonic Heavy Metal like many German bands created 20+ years ago. I must think about bands like VETO, GRAVESTONE and also a bit of the NWOBHM bands, such as TANK, ANGEL WITCH, RAVEN and together with some slight Thrash Metal Bay Area influences (or maybe better said: SPEED METAL a la IRON ANGEL/AGENT STEEL), the band sounds very 1980s and is playing a pure True Metal style, with some biting axe guitarwork and a mix of ACCEPT/UDO ish vocals with JUDAS PRIEST high pitched screams. I think the Metal fans will get the picture as this is Pure Metal with no compromise… More info at: www.solitairemetal.com and e-mail at: riku@solitairemetal.com
(Points: 8.1 out of 10)
ELDRITCH 'LIVE QUAKE' (LIMB MUSIC)
The Italian band ELDRITCH was formed way back in 1991 and have released 7 studio-albums so far. Their first 3 have been re-released recently and together with their last 3 studio-albums and this new live-CD, they are now probably the most productive band on the German label LIMB MUSIC. 'Live quake' is a big sounding 2-CD live set of the band that captures all of the band's classics. It is a nice summary of what this band has done the past 17 years and for the fans it is a nice package, as also a DVD is included with this live release. It all sounds pretty good and shows that this Italian band should be ranked right next to FATES WARNING, although they changed their sound a bit through the years, with some modern American Metal influences added to their sound. The 2nd Live CD is the band going the full Progmetal way, as this is mainly material from the first 3 albums of their mid 1990s. I remember reviewing those records when they were originally released almost 15 years ago, boy time travels fast… Anyway, ELDRITCH were meant to become the next big thing, but just like other progmetalbands such as THRESHOLD, PAGAN'S MIND, MIND'S EYE and VANDENPLAS, it is almost impossible to reach the popularity of a DREAM THEATER, so they were destined to become another small club performing act, but who knows with this live-CD they will win over some new Progmetalfans!
(Points: 8.3 out of 10)
HADES 'BOOTLEGGED IN BOSTON 1988 DVD' (CRUZ DEL SUR MUSIC/SONIC RENDEZVOUS)
HADES is one of those typical legendary US Metalbands. They played Speed Metal with some Thrash Metal influences and were active in the late 1980s, in a time when bands like TESTAMENT, EXODUS, METALLICA, ANTHRAX, DEATH ANGEL, DARK ANGEL, MEGADETH, SLAYER, etc also made a household name. Somehow HADES did not quite make it, stayed in the underground scene. Now with this new DVD release some of the band's past memories have been released. This DVD contains a very rare 1988 bootleg video performance in Boston. The sound and footage is very bootlegish, so handcamera only. However the 45 minutes feature is a very nice quality video made bio on the band, which tells the whole story from 1978 until 2008. HADES fans will of course love this… More at: www.cruzdelsurmusic.com
(Points: 8.0 out of 10)
BEYOND FALLEN 'MINDFIRE' (MELISSA RECORDS)
The new CD of the US band BEYOND FALLEN belongs to the first couple of releases on new Dutch Metal label MELISSA RECORDS. BEYOND FALLEN is playing pure raw US Pure Metal in the style of ICED EARTH, NEVERMORE… although quite close to True Metal sometimes as well. Faster than a bullet guitar axework, pure Metalish vocals and a mostly uptempo based sound is what makes this BEYOND FALLEN's 2nd full-length CD a must for any fan of 'real' Metal! The BEYOND FALLEN CD is somehow better than the SEVENTH CALLING, due to stronger vocalwork and some really impressive guitarwork as well as stronger tunes. I think even MANOWAR fans will like this release a lot! More info at: www.melissarecords.com
(Points: 8.2 out of 10)
CAROLINE BLUE 'NOT FOR THE INNOCENT' (WWJ PRODUCTIONS)
Out of New York comes CAROLINE BLUE, a band formed around vocalist/guitarist/bassist WAYNE W. JOHNSON. He is responsible for almost everything on the new CD of CAROLINE BLUE, a band we reviewed a few years ago (2005: 'Slave to the hourglass'). Musically it is filled with typical 80s Hardrock, not far away from a band like KEEL or HELIX. 12 songs are included and although the lyrics are very cliché tingled and the music is also not that original (also a bit 80s KISS), fans of this kind of Rock and Roll will certainly enjoy songs like "Love me or leave me", "Stay", "Out of my life", "I've seen the light tonight" and "Won't be home tonight" that all are pure 80s Hardrocksongs, more info at: http://carolineblue.com and e-mail at: carolineblue13@yahoo.com
(Points: 8.0 out of 10)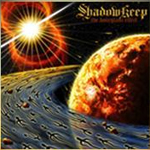 SHADOWKEEP 'THE HOURGLASS EFFECT' (MELISSA RECORDS)
Correct me if I'm wrong, but I believe the UK band SHADOW KEEP is known for bringing Melodic Progressive Metal, which they did that on 2 albums in the past. However, it has been very quiet around the band, but now finally a new CD of the band is released on the Dutch label MELISSA RECORDS. Guitarist KARL GROOM of THRESHOLD produced the CD and actually 'The hourglass effect' sounds completely different from the previous albums of SHADOWKEEP and also has nothing to do with THRESHOLD. This new SHADOWKEEP album is pure fast uptempo Melodic Power Metal in a classic US tradition, reminding of CRIMSON GLORY, CLOUDSCAPE, THE CLAYMORE, LETHAL, HELSTAR, ANVIL, etc. yet sounding a little bit more proggy here and there, but always pure Metal with high pitched vocals. 11 songs are included and with songtitles like "Ten shade of black", "Riot on earth", "Six billion points of light" and "How many times have we tried to save the world" one will understand that lyrically this band also has something to say. All together it sounds very decent, a pure US Melodic (Power) Metal orientated album, recommended to the fans of this genre as it is one of the better ones released in 2008! More info at: http://www.shadowkeepmetal.net/ and http://www.myspace.com/shadowkeepuk
(Points: 8.4 out of 10)
(All reviews by Gabor Kleinbloesem except where noted)