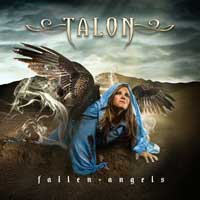 TALON 'FALLEN ANGELS' (KIVEL RECORDS)
TALON is a Californian Melodic Rockband, whom started way back in the early 1990s under the bandname VOXEN, under which they released a great album titled 'Sacrifice' in 1995. Several songs from that album even landed them into a major Hollywood movie 'Outbreak' with Dustin Hoffman, Rene Russo and several other major actors. This record was also reviewed by us more than 10 years ago. However, with the pure 80s Melodic Hardrocksound of VOXEN in a time when this kind of music was not the favor of the day at all, the band had a hard time getting some response. It became quiet until the band changed their name to TALON back in the early 2000s and released their first album in 2002 on FRONTIERS RECORDS. Another 6 years passed by and now TALON is back once again and happily they never changed their sound and so we have here another strong Melodic Hardrockalbum in the shape of 'Fallen Angels'. 12 tracks are included and one who is longing back to the late 80s/early 90s US Mainstream sound of bands like STRYPER, DOKKEN, WHITE LION, FIREHOUSE, DAMN YANKEES, RAIL, Q5, DANGER DANGER, KNOW ILLUSION, JET RED, MELIDIAN and classic 80s TNT, etc. etc. well then look no further... From start to finish this is a cracking Melodic Hardrockalbum loaded with catchy hooks, big harmonyvocals, melodic choruses, biting 80s macho-guitar riffs and great typical American high pitched vocalwork of new singer Chandler Mogel (a la TONY HARNELL). Most of the songs are uptempo, with as highlights "Fallen angels", "Burn" (superb, incredible vocalwork, remember classic stuff of JOSHUA, RAIL, Q5, FIFTH ANGEL… well put this in between!), "Paradise" and "I won't" and also let's not forget to mention here the SUPERB SEMI-MELODIC ROCKBALLAD "Jane" that in another lifetime could have been a major hitsingle and reminds one of the classic days of HARDLINE, VELOCITY and FIREHOUSE. A very fine return of this wonderful band and it is even as good as the new EDEN'S CURSE album, so make sure to check out this album asap if you're a fan of 80s Melodic Hardrock the US way! A must-have! More info at: http://www.myspace.com/talonrocks1 and www.talonrocks.com
(Points: 9.0 out of 10)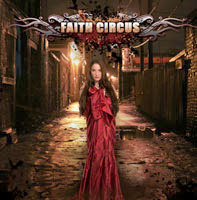 FAITH CIRCUS 'FAITH CIRCUS' (KIVEL RECORDS)
Wow, this came in as a real surprise, because Norwegian band FAITH CIRCUS is offering some fantastic 80s orientated AOR/Melodic Rock with some high class harmonyvocals. It reminds me a lot of DAKOTA, yet a little heavier and more Melodic Rock orientated, kinda like the 'The last standing man' classic album of DAKOTA. The band's line-up consists of Marc Farrano/vocals, Marius Mørch/guitars, Lasse Koester/bass and Baard Nordvik/drums. Guest musicians include Drummer Steinar Krokstad (STAGE DOLLS), Morty Black/bass (ex-TNT), Tore Moren/guitar (JORN), Steinar Hagen/acoustic guitar (RETURN) and Tony Harnell/background vocals (ex-TNT). The band recorded on their same titled debut CD a cover of the Eric Carr/Bruce Kulick/Adam Mitchell penned "Can you feel it", which up until now, only released in demo form on the late ERIC CARR's 'Rockology' album. However the real highlights are such AOR rockers like "Hold On", "Back On Love" (very catchy chorus driven melodic rocker), "Alive N Kicken" (hello DAKOTA Westcoast-AOR!) and "Tried And True" (superb high class AOR, pure DAKOTA!!!). Although it is said to be a BON JOVI meets DEF LEPPARD affair, I do think FAITH CIRCUS is more akin to AOR/Melodic Rock reminding me of AIRKRAFT, DAKOTA, AVIATOR and such classic 80s fun catchy melodic rock/aor. A surprise and a good one for sure, highly recommended to the AOR fans! More info at: http://www.myspace.com/faithcircus
(Points: 8.7 out of 10)
VARIOUS ARTISTS/BANDS 'ALKEMIST FANATIX' (VARIOUS LABELS/ALKEMIST FANATIX)
Here we have another big box with about 50+ new Italian bands, all with their CDs and Demo CDs, most even officially released, but all on small or independent labels. Many various styles are represented and we of course only pick the 'melodic' releases out of this batch. KARDIA is a good modern sounding Melodic Poprockband, very American/Finnish sounding a la THE RASMUS, RA, LIFEHOUSE and such. Their CD is titled 'Kaleidocristo' and it contains 10 catchy tunes and all together it does sound quite impressive and is recommended to fans of mentioned bands. More info at: www.kardia-musik.com The band DYVE is playing high class Melodic Power Metal with some Thrash guitar riffs and Prog Metal melodies, also a bit reminding of SECRET SPHERE, LABYRINTH and VISION DIVINE. Their CD 'Inside' is definitely something you have to check out, because the combination of excellent guitarwork and lovely melodies is making this sound as good as mentioned bands. The CD has a big sound/production and is by far one of the highlights in this big package of small Italian bands. Fans of fast Italo Power Metal will go nuts when the song "Dreams" is blasting out of their speakers, which sounds like a cross between the early albums of SONATA ARCTICA, STRATOVARIUS, DERDIAN and LABYRINTH! Also more Melodic Hardrock orientated material is included, such as "Strange feelings" and some MALMSTEEN/RAINBOWish work. A real surprise this DYVE and really one to check out asap, also reminding me a lot of REVOLUTION RENAISSANCE. This CD gets without any problems 8,7 points out of 10! More info at: www.dyveonweb.com ELEVEN is playing groovy 70s inspired Hardrock with SABBATH/ZEPPELIN riffs and also reminding of today's UK/USA Modern Rockbands, with some Grungerock influences too (SOUNDGARDEN meets NICKELBACK). The CD 'The wreck of you' sounds good for what it is, but nothing sensational here. More at: www.theorchard.com DOWN TO NONE are playing a modern approach of Progressive Rock meets Modern Metal a la TOOL meets DISTURBED on their CD 'Ouverture'. It sounds quite melodic, with Italian lyrics and another small surprise as unexpected that this sounds pretty good and very professional. FRANK ANDIVER of RISINGWORKS and ex-LABYRINTH is one of the people supporting this band, more at: www.downtonone.com DOWNKISS are a female fronted band playing a mix of traditional and modern Hardrock, with a singer who does sound a lot like GRACE SLICK of JEFFERSON AIRPLANE/STARSHIP. Their CD 'Push me to the limits' sounds like a pure independent record, meaning this will not reach a lot of people I am afraid and the band's punky Hardrock'n'roll is only recommended to die-hard female fronted rockfans whom collect everything. More info at: www.myspace.com/downkiss SKY IN LAND is playing a mix of COHEED AND CAMBRIA/DISTURBED and European Melodic Metal, reminding also a bit of AVENGED SEVENFOLD, with some big modern guitar riffs, but also strong melodies. However, actually only the first song "Back in my life" is in this style, as the rest of their CD 'Through the desert' captures more calmer tunes, such as the semi-ballad "Shadow", a bit reminding of LIFE with some BLACK SABBATH riffs here and there. SKY IN LAND is very 2000s American orienated is the conclusion, more at: www.skyinland.it BANDITZ and their CD 'Sensation seeker' has a low budget production/sound quality, but musically nicely updated sounding DISTURBED ish Melodic Nu-Metal with female vocals! A bit confusing sometimes, but melodies are presented in each of the 12 included tracks and some very strong guitarwork can be heard too. More at: www.myspace.com/hardrockbanditz and www.banditz.it THE WRAITHS are a copy of THE 69 EYES, so uptempo Melodic Sleazy Gothic Punky Rock and Roll and they do it quite well on their CD 'The tragical tale of Wednesday the ectoplasm'. Better check it out if you're into LA GUNS, THE 69 EYES, HIM and such at: www.thewraiths.it VALERIAN SWING and their CD 'Draining planning for ears reflection' is filled with Progressive Rock, a bit modern, like a OPETH meets PORCUPINE TREE and 2000s MARILLION and sadly some Screamo. Not really interesting, but check for yourself for more info at: www.valerianswing.com and finally we have HOLYLAND, a pretty good band playing Melodic Hard/Heavy Rock a la PINK CREAM 69 and EDGUY (a lot!). Their CD is titled 'L.I.F.E.' and it contains 10 strong Melodic Hardrocksongs that also should appeal to fans of VICTORY, EDEN'S CURSE, EVIDENCE ONE, JADED HEART and especially EDGUY. 2nd best band in the batch for sure and highly recommended to Melodic Hardrockfans. Points: 8.3 out of 10!More info at: www.holyland.it
(Points: -)
TALISMA 'QUELQUE PART' (UNICORN DIGITAL)
'Quelque part' is the 3rd CD of the Canadian band TALISMA. Musically they play semi-instrumental progressive rock that sometimes sounds quite experimental, like RUSH meets some Jazz/Fusion and is most of the time very laid-back. The vocals are done by female singer FLORENCE BELANGER and she has one of those really peaceful Jazz orientated voices, with a little epic MOSTLY AUTUMN style to make TALISMA sound proggy. The RUSH influences come by in songs like "Introssimo" and the titletrack, although this is only concerning the instrumental parts and those 2 songs are instrumental, so a good comparison. However in the end TALISMA has an own identity that fits somewhere between MOSTLY AUTUMN, RUSH and IONA and their CD 'Quelque part' is definitely a recommended CD. More info on TALISMA can be found at: www.talismamusic.ca
(Points: 8.3 out of 10)
SNARLING ADJECTIVE CONVENTION 'BLUEWOLF BLOODWALK' (UNICORN DIGITAL)
The experimental band SNARLING ADJECTIVE CONVENTION is playing very non-commercial experimental music that combines prog, metal, jazz, fusion, avant-garde and many other music styles. Together it sounds very original, although not easily accessable and only recommended to people who are into experimental music. Check it out for yourself at: www.unicorndigital.com
(Points: 7.7 out of 10)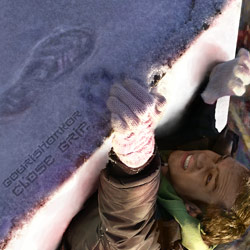 GOURISHANKAR 'CLOSE GRIP' (UNICORN DIGITAL)
GOURISHANKAR is quite a surprise, because their CD 'Close grip' sounds very impressive, a real Progressive Rock masterpiece that sounds very close to 1980s RUSH and also the melodies of an ENCHANT. Actaully the band released this album back in 2003 independently, but when Canadian label UNICORN DIGITAL picked up the band back in 2007 with the release of their album '2nd hands', they were very eager to also re-issue the band's debut album 'Close grip', which now has been done. I must admit it is a very strong record that basically is a must-have for Progressive Rockfans, no doubt about that! Even more surprising is the fact that GOURISHANKAR is coming out of Russia and this good I have not herad them before, just listen to the wonderful opener "Insomnia". Progfans are in heaven with this release that shows that high quality Neo-Prog can also be produced outside the UK! Make sure you check out this band at: www.gourishankar.com
(Points: 8.5 out of 10)
JELLY FICHE 'TOUT CE QUE J'AI REVE' (UNICORN DIGITAL)
JELLYFICHE is a Progband from Canada with a very nice laid-back album release titled 'Tout ce que j'ai reve'. As one can notice from the album title, it is sung in the French language. Most of the songs are very calm and 70s orientated, but super melodic and laid-back, reminding me a bit of ANGE, the legendary French progband. Without a doubt, this is a high quality album that if released 30 years ago could have been quite huge. Opener "Tout ce que j'ai reve" sets the record straight here as this is a long relaxing 70s prog masterpiece with some very nice harmonyvocals and 70s guitarwork. Most of the songs follow this style and for fans of pure 70s prog this is highly recommended. Better check it out for yourself at: www.unicorndigital.com
(Points: 8.3 out of 10)
NIGHT STRIKE 'COMING HOME ALIVE DVD' (INDEPENDENT)
The legendary Michigan local Hardrockband NIGHT STRIKE releases a DVD, professionally filmed during their 2006/2007 tour. Musically NIGHT STRIKE is all about typical 80s American Hardrock and this DVD clearly introduces us the band's stage appearances. It's not just a short cheap DVD, because with 20 songs and a running time of 84 minutes, this is a full-blown DVD. It was recorded at a theater on September 9, 2006 and besides the concert also included here are full bios and behind the scenes footage, all done quite professionally. So if you really want to check out NIGHT STRIKE, then better check out this DVD, which is available through: www.nightstrike.net
(Points: 8.1 out of 10)
GERALD KRAMPL 'TIMEDRIVER' (INDIGO MUSIC)
'Timedriver' is the new solo-album of GERALD KRAMPL, a multi-instrumentalist from Austria who in the past was a member of bands like INDIGO, AGNUS DEI and KYRIE ELEISON, as well as doing a lot of soundtracks. 'Timedriver' is an instrumental piece of work and a very good one, basically situated around a lot of keyboards and synthesizers, reminding a lot of TANGERINE DREAM and MIKE OLDFIELD. Perfectly suitable for 80s movies or as background music! More info at: www.indigomusic.at
(Points: 8.1 out of 10)

MARTIN POPOFF 'YE OLDE METAL 1977 BOOK' (POWER CHORD PRESS)
Canadian writer MARTIN POPOFF is one of the most respected Hardrock/Metal writers/authors from the past decade. He has written 23 books on the subject, of which most we have reviewed. Most of his books are used as background info and not a week goes by without checking one of his publications. For me personally he inspires me to keep on writing and even gave me the motivation to start thinking about writing my own books, which will happen in the next 5-10 year time frame, you can be sure about that! Anyway, Martin has a new book out and his knowledge of the 1970s is definitely his strongest and therefore he started a new series, which tells us the stories behind the finest albums of a certain year. Starting from the year 1968 on, this is the 4th book and after 1976, the first book about 1 precise year, which is… 1977… the year yours sincerely was born! Anyway, of course this was a great year and this book sums up 18 of the greatest records of this year, filling 250 pages with the stories behind these albums. Not only Martin's own personal view, but also comments and stories from the creators of the album. As becomes clear, this is Martin's personal favorites, meaning of course some classics are missing here. Nevertheless, a bunch of the great Hardrockacts from that period are included here with their 1977 albums. Of course it ain't really Metal, as the 1970s were more Hardrock and Metal actually really exploded a few years later thanks to the NWOBHM scene, so of course this is more focused on the 1970s Hardrockscene with those 18 albums included of bands like STYX, STARZ, TRIUMPH, ANGEL, SWEET, MOXY, RAM JAM, REX, POINT BLANK, LEGS DIAMOND, HYDRA… Some of these bands were really more akin to the underground and lesser known Hardrock movement, as they never had the big mainstream break, with of course the exception of a STYX, MOTORHEAD, THE SWEET and TRIUMPH. On the other hand, that is what this book is making so damn interesting, because who on earth gives you a full story behind the albums 'Where do we go from here' by REX, HYDRA's 'Rock the world' and PIPER's 'Can't wait', with comments from the original members, whom have long been living somewhere in a place nobody knows those people were actually high class musicians 30 years ago! With this book, Martin has once again created another masterpiece in music history and I can't wait to see the following years being written as extended as in this 1977 Book. It is part 4 and both this 1977 as well as the 3 earlier releases in this series (1968-1972, 1973-1975 and 1976) are all available in a limited edition release through: www.martinpopoff.com
(Points: 8.5 out of 10)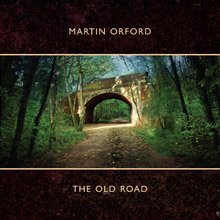 MARTIN ORFORD 'THE OLD ROAD' (GIANT ELECTRIC PEA)
Late October 2008 brings some sad news, because MARTIN ORFORD is the next musician to give the ghost with the music scene. In previous years we saw HARLAN CAGE/FORTUNE leader ROGER SCOTT CRAIG quitting the music business and also IAN PARRY said farewell, both of whom recently announced a return! However I am not sure we will ever see MARTIN ORFORD making a comeback, as he is really saying goodbye with this farewell solo-album titled 'The old road'. Martin has been a member for 26 years of the Neo-Progband IQ, but left the band in 2007 to work on solo material and 'The old road' is the result. IQ was one of the pioneers for Neo-Prog and it was sad to see Martin leave this band and now saying goodbye to us all. Happily, it is a very impressive record, which also features JOHN WETTON (ASIA), Nick D'VIRGILLIO and DAVE MEROS of SPOCK'S BEARD, JOHN MITCHELL (IT BITES/ARENA), STEVE THORNE, GARY CHANDLER (JADIS) and several others, basically the best of the Neo-Progscene. We were surprised earlier this year with the fantastic comeback album of IT BITES and I think I am safe to safe here that this new and final MARTIN ORFORD solo-album 'The old road' is the 2nd album in the Neo-prog scene that hit me in 2008 as this is another superb album. Just like IT BITES, also MARTIN ORFORD's album are a step away from the 1990s/2000s UK style Neo-Prog, which was all about long calm tunes. This is late 2000s uptempo cheerful Neo-Prog with a big 1980s approach, just like we saw with KINO, ASIA and FROST in recent years and like the stuff PALLAS has always been doing. This means more straight-ahead with many vocals and even catchy choruses and basically very strong and enjoyable. Opener "Grand designs" is a very fine first song and this one is a must-hear for fans of ASIA, KINO, KAYAK, FROST, IT BITES, PALLAS and such uptempo 80s orientated cheerful Neo-Prog. The whole CD just shows how incredibly gifted MARTIN ORFORD is and how he has been able to achieve the best in Neo-Prog on 1 new record with the help of some of the finest musicians. Almost unbelievable that such a 'musically rich' musician is saying goodbye due to the internet… I am quite sure many fans of the genre will be buying the CD as it is a masterpiece and is together with the new IT BITES belonging to the best Neo-Prog of 2008, although I have to admit that actually this style is more 80s Symphonic AOR instead of Neo-Prog, also reminding a lot of 1980s ALAN PARSONS PROJECT. ASIA fans will be loving "Take it to the sun", an absolute monster of an Sympho-AOR Classic that is as good as or even better than what ASIA has been doing the past 20 years and after listening to the song it became clear that this song belongs to one of the best created in 2008! And each of the 9 included songs has something to offer, sounding like a cross between the 2008 albums of ASIA, KAYAK and IT BITES. It's all on this 1 record, musicianship of a very high level, so make sure to check out this last album that features Keyboardplayer MARTIN ORFORD at: www.gep.co.uk and e-mail at: gepuk@msn.com
(Points: 8.8 out of 10)
ABANDONED SOULS 'SOME NEVER WILL' (FIEND RECORDS)
Canadian band ABANDONED SOULS is playing typical Northern American Modern Metal a la DISTURBED, with a touch of NEVERMORE. 11 tunes are included on the band's new album 'Some never will', which has a high quality production and could have been a major US label. Only pity is that most of the songs are in the same style, which is midtempo and this is also something that has been a point of discussion on the new albums of SHINEDOWN and DISTURBED, but happily the songs feature some strong melodies here and there, so ABANDONED SOULS can get away with it. They do their job well and fans of mentioned bands should check them out. More info at: www.abandonedsouls.com and e-mail them at: info@abandonedsouls.com
(Points: 8.0 out of 10)
12 INCHES 'SIXPACK' (INDEPENDENT)
Here we have a Finnish band with a 6 tracks counting mini-CD titled 'Sixpack'. Musically they play raw sleazy mean dirty rock and roll that sounds like HELLACOPTERS, THE 69 EYES, MOTLEY CRUE, THE CULT, SNAKEPIT REBELS… Released independently, this sounds pretty good, with a big sound/production and 6 mostly uptempo orientated tracks, with as highlight "One night". Check it out for yourself at: www.twelveinches.net and www.myspace.com/twelveinchesmusic and e-mail at: management@twelveinches.net
(Points: 8.0 out of 10)
BAD DAYS 'EAT MY LUCK' (NICOTINE RECORDS)
Punky Rock and Roll is what you get on the new CD of the German band BAD DAYS. 12 songs are on 'Eat my luck' and fans of HELLACOPTERS, BACKYARD BABIES and such will love this BAD DAYS for sure. Most of the songs are uptempo and rock quite hard and are easy to sing-a-long mostly. More info at: www.thebaddays.de
(Points: 7.8 out of 10)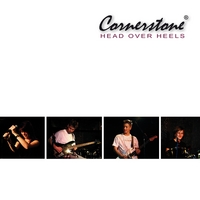 CORNERSTONE 'HEAD OVER HEELS' (ATOM RECORDS/TWO SIDE MOON PROMOTIONS)
Do not confuse this CORNERSTONE with the same named Metalband that featured DOUGIE WHITE or the Christian US Hardrockband. This CORNERSTONE is coming out of Austria and they have released their debut CD 'Head over heels' on the American label ATOM RECORDS. Musically speaking we are listening to high quality female fronted AOR/Melodic Poprock that sounds a lot like the 1985/1986 era, meaning it reminds me of BERLIN/TERRI NUNN, ANIMOTION, REBEL HEELS and such bands. It is a little heavier here and there and instead of a pure 80s sound with synths/keys, CORNERSTONE has chosen for acoustic/electric guitars as prominent instruments in their songs. 13 songs are included and especially singer ANJA SCHIRMER has a pretty good voice. The band goes into 'almost' pure AOR with the catchy uptempo rockers "Ready to go" and "Fade away" that have similarities to early TONE NORUM/LISA HARTMAN and some great guitarwork. Happily, the whole CD sounds very strong and in the end the band took me by surprise with this great CD release that is highly recommended to any fan of female fronted AOR/Poprock! More info at: www.cornerstone.co.at and www.atomrecords.com and e-mail at: marius.s@cornerstone.co.at
(Points: 8.3 out of 10)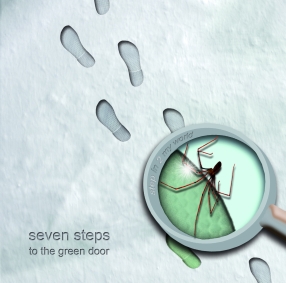 SEVEN STEPS TO THE GREEN DOOR 'STEP IN 2 MY WORLD' (PROGROCK RECORDS/BERTUS)
MAREK ARNOLD is the leader of the German Progressive Metalband TOXIC SMILE, but he also has some side-projects, which are very successful and SEVEN STEPS TO THE GREEN DOOR is one of them. This band consists of 7 members and their debut album even won several prizes in the German Rock and Pop Awards. Now they have released a follow-up CD titled 'Step in 2 my world', which was my first introduction to them. Musically different than TOXIC SMILE, as SEVEN STEPS TO THE GREEN DOOR is much more experimental, but can still be seen as a Progressive Rockalbum. Opener "New rising" for example is a very sensational song that combines superb vocalwork of the 3 singers (ANNE TRAUTMANN, RONNY GRUBE and LARS KOHLER) with some beautiful melodies and harmonies (a la THE FLOWER KINGS/CASUAL SILENCE) and of course quite extraordinary instrumental work. Although it sounds sometimes experimental and combines influences of different music genres, the whole feeling of this CD is a pure Prog feeling and sounds like a cross between THE FLOWER KINGS, ENCHANT and MOSTLY AUTUMN, with here and there a very experimental modern touch. The melodies in both the vocals and guitars are making this album a record you just got to hear, with besides opener "New rising" as other highlight the SUPERB "Paid for glance". Progfans must check out this CD asap! More info at: www.sevenstepstothegreendoor.com
(Points: 8.4 out of 10)
THEOCRACY 'MIRROR OF SOULS' (ULTERIUM RECORDS/METAL HEAVEN)
Already 5 years ago THEOCRACY released their debut CD. Back then leader MATT SMITH did everything on his own, but now he has been assisted by 2 other musicians (guitarist and drummer), whom are also making it possible for him to go out and tour. The first THEOCRACY CD was a very impressive European Melodic Metal orientated album a la EDGUY and back in 2003 a true highlight. Now the new album is finished and I must say it sounds very very sensational! Mastered at the famous FINNVOX by MIKKA JUSSILA (NIGHTWISH, STRATOVARIUS), the CD sounds HUGE! Musically it mixes the best of EDGUY and 80s STRYPER, taking the best of the 1990s/2000s Euro Power Metal and 1980s US Melodic Hardrock. The semi-ballad "Bethlehem" is sounding absolutely stunning, as if EDGUY recorded a STRYPER song while NOCTURNAL RITES and DREAM EVIL were playing the instruments! Or the Melodic Hardrocksong "The writing in the sand" that sounds very catchy and the band also goes fast here and there, with some pure European Power Metal. Closing track "Mirror of souls" is a 22 minutes counting epic tune that finishes the CD very nicely and after repeated listens this new THEOCRACY album is a MUST-HAVE and will appear in end of the year lists for sure! This is the perfect combination of Euro Power Metal, US Melodic Hardrock and big harmonyvocals… More info at: www.theocracymusic.com and www.myspace.com/theocracyband
(Points: 8.9 out of 10)
JACK FOSTER 3 'JAZZRAPTOR'S SECRET' (PROGROCK RECORDS/BERTUS)
Vocalist/Guitarist JACK FOSTER has a degree in Music Compostion and Theory, which he received way back in 1981. However, making music was put on hold actually until the early 2000s as he made a career as Real Estate professional. A few years ago he started a music career, which resulted in 3 solo-albums. Now he has a new CD out as JACK FOSTER 3, on which he is accompanied by the legendary drummer/bassist ROBERT BERRY (3, HUSH…) and keyboardplayer TRENT GARDNER (MAGELLAN). Although the album title might suspect something Jazzy, this CD is a pure Progressive Rock CD that sounds like ROBERT BERRY, 3, GTR, 80s YES, MAGELLAN, CAIRO and such with also some Bluesy and Hardrock influences. However mainly this is a prog/symphorock CD with quite superb melodies and that is what is making this album very interesting. Also of course Jack's vocals are very impressive and it is actually a damn shame he has not sang for about 25 years. Opener "Jazzraptor's secret" is a very strong tune to begin with, but actually each of the 10 included songs are very well created and this is one of those CDs you can listen over and over again as it contains a wide diversity and is of a very high level musically. Check out more info at: www.progrockrecords.com
(Points: 8.3 out of 10)
DANGER AVENUE 'EP 2008' (INDEPENDENT)
Sweden is of course the most important country to look for new AOR talent and here we have DANGER AVENUE. We reviewed last year their CD 'Lookin' out for that neon light', which now has a follow-up in the shape of their new untitled EP CD. It sounds huge and impressive, basically pure 1980s AOR/Melodic Rock that sounds not too far away from MORITZ, TERRA NOVA, BROTHER FIRETRIBE, H.E.A.T. and such. Meaning we have got high class catchy AOR tunes on this little CD that contains 5 tunes. Opener "West coast angel" is pure 1980s uptempo AOR with keys, hooks and harmonies close to the 1980s records of GLORY, FATE, TREAT, DAVINCI… Also the other songs go in this direction, so what we have here is a really recommended mini-CD to any fan of 80s AOR/Melodic Rock. Check it out for yourself at: www.dangeravenue.com and www.myspace.com/dangeravenuerock and e-mail at: info@dangeravenue.com
(Points: 8.2 out of 10)
EARTHBEND 'HARMONIA' (ROOKIE RECORDS/CARGO RECORDS/SONIC RENDEZVOUS)
German Rockband EARTHBEND releases their new album 'Earthbend', which is their 2nd one. EARTHBEND is playing a sort of underground approach style rock and roll that has clear influences from the late 1960s Garage Rock and 70s Psychedelic Rock. Most of the songs are uptempo rockers that also sound a bit like OZZY fronting THE KINKS and although far from commercial, fans of established acts like ARCTIC MONKEYS, PANIC AT THE DISCO FLOOR, KAISER CHIEFS, KINGS OF LEON, MOTORPSYCHO and even COHEED AND CAMBRIA will find something of interest in this band's new CD, which is a very strong and impressive album that and highly recommended to fans of original Rock and Roll the way it should sound, raw, mean and 'for real'. Check out more info at: www.earthbend.de and www.myspace.com/earthbend
(Points: 8.2 out of 10)
MONKEEMAN 'LIFE IN A BACKSEAT' (ROOKIE RECORDS/CARGO RECORDS/SONIC RENDEZVOUS)
11 short 3-minutes counting tunes are on the 3rd CD of the Berlin, Germany based band MONKEEMAN. Musically it is a pure 1960 Garage Rock affair with distorted guitars and clean melodic vocals (a la TIM FINN), very much sounding like THE JAM, THE BEATLES, THE UNDERTONES, THE KINKS, so also bordering to 1977 UK Powerpop Punkrock here and there. Quite guitar riffing here and there (like THE KINKS) and always with strong melodies, such as the catchy "Lonely guy", "Backstreet" and "I know a girl". A band to watch out for and perhaps the 'next big thing'! More info at: www.monkeeman.de and www.myspace.com/monkeemanmusic
(Points: 8.1 out of 10)
STAR FUCKING HIPSTERS 'UNTIL WE'RE DEAD' (FAT WRECK RECORDS/SONIC RENDEZVOUS)
STAR FUCKING HIPSTERS are coming out of New York City and are playing uptempo raw dirty mean Punky Rock and Roll, sometimes akin to typical NYC Rock and Roll a la THE DICTATORS, but also sometimes just pure fast plain-old Punkrock like a JOAN JETT on speed! Although one can even notice a cross between DANZIG and ALICE COOPER on a few songs, so all together this is a very diverse Rock and Roll record. Check it out for yourself at: www.starfuckinghipsters.com
(Points: 7.8 out of 10)
TEXAS MOTHERFUCKERS 'FREAKS' (NO SOLUTION RECORDS/CARGO RECORDS/SONIC RENDEZVOUS)
Swedish dirty mean sleazy rock and roll that sounds like a cross between TURBONEGRO, NASHVILLE PUSSY and MOTORHEAD, that is what to expect on the first CD of this foursome. It was recorded live in the studio over the past few years and indeed it also sounds this way. For a fan of mentioned bands, this of course is a must to check out, although I would personally not call this a sensational record. Check it out for yourself at: www.nosolutionrecords.dimestore.de
(Points: 7.6 out of 10)
THE PARTIES 'CAN'T COME DOWN' (RAINBOW QUARTZ INTERNATIONAL/SONIC RENDEZVOUS)
THE PARTIES are a San Francisco based Rockband and their CD 'Can't come down' is really good, basically sounding as if it was a remastered re-issue of a 1960s recorded album. 11 short catchy tunes are included on their CD and influences of THE BYRDS, THE BEATLES, THE KINKS, etc. are clearly notable. What they do they are doing very well and it would not be that strange if this band would have a big break, because this kind of 60s rock is very popular at the moment, but where bands like KAISER CHIEFS and ARCTIC MONKEYS are giving it a somewhat more modern approach, this THE PARTIES is doing it like it is really 1965 and yet they still sound fresh. Songs like "Breaking heart", "Radio", "Waterfall" and "Gotta get out" are a few examples how this sounds at it's best. Check out this band for yourself at: www.rainbowquartz.com
(Points: 8.4 out of 10)
SILVER 'CHASING WOLF' (MERCH UNITED/SPV/PIMP)
OK here we have a very modern sounding Norwegian band, very heavy and mixing elements of Metalcore, Nu-Metal, Death Metal and Glamrock, ending up sounding like a cross between CHILDREN OF BODOM, LORDI, SLIPKNOT and some Japanse band. It is very heavy and groovy modern metal guitar riff based, with some traces of Glamrock here and there, such as in the songs "Where vultures gather" and "Drenched in confort". Then the band sounds like an 'out-of'control' version of the BACKYARD BABIES, but most of the time SILVER WOLF sounds a little too modern for the 'melodic' fans. Hear for yourself at: www.myspace.com/thesilverband
(Points: 7.6 out of 10)
COOL HAND LUKE 'THE SLEEPING HOUSE' (LUJO RECORDS/LORI BISCUIT PR/USA IMPORT)
Already 4 years ago we reviewed an album of the US band COOL HAND LUKE and I am not sure if they released an album after that, but here we have a new CD of this band. It is called 'The sleeping house' and it sounds very British, more melodic and happier than COLDPLAY, as the music is more akin to THE CURE, ULTRAVOX, THE ALARM and is here and there also somewhat heavier. The voice is melodic and typical British orientated, despite the fact that COOL HAND LUKE is an American band. Also ALAN PARSONS PROJECCT comes to mind sometimes, although the keyboards are missing here. The music is mostly quite moody, slow and laid-back, very suitable for European radio, although the band also goes into semi melodic rock on a song like "The city prevails", which has all it needs to become a hit! Hear for yourself at: www.lujorecords.com
(Points: 8.2 out of 10)
FAREWELL FLIGHT 'SOUND COLOR MOTION' (EASY COMPANY RECORDS/LORI BISCUIT PR/USA IMPORT)
No surprises here, because FAREWELL FLIGHT is a typical band of the 2000s era, meaning they have that soft Popsound we have seen popping up in the charts worldwide, which of course is the kind of depressing soft Popmusic created by bands like COLDPLAY, KEANE and RADIOHEAD, although someone into modern MARILLION, PORCUPINE TREE and such might also like this US band FAREWELL FLIGHT. This Harrisburg, PA, USA based band is definitely recommended if you're into mentioned bands, but somehow after a while you're missing a real rock based tune, because from start to finish this is very soft midtempo/slowtempo (and a few uptempo) based Popmusic of the modern British kind. COLDPLAY meets KEANE is the best description to give to this band. More info at: www.farewellflight.com
(Points: 7.8 out of 10)
THE FUZZTONES 'HORNY AS HELL' (ELECTRIQUE MUD/SONIC RENDEZVOUS)
Here we have a very original band. THE FUZZTONES are a German band whom are making a pure late 1960s cocktail of Garage Rock and Roll, Funk and Soul, ending up sounding like a mix between THE PRETTY THINGS, MC5, ROLLING STONES, THEM and GRAND FUNK RAILROAD. The pure 60s sound is thanks to the slightly distorted guitarsound and the Soul/Funk comes out of the Horn Section, used in every song. The vocals are THE DOORS style, maybe a bit more melodic and all together this is Brass Rock and Roll, like a "Big Band" joined a bunch of Garage Rockers. The result is suirprisingly very impressive and although I had not heard of this band before, they had already released a CD back in 2003, so I guess this new CD was long overdue and now that it is finished, it is highly recommended. If you really want to hear something original, you should definitely check this out. It is like if it was 1969 and THE FUZZTONES were the latest sensation, but this is really a new band, whom are currently touring Europe. More at: www.fuzztones.net
(Points: 8.3 out of 10)
MUMBLE RUMBLE 'TREDICI' (LATLANTIDE/EMI MUSIC)
MUMBLE RUMBLE is an Italian all-female rockband formed way back in 1990, with also 2 albums released prior to their new CD 'Tredici'. Their previous CD was released on a label licensed by SONY MUSIC and the new one is a sublabel of EMI MUSIC, so they are signed to major labels. The CD they just released sounds modern and less melodic than most all-female bands, but still we have something good here. They remind me a bit of KITTIE here and there, with some experimental parts too. Somehow the singer has a PAT BENATAR meets NINA HAGEN vibrato, while the music is very groovy and modern, quite heavy even, but here and there some more melodic orientated songs. Actually they have sort of own sound, which is very far removed from all-female bands like VIXEN, THE DONNAS and GIRLSCHOOL, so do not expext any uptempo melodic clean chorus driven songs here, but instead a very heavy groovy sound. KITTIE fans should check out this Italian band. More info at: www.mumblerumble.com and e-mail at: info@mumblerumble.com
(Points: 8.0 out of 10)
DEVIL'S GIFT 'DEVIL'S GIFT (TIEFDRUCK MUSIC/PIMP)
DEVIL'S GIFT is a band featuring the fantastic young female singer LENNON MURPHY. She has already had an almost 10 years counting solo career under the moniker LENNON. Under this name several releases have been done and she even was the support act for JOURNEY at the Paradise, Amsterdam gig in 2007. Back then she was just sitting behind the piano and making peaceful music a la TORI AMOS. Now she has her own band DEVIL'S GIFT, where she clearly rocks out very hard. It does sound a bit modern and apart from some Nu-Metal influences, happily the debut CD of DEVIL'S GIFT is a real strong modern sounding melodic nu-metal record that sounds like a cross between HYDROGYN, LACUNA COIL, PHANTOMN BLUE and BENEDICTUM. The only pity are the Screamo's a few times, but take that away and you have a very strong debut CD of DEVIL'S GIFT. It rocks very hard and is sounding very American, with besides the mentioned references also clear similarities to DISTURBED and MESHUGGAH. Modern Metalfans will absolutely love this record. More info at: www.tiefdruck-musik.de
(Points: 8.3 out of 10)
GRAVE DIGGER 'PRAY' (NAPALM RECORDS)
GRAVE DIGGER strikes back with a new mini-CD titled 'Pray'. Musically not that surprising as it contains 4 typical GRAVE DIGGER songs. True Teutonic Metal is what to expect and that is what you will get here, typical GRAVE DIGGER style Metal as it has been for almost 30 years now. Waving the flag for German True Metal since the early 80s, GRAVE DIGGER has been like many other German Metalbands (ACCEPT, HELLOWEEN, RUNNING WILD, AXXIS) keeping it true and also this new mini-CD follows their True Metal spirit. Anyone thinking LORDI was original should check out GRAVE DIGGER, as they have been doing the same thing for 3 decades and still prove to sound as strong today as they did back in the early 1980s when they debuted. More at: www.grave-digger-clan.com
(Points: 8.2 out of 10)
EDENSONG 'THE FRUIT FALLEN' (TURN ME UP RECORDS)
EDENSONG is a New York based band whom are playing as if they were a British band with a pure Progrocksound in the tradition of early GENESIS, YES, THE FLOWER KINGS, JETHRO TULL… The band has released a very impressive CD titled 'The fruit fallen', which is an absolute must-have for fans of the classic British Progsound. With a playing time of well over 71 minutes, from start to finish high quality musicianship, this is a very sensational record. Some songs are very calm, epic and a little medieval Folk orientated a la JETHRO TULL with a prominent part for acoustic guitars, cello and flutes, but a song like opener "Water run" or the 21 minutes counting closing track "The reunion" are pure Prog epic classic orientated tracks in the best tradition of 1970s GENESIS, RUSH and YES. EDENSONG is definitely a band to check out if you call yourself a progfan! More info at: www.edensongtheband.com and www.myspace.com/edensong and www.cdbaby.com/edensong and e-mail at: info@EdensongTheBand.com
(Points: 8.4 out of 10)
EVOLVE IV 'DECADENT LIGHT' (PROGROCK RECORDS/BERTUS)
EVVOLE IV is a band formed around the American singer/guitarist MICHAEL EAGER and British keyboardplayer/guitarist PETER MATUCHNIAK. Together they created an album titled 'Decadent light', which musically is not a cliché tingled record as the Progrock included here is the one that shows an own identity, just like we have seen with bands such as PORCUPINE TREE, SPOCK'S BEARD, THE FLOWER KINGS, etc. EVOLVE IV is a modern sounding Progband that here and there sounds very impressive, although the influences of sadly RADIOHEAD and COLDPLAY can also be heard on a few occasions, so it is not a full progalbum, especially when there are also some very experimental moves sometimes made, but on the other hand bands like SPOCK'S BEARD and TRANSATLANTIC also do that and can get away with it. Anyway, for the open-minded progfan this is interesting to check out. More info at: www.progrockrecords.com
(Points: 8.0 out of 10)
CRYSTAL EYES 'CHAINED' (METAL HEAVEN/ROUGH TRADE)
Formed way back in 1992, the Swedish band CRYSTAL EYES releases it's 6th CD titled 'Chained'. Musically they are playing pure European Melodic Metal a la EDGUY, HAMMERFALL and DREAM EVIL. The powerful vocals of singer NICO ADAMSEN mixed with the big sound/production of their new CD by FREDRIK NORSTROM (DREAM EVIL), together this is making their new album a very strong highly recommended album. Maybe a very cliché tingled record, this CD is without a doubt really worth checking out if you're a fan of True Melodic Metal in the style of mentioned bands. One of the highlights is the catchy "The devil inside" that borrows a chorus of LORDI, but is a very strong memorable tune for Melodic Metalfans and also the faster "Lonely ball of fate" (quite superb actually!) and "Fighting" is a real crowd-pleasers a la DREAM EVIL. Most of the songs are in the same style, meaning uptempo twin-guitar 80s traditional MAIDEN metal riff driven 'riding-a-horse' Melodic Metal, sounding very German Teutonic Metal alike, so also reminding of classic STORMWITCH, HIGH TENSION, NOISEHUNTER, MAJESTY etc. etc. Thanks to the strong vocals and huge sound, this CD is still pretty good, although very cliché tingled and borrowed a lot. Must-have for fans of mentioned bands! More at: www.crystaleyes.net
(Points: 8.5 out of 10)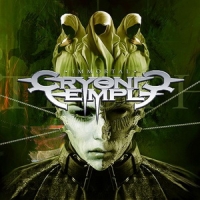 CRYONIC TEMPLE 'IMMORTAL' (METAL HEAVEN/ROUGH TRADE)
Just like that other Swedish band CRYSTAL EYES whom have released their new album on METAL HEAVEN, also the Swedish band CRYONIC TEMPLE has been active for quite some time now, dating back to 1996 and now releasing their 4th CD 'Immortal' on METAL HEAVEN as well. Musically the 2 bands also play the same kinda Melodic Metal, although CRYONIC TEMPLE is slightly heavier and more akin to Power Metal. The band has a good new lead singer (MAGNUS THURIN – ex-MINDSCAPE) and the new CD is sounding like a cross between MYSTIC PROPHECY, ICED EARTH and PRIMAL FEAR, really strong Melodic Power Metal. A song like "Standing tall" sounds very sensational, a real fast paced Melodic Power Metal piece that could have been on the latest MYSTIC PROPHECY record. 11 songs are included and fans of Power Metal a la mentioned bands will absolutely love this new CD of CRYONIC TEMPLE, which to me sounds like the band's strongest effort so far, although somehow the more cleaner polished new CD of CRYSTAL EYES is a little bit better than the new CRYONIC TEMPLE. Surprise are the final 2 songs, which show the calmer side of the band. More at: www.myspace.com/cryonictemple
(Points: 8.3 out of 10)
GIRLSCHOOL 'LEGACY' (WACKEN RECORDS/SPV)
15 new recorded songs can be found on the new CD of the legendary all-girl UK based band GIRLSCHOOL. The CD is titled 'Legacy' and was released on the WACKEN OPEN AIR recordlabel WACKEN RECORDS, named after the festival and distributed through SPV. The band sounds very tight and it is clear when hearing their new album, the girls like to rock hard again and show they indeed must have been a big impression for THE DONNAS, whom combined the sound of GIRLSCHOOL, KISS, MOTLEY CRUE and THE RUNAWAYS with some 1977 UK Punkrock on their records. However GIRLSCHOOL was probably their biggest influence and the new GIRLSCHOOL album is a must-have for any THE DONNAS' fan out there, just listen to the catchy uptempo songs "Legend" and "From the inside", a song that sound like classic early 80s GIRLSCHOOL! There are also more midtempo and groovy based songs, such as "I spy" that has a good melodic chorus as well, but the band is at their best when going for the uptempo rock and roll approach. I will not mention each of the 15 songs, but take it from me, this is a strong comeback (although they released a CD a few years ago, this one's better and is a real comeback!) of one of the most legendary all-girl bands out there, so much better than VIXEN's weak new CD sometime ago. GIRLSCHOOL rocks hard and still makes catchy tunes as can be heard on this 'Legacy'! Web: www.girlschool.co.uk
(Points: 8.3 out of 10)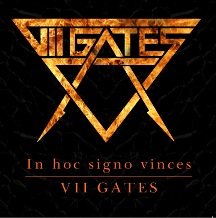 SEVEN GATES 'IN HOC SIGNO VINCES' (LION MUSIC/BERTUS)
The Swedish band SEVEN GATES debuted in 2004 with their album 'Fire, walk with me' on the Portuguese label SOUND RIOT RECORDS. The album went unnoticed and it became quiet around the band, but they are back with 'In hoc signo vinces', a very strong album that contains high class Melodic Neo-Classical Metal that sounds like a mix between MALMSTEEN, MAIDEN, AXXIS, PRIEST and TWISTED SISTER, although it also reminds me a lot of the classic 80s records by MADISON, remember them? The 10 (not counting the 2 short intro's) included songs are quite good and although this album might not be the album of the year, for Melodic Metalfans one to check out and have a little fun while listening to the high quality musicianship of the band!
(Points: 8.2 out of 10)
VARIOUS ARTISTS 'GUITAR IDOL 2008' (LION MUSIC/BERTUS)
Guitar Idol 2008 was an online worldwide talent search to find the next generation of Guitar Heroes… Between March 21st 2008 and the Live Grand Final on June 14th 2008 almost half a million people visited, voted or entered the competition. On June 14th thousands of guitar fans witnessed 12 future guitar stars do battle with a live band on the main stage at The London International Music Show to be crowned 'Guitar Idol 2008'. The result can now also be heard on a CD, which contains 18 of the best guitarists of the whole competition. Although each guitarist presented here sounds very good, the ones with the best songs are GUSTAVO GUERRA (Guitar Idol 2008 Winner) with "Na Veia", LYLE WATT (Guitar Idol 2008 Runner-up) with "Swirly Strat Jam" (Live from Guitar Idol 2008) and ANDRE NORONHA with "Never Give Up" (almost a pure AOR/Melodic Rock tune). All 18 songs are instrumental and vary in style, ranging from bluesy tunes to neo-classical metal riffing, with in between a lot of Melodic Hardrock.
(Points: 8.1 out of 10)
COSTE APETREA 'SURPRISINGLY HEAVY' (LION MUSIC/BERTUS)
COSTE APETREA is a Scandinavian music legend with a history dating back to the early 1970's and involvement in some of the most challenging music to come out of this region since that time. His new album 'Surprisingly Heavy' follows up his 2006 Lion Music release 'Rites Of Passage'. Musically it is a mix of Prog, Jazz, Art, Rock, Blues, Metal etc. etc. so very diverse and definitely one to check out if you're in for something experimental. Coste has really a long history, but not many active musicians can say they played at the 1978 Montreaux Jazz Festival and the 1979 Roskilde RockFestival, but he toured all over the world the past 35 years, releasing a dozen albums. Fans of Coste will certainly love this record, but I can understand there are also people whom are hearing this man's music for the first time, so then be sure to check out 'Surprisingly heavy' on LION MUSIC.
(Points: 8.0 out of 10)
POLEY/RIVERA 'ONLY HUMAN' (ANGELMILK RECORDS)
Vocalist TED POLEY (DANGER DANGER) and Guitarist VIC RIVERA (ADRIANGALE) already teamed up in late 2005 for the album 'Collateral Damage', which was released as a solo-CD by TED POLEY in 2006. Now they have released a new CD as POLEY/RIVERA which is titled 'Only human'. The music is typical TED POLEY style late 80s have-a-good time fun American Melodic Rock in the style of DANGER DANGER. Songs like the uptempo melodic rockers "Top of the world", "Did We Just Have A Moment", "Fire at will", "The bigger they come" and the midtempo "Only human" are very enjoyable catchy DANGER DANGERish Melodic Rockers. Maybe nothing new is brought here, for fans of DANGER DANGER this CD is well worth checking out! More info at: www.angelmilkrecords.co.uk
(Points: 8.2 out of 10)
VOX TEMPUS 'IN THE EYE OF THE STORM' (ANGELMILK RECORDS)
OK, so exactly 4 years after the review we did here and even more than 4 years after first talking about this superb band, they have finally been picked up by a label. The label that has released the band's first CD now officially worldwide is the UK based label ANGELMILK RECORDS. So I had to look up the review I gave them back in November 2004 and here you can read it again as the CD is now finally easier available thanks to ANGELMILK RECORDS….
I already gave the demo of this band a few months ago a very high rating, and nothing stands in my way to give this very first full-length CD of the Californian band VOX TEMPUS an even higher rating, because basically this album sounds like the perfect Melodic Progressive Metal. I hear very strong similarities to SYMPHONY X, ENCHANT, VANDENPLAS, SUN CAGED, SILENT EDGE and that type of Progmetal, which for me is always a pleasure to listen to. Everything seems to sound absolutely brilliant, production and instrumental it all sounds very impressive, but lead singer Dan Reed is basically one of those singers you love right from the start, because his voice is really amazing, sounding like a cross between the ENCHANT singer, DENNIS DEYOUNG and the SYMPHONY X singer. It's like a voice from heaven, man, this guy is unbelievable, with such a voice, let's truly hope to hear him singing much more in the furure. After hearing the first couple of songs of the VOX TEMPUS CD, everyone will agree that this is a very sensational CD. The members of the band played in bands like EQUINOX, TAKARA and MILLENNIUM, so they are quite experienced, and as special guest on drums we can hear GREGG BISSONETTE (DAVID LEE ROTH). Anyway, 9 superb songs are included and all melodic rock/prog metalfans are gonna love this amazing album, which I rank as high as any of the releases from the European labels, and then we're talking here about an independent release from the USA, so go figure... Absolute highlights can be found in the shape of "For every life", "Escape" (progmetalsong of the year?), "Revelations", the 13 minutes counting epic "Love, lies and treason" (a la STYX) and the emotional closing piano ballad "Steal the moment" (hello, is this DENNIS DE YOUNG singing???), all absolute winners for the fans of any of the mentioned progmetalbands, but also STYX fans might like this a lot. Even the 2 instrumentals are awesome, so without a single doubt, I can call this CD a masterpiece and one of the best Progressive Metal releases so far this year, as good as the new THRESHOLD and EVERGREY releases. This band is bringing you right up into progmetal/melodic rockheaven with their amazing big sound. I can only say to you to check out this CD a.s.a.p. at: http://www.vox-tempus.com and e-mail them at: voxtempus@vox-tempus.com
(Points: 9.4 out of 10)
(All reviews by Gabor Kleinbloesem except where noted)