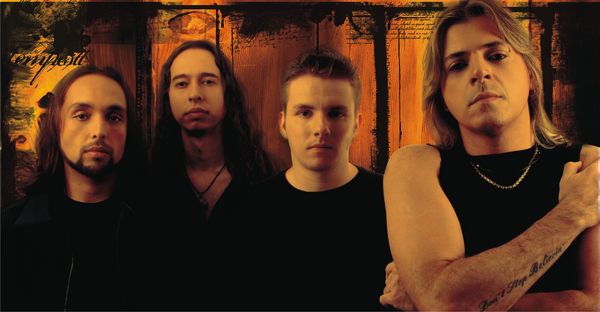 TEMPESTT is a great band from Brazil, playing Melodic Hardrock a la TALISMAN and THE POODLES, with some Prog and Metal influences. They toured with JEFF SCOTT SOTO through Europe after releasing their debut album late 2007... We had a short interview with the band...
Introduce the band and yourself to our readers (history, musical background, influences). B.J. Hi I'm B.J. Tempestt vocal, We have Edu Cominatto on the drums, Paulo Soza on the bass and ? on the guitar. We start the band in 1999 like a cover band playing B-sides of great hard/rock bands just for fan, and one Brazilian producer give us a great idea : "Hey guys, you have a great energy together, you need to begin to write your own songs! And here we are…. I will try to quote our influences: Deep Purple, Queen, Journey, Queensryche, Dream Theater, Yes, Iron Maiden, Europe, Kansas, Metallica, and we have more and more!!
Can you tell me something about the creating process of the songs. Where did you get the inspiration from, are all the members involved in the writing process? This is a natural for us, we start with some ideas and after that we gather to finish the songs, it's simple. The inspiration came from different things about our lives and experiences, and about the last question, yes, all the members is involved in everything on Tempestt.
The band has a very diverse sound from Progressive Metal (Dream Theater) to AOR (Journey). Do you agree with that? Off course… We have a great influences from this kind of music, and this bands are amazing! We don't think about stile when we wrote the songs, we just do it!
Are there any stories behind the lyrics? Yes, like I said, this things it comes from our lives and experiences….secrets lol
BJ's vocals reminds me of Freddy Curci (from AOR bands Alias and Sheriff) during the softer parts and the heavier parts BJ has similarities with James Labrie/Andre Matos? Do you confirm this? ( If you don't know Sheriff, you definitely have to listen to their 1982 AOR gem). Thanks man! It's a honor for me! I love these guys… Andre Matos is great and a good friend, About Labrie, , he´s amazing singer and my influence with sure!
You are going to do a short tour with JS Soto in Europe, what are your expectations of this tour? And what can the fans expect? It was amazing! Jeff is a great friend and influence…… About this tour: 16 gigs, 9 different countries, great audiences, people sing our songs, it's a dream come true my friend! An we will be in Europe in May and after that in September.
The band started as a cover band, what do you like more play cover tunes or your own ones or both? We was a cover band, not anymore…I like to play covers, but I love to play our own songs! 8. If we could travel into the future say 30 or 40 years from now and I would ask you what have you done with your life, what are you hoping you can answer? My God! It's a good question! I just wanna say that I love my job, my band, and I hope that we will be continues playing good music with success and great shows for the rest of our lives!
At last I have some short personal questions
First bought LP: CODA Led Zeppelin
First gig: it was in high school, funny!
Favorite singer: Steve Perry
Favorite guitar player: Steve Lukater
Best Tempestt song: Insanity Desire
Best JS Soto song: Eyes of Love
Favorite food: Parmegiana Steak
Favorite drink: Zero coke
Favorite country: Brazil
Favorite sport: Football
Best place to play a gig: where the audience will be
Most important person in your life: My mother
Anything to add for our readers: Thanks for the interview, we hope to see you on the road for enjoy good music, good energy and the best of the rock'n roll!!
Thanks for the interview and I hope to meet you during the European Tour.
---