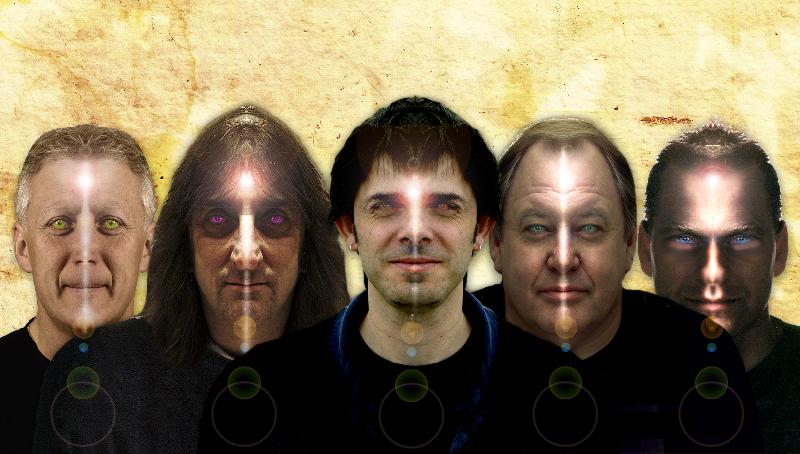 PALLAS has a very long history, being one of the new 2nd generation of UK Neo-Progbands along with MARILLION, IQ and PENDRAGON in the early 80s. Back then prog and sympho was completely vanished, so tell us how did it come all of a sudden around the UK bands popped up playing a new updated kind of 70s YES symphorockstyle, because all the bands somehow introduced a new sound, which up until now has actually never changed since the introduction back then by bands like yours, ALAN REED (lead singer), please explain us how the Neo-Prog of PALLAS was developed in the early years?
ALAN: I disagree that the bands of the 70's had disappeared. Most of them were still active and filling stadiums around the world, but in terms of new bands coming through, the music industry had it's mind focussed elsewhere. But there were still thousand of people out there who liked 'rock' music. And quite a few of them were musicians forming their own bands and who wanted to write and perform the same kind of music as had excited them enough to pick up instruments in the first place.
I think the early 80's group of bands came about for two reasons. There was a gap in the market for that kind of music, and the musicians had learned to avoid some of the self-indulgent failings of the supergroups. The music picked up some of the directness of "new-wave", and the subject matter started to become more about what life was actually like, rather than hobbits and demons.
Pallas came at it from a slightly more 'rock' direction than most. Starting as a covers band we played Deep Purple and Uriah Heep songs as well as Floyd and Genesis. The two elements collided in the band's own material which developed a strong, aggressive style from the start. Being Scottish we had a slightly different cultural take on the world as well. Darker, more soulful, than the often pastoral sound of the English bands.
From the new generation you were the first to actually release an album, which was 'Arrive Alive' in 1981, why start with a live album, was that cheaper to make in those days?
ALAN: I wasn't part of the band then, but as I understand it the band originally recorded it as something to sell at gigs. It was cheaper to record a whole gig than go into a studio, and to be honest in those days most of the studios the band could have afforded would not have provided very good results. The resulting "Arrive Alive" set was first made available as a cassette you could buy at gigs, and then much later was re-mastered and pressed into vinyl. It worked as a demo that properly explained what the band was about in a way that no studio recording really could. It got the band noticed, and it sold very well.
One of your most popular songs was "The Ripper", can you tell us about this song, which caused quite a stir back then?
ALAN: Euan - who was the singer then - did the whole 'dressing up in costumes" thing that so many prog singers have been attracted to. But Euan was a little.. different.. His persona on stage `~ and off it by all accounts ~ was cold and scary. Slightly deranged. More Alice Cooper than Peter Gabriel. 'The Ripper" was a song about rape and murder - from the murderer's perspective. There was a very famous hunt for a serial killer at the time, known as "The Yorkshire Ripper". He killed a number of girls in a particularly savage and gruesome manner. This song was trying to see things from his point of view. Euan inhabited the character, and would strangle a rubber sex-doll onstage. The audience would go very quiet. It wasn't something you forgot.
PALLAS was signed to EMI, but actually this label had no idea what to do with this new genre, Neo-Prog, what happened during those major label years?
ALAN: EMI realised the band had something, but couldn't quite see what to do with it. They knew how to market pop bands and singles, but didn't really understand what made us or our audience tick. The rock bands on the label were mostly well-established and had little to do with company other than as a source of finance and distribution. The success of Iron Maiden and Marillion confused them, and they tried to get us to follow a similar route. They wanted something they could work as a single. We didn't really function that way.
It was frustrating - for them and for us. They were also in a period of turmoil, so we frequently got lost in re-organisations and fresh prioritisations. It became clear that if we stayed with EMI we would never break through to the next level, so we provoked the end of our contract. We had an escape planned to another major label, but circumstances changed and the deal was never signed.
After the drop it became quiet, although you guys never actually split up, right?
ALAN: I actually left at the end of 1988. I'd had enough of living on no money, and needed to find another way of making a living. The others quietly did the same, tho they never formally broke up the band. We kept in touch and gradually the idea of coming back together just became too strong.
1998 saw the release of a real comeback album, one of your strongest efforts, the hard rocking 'Beat The Drum', which saw a sort of uptempo melodic rock approach, but the progfans were really pleased with the following 2 pure Neo-Prog records 'The Cross & the Crucible' and 'The Dreams of Men'. Please tell us more about the comeback years, was this thanks to the continued support of loyal fans and somewhat comeback of the Neo-Prog in the later 90s or did you guys always thought that it should not have ended like this in the mid 1980s?
ALAN: It always felt like 'unfinished business'. We didn't fall out with eachother, we just ran out of money. When we managed to license back the EMI albums and release them on CD that generated some money to start recording. 'Beat the Drum" grew out of a mixture of some material that had been written for the unfinished 3rd album "Voices in the Dark" along with other material we wrote along the way. A lot of other material was demoed and abandoned in the process. 'Beat the Drum" also coincided with the growth of the internet and a whole new way to reach old fans and new. We quickly realized there were a lot of people who remembered us and wanted to hear what we were up to, and that still more knew us by reputation and were curious about the real thing.
We didn't even have a plan on how to release "Beat the Drum". We were out of touch with the music business and had no idea what we'd do once we'd finished it.. but several labels got excited, and Inside Out were the final choice. With that in place, a regular pattern of gigs, and a bit of money coming in, we felt like a proper band again and continued as if nothing had happened.
It seems like the past 10 years went quicker than the 20 years before that and also much more successful with 3 fantastic studio CDs and 2 excellent DVDs, is PALLAS now at the top of their game?
ALAN: I'd say the stuff we've done since the "interregnum" is definitely our best. We're much happier now as people and musicians. Much more sure of what WE want, and not distracted by what any record company or management might want. Pallas is a far better band now than it's ever been.
What are the plans for the future, any new songs written yet for a new studio-CD? Also do you have somewhere hidden perhaps rare archive video footage for a future PALLAS DVD with 80s material?
ALAN: There is another album in the pipeline, but it's still some way off being finished; It'll probably encompass some of our shared love of Country and Western music. "The Sentinel Goes to Nashville" is the working title.
As for video, we have some bits and pieces around. Back in 1987 we did a video called 'Live at the Marquee", which I'd love to re-release because it captures a very sweaty night at a very famous venue. However, so far I've been unable to track down the master tape.
Did you ever sell anything outside Europe, because I am unsure about this, because PALLAS seems to be aiming for Europe and USA and Japan seem to be out of reach?
ALAN: We sell stuff all over the place, but you're right that most of our sales are in Europe. The Americas do OK, but Japan we sell on import only. The Japanese market has been very difficult for some time.
Finally, anything to add for yourself? (you may promote Scotland too now - LOL)
ALAN: Keep an eye out for the next album - whenever it might be!! :-)
---