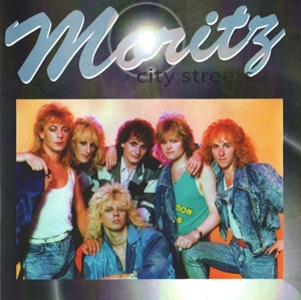 MORITZ 'CITY STREETS' (HARMONY FACTORY)
Back in the mid 1980s the UK had a very large AOR scene actually. This was after the 1960s Garage Rock, the experimental/Psychedelic era of the early 1970s, the Punk invasion in the late 1970s, the NWOBHM scene in the early 80s and the New Wave/Pop scene of the early mid 1980s, probably the next big scene to follow, although it never had a large breakthrough as it was a cult underground following that brought us many great releases of bands like PEROUX, FM, STRATUS, LIONHEART, GRAND PRIX, SHY, TOBRUK, SHOGUN, MONRO, STATETROOPER, etc. etc. MORITZ definitely was part of that scene, although they only managed to release 2 EP's, which both have now 20+ years later been re-issued onto CD by founding member/guitarist GREG HART. Greg did many other things, such as GTS, IF ONLY, writing songs for many other acts, such as ASIA, CHER and has his own Art company at www.hartworksart.com Anyway, back to MORITZ and their 8 tracks counting CD which has just been released. A must-have for 80s AOR fans, because all tracks are high class pure AOR songs that remind me of PREVIEW, PEROUX, FM, WHITE SISTER and such. Opening with semi AOR ballad "Can't stop loving you", which is so 1980s AOR sounding as if LOVERBOY tried recording a WHITE SISTER tune while being produced by KEITH OLSEN, a very catchy song! Further there are the typical 80s uptempo AOR Rockers like "Place in your heart", "Break it up" and "Hearts on the line", all damn catchy and hookladen as well as all featuring a recognizable chorus to sing-a-long with. For the 80s AOR fan this is a dream come true, because MORITZ are one of the long lost British AOR Treasures from the 1980s. 20 years later released on CD, but around the same time of this re-issue, GREG HART also has a CD out with his own new band HARTLESS. Their debut CD 'Full circle' contains sadly not the same kind of high quality AOR as MORITZ, because this is slightly heavier and keyboardless, more akin to Classic Melodic Hardrock a la THIN LIZZY, WHITESNAKE and RAINBOW. Not bad at all, but personally I prefer the lovely 80s AOR sound of MORITZ. Be sure to check out more info and availability of the CD of both MORITZ and HARTLESS at: www.myspace.com/hartlessband and www.hartworksart.com
(Points: 8.4 out of 10)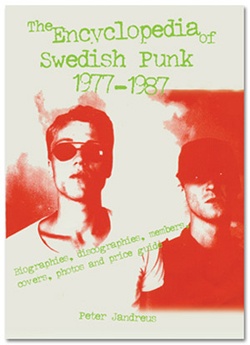 PETER JANDREUS 'THE ENCYCLOPEDIA OF SWEDISH PUNK 1977-1987 BOOK' (PREMIUM PUBLISHING SWEDEN)
Sweden is not really a small country, but with only 9 million people living there, one would not expect that a lot of music is coming from there. Well, as we all are aware, Sweden is one of the main and most important European exporting countries to deliver music in almost every genre. We have seen many books and encyclopedias in the past that were based on just a small part of a certain period in the music history of Sweden. Now another new book has been released, namely a book entirely based on Swedish Punkrock made between 1977 and 1987 (written in English happily!). Unaware of the fact that so many Swedish bands played Punkrock in this period, this book caught me by surprise, just like the book on Swedish Progressive Rock from the 1970s from a few years ago. It is a very professional book of 320+ pages and filled with biographies, discographies, album covers etc. on about almost every single Swedish band that played Punkrock in this 10-year period frame in Swedish music history. Of course not only pure Punkrock based bands are included, as we can also find a bunch of Powerpop and Hardrock based acts from the glorious 1980s included here, but fact remains that we are looking at yet another huge book filled with hundreds of Swedish bands that recorded 7" singles and LP's between 1977 and 1987. Without a doubt, a very interesting book and although I have never heard of any of the included bands I am quite sure on my next trip to Sweden I will hunt down a few with the help of this book in my bag. More info at: www.premiumpublishing.com
(Points: 8.3 out of 10)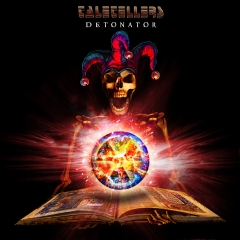 TALETELLERS 'DETONATOR' (HAMMERSOUND/BOB MEDIA/ROCK INC)
TALETELLERS are a German band playing dirty mean sleazy rock and roll with some metal influences, kinda like a mix between VICTORY, RUNNING WILD, HELLACOPTERS, MOTORHEAD, BACKYARD BABIES and JUDAS PRIEST. The sound of their full-length debut CD 'Detonator' is HUGE and the 10 included songs are very catchy real raw Rock and Roll, mostly uptempo and easy to sing-a-long with, yet with also screaming guitars in true classic rock/metal tradition. This is one of those albums you can easily put on when you're in for a ride on your motorbike (if you have one that is of course !!!). It hits you right in the face and TALETELLERS is a name to check out soon and me guessing that these guys live rock even harder, sorta like GOTTHARD being covered by the HELLACOPTERS and TURBONEGRO, that is what this band sounds like. Get the picture… well then go to: www.taletellers.de and be prepared for some real straight-ahead big guitar riff driven Melodic Heavy Rock and Roll!
(Points: 8.3 out of 10)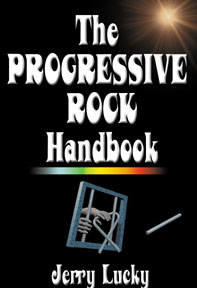 JERRY LUCKY 'THE PROGRESSIVE ROCK HAND BOOK' (CG PUBLISHING/COLLECTOR'S GUIDE PUBLISHING GUIDE/CANADA IMPORT)
From the same company that brought us the rather excellent books of 'The Collector's Guide to Heavy Metal Volume 1,2 and 3' that covered the 1970s, 1980s and 1990s by MARTIN POPOFF (HIGHLY RECOMMENDABLE READING!!!), here is another interesting book that is based on Progressive Rock. Big difference with the 3 Metal Encyclopedia is the fact that this Progrock book is not based on reviews and opinions of the author, which is sorta like a good thing as the Metal books were a bit too harsh here and there on some particular albums (TOUCH and JOSHUA were slashed for example!). This Progrock book has none of that, as it is a summary of a lot of bands active in the Progrockgenre in the past and present, with each band having it's own brief description of the sound and a discography list, all updated until 2008. It is really an encyclopedia and a must-have for sure for any Progrockfan, as it is pocket shape and when looking for info it is easy to use and look up quickly a band to learn some more. It is not really extensive info you get, but when going through the local recordshops or a second hand record store somewhere a very useful book as you can easily look for the unknown bands in the genre. Yes, the unknown bands, because that is where this book is aiming for, because the 350 pages of the book give info on 3,200 bands from all over the world. Some being very rare and definitely interesting to further investigate. It must have been the man's lifework to gather so many progrockbands in one book and therefore a highly recommended book, repeating again, MUST-HAVE BOOK FOR PROGROCKFANS! The book comes along with a CD that contains songs of acts signed to PROGROCK RECORDS, the leading proglabel from the USA. Make sure to check out this book at: http://www.cgpublishing.com
(Points: 8.8 out of 10)
ROBIN PLATTS 'GENESIS – BEHIND THE LINES BOOK' (CG PUBLISHING/COLLECTOR'S GUIDE PUBLISHING GUIDE/CANADA IMPORT)
And here we have another GENESIS related book… this time a very professional one covering the entire career of this groundbreaking Progressive Rockband. From 1967 until 2007, this book covers everything on GENESIS, with many pictures of the band, also a lot from their early days. Of course the most important period, the 1970s, is covered very largely here, with many interesting stories and pictures spread on 100 pages, while the other 50 pages contain the less interesting 1980s/1990s pop area. Very interesting, especially for the GENESIS fans, are the 25 pages at the end of the book, which is a very extensive discography containing all info on not only all the regular GENESIS releases, but also their bootlegs. Concluded, must-have for GENESIS fans! More info at: http://www.cgpublishing.com
(Points: 8.3 out of 10)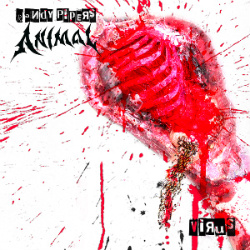 RANDY PIPERS ANIMAL 'VIRUS' (LOCOMOTIVE MUSIC/ROCK INC)
Anyone who was disappointed with the last couple of WASP releases, well here is your solution, because the RANDY PIPER'S ANIMAL release 'Virus' is a non-stop 80s Hardrock orientated album in the best WASP tradition. Co-founder of WASP, guitarist RANDY PIPER left his former band WASP and decided to start his own career a few years ago and with 'Virus' he delivers a very strong album a la WASP with BLACKIE LAWLESS, yet with his own lead singer RICH LEWIS, who also happens to have a good set of pipes. The music is PURE 1980s, with sometimes a more melodic rock approach, such as the excellent "Don't wanna die", but most of the time raw dirty Hardrock a la WASP, KEEL, QUIET RIOT and ROUGH CUTT in songs like "Cardiac arrest", "Can't stop", "L.U.S.T." (hello WASP!!!) and "Unnatural high" (quite superb!). Randy shows the world he can rock hard on his own too, although ANIMAL (his band) is very important too, with especially lead singer RICH LEWIS being a pure Classic 80s type of singer (JAMES CHRISTIAN, DAVID COVERDALE, BLACKIE LAWLESS, DAVID GLEN EISLEY style!!!), making this an absolute winner. More info at: www.myspace.com/randypipersanimal
(Points: 8.7 out of 10)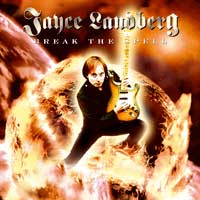 JAYCE LANDBERG 'BREAK THE SPELL' (ESCAPE MUSIC)
Swedish guitarist/bassplayer JAYCE LANDBERG is clearly influenced by MALMSTEEN and with GORAN EDMAN (ex-MALMSTEEN, JOHN NORUM, MADISON) singing on his first CD he has created a typical Swedish Neo-Classical Melodic Hardrock/Metal album. The CD has been released on ESCAPE MUSIC and songs like "Break the spell", "Land of the dark" and "Burning bridges" or any other song will please fans of the 1990s MALMSTEEN sound. Although Goran's vocalwork is still superb and also Jayce is a very good guitarist, somehow the songs are not really sensational, as they sound just good for what they are, which is very 90s MALMSTEENish Melodic Hardrock with Neo-Classical guitar riffs. Maybe it needs more listens, so growers here, but at first sight it seems like a normal MALMSTEENish record.
(Points: 8.0 out of 10)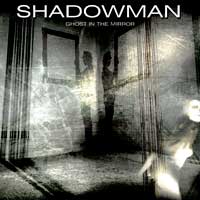 SHADOWMAN 'GHOST IN THE MIRROR' (ESCAPE MUSIC)
STEVE OVERLAND is very busy these days, not only with the FM reunion and it's recordings, but also recently with the OVERLAND album, THE LADDER and now with a new SHADOWMAN album. 'Ghost in the mirror' is the 3rd album under the SHADOWMAN moniker (with the help of HEARTLAND main man Steve Morris on guitars and keys) and once again STEVE OVERLAND shines in all his glory as being one of Britain's finest singers ever. The beginning of the CD is very impressive, with such great faster uptempo melodic heavy rockers (a la URIAH HEEP going AOR) like "Road to nowhere" (superb, 80s, very catchy!) and "No man's land", while both "Bad for you" and "Fire and ice" (best one, hello FM circa 1986!!!) are fantastic AOR songs in classic early FM style. Then with track 6 "Keeper of my heart" it all goes slower and bluesier, which is a pity, because the melodies of the more uptempo based rockers at the beginning of the CD were very sensational and if the CD had continued this way it could have been one of the top releases of 2008! Nevertheless, the rest isn't bad either, because Steve is an amazing singer and the bluesy melodic rock (a la 90s FM and BAD COMPANY) during the second part of the CD is still very enjoyable to listen to. However the AOR/Melodic Rock of the first 5 tracks are a must-hear and I think it is time now for Steve to deliver a full-blown AOR release next time under the FM moniker. In the meantime check out this little gem…
(Points: 8.6 out of 10)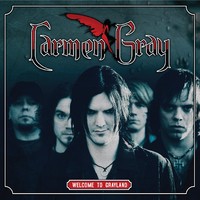 CARMEN GRAY 'WELCOME TO GRAYLAND' (SONY BMG MUSIC FINLAND)
The Finnish band CARMEN GRAY returns with their 2nd CD titled 'Welcome to grayland'. The band was formed back in 2000 and released their debut 6 years later on major label SONY MUSIC in Finland. The band scored some hits and were offered to record another album for SONY MUSIC and here is the result. The new album is a little less dark, but still dangerously close to a HIM, a THE RASMUS and a LOVEX, so success guaranteed in homeland Finland. Nevertheless, the album sounds crystal clear and huge and is actually a pure Melodic Rockalbum, with a lot of catchy uptempo songs, such as "Miss last chance", "Sacrifice", "Going wrong" and "Saint in sorrow" aside from a few calmer tunes, like "He's left to fight this world alone" and closing track "Dreams". A pure Melodic Rockalbum and a very good one too, which definitely be on the top of your list! More info at: www.carmengray.net/band.php and www.myspace.com/carmengray
(Points: 8.6 out of 10)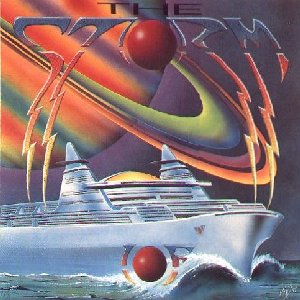 THE STORM 'EYE OF THE STORM' (KRESCENDO RECORDS)
THE STORM were a shoot-off from JOURNEY, with a wonderful debut CD in the early 90s that even provided a US Top 20 hitsingle with the superb AOR Ballad "Show me the way". However, after a fresh start it became quiet and we had to wait until in 1995 British label MUSIC FOR NATIONS finally released the 2nd and sadly final album of THE STORM, the band formed around ex-JOURNEY members as well as JOSH RAMOS and the excellent lead singer KEVIN CHALFANT. Now 13 years later this album should have been regarded as the finest AOR album of the 1990s decade and perhaps the best AOR album released after the SURVIVOR/JOURNEY classics from the early-mid 1980s. It is a good thing to see it now being re-released again and thanks to digital remastering it sounds bigger than ever! The album itself was not that easy to trace these days, so this re-release is very interesting, especially considering this is a pure AOR CLASSIC that belongs in the top 10 albums of all times! 12 songs were and also are on this re-release and if you're looking for songs that can be labeled as pure AOR at it's very best, well then look no further, because songs like "Don't give up", "Waiting for the world to change", "I want to be the one", "To have and to hold" (INCREDIBLE AOR BALLAD, right up there with JOURNEY's "Faithfully" and SURVIVOR's "The search is over"), "Love isn't easy" (one of the best AOR songs of all times!), "Fight for the right", "What ya doing tonight?" and "Come in out of the rain" are all timeless and already 13 years ago when we actually did a review of this album in one of our first issues I already stated this was a classic and indeed it has always been and will always be a classic, now and in the future. Kevin's vocals were top-notch on this record, although he has always sounded and still sounds perfect, but on 'Eye of the storm' THE STORM reached an incredible high AOR level. There is hope for a reunion, which should happen in 2009, so fingers crossed for a 3rd sensational album of one of the best AOR bands/projects after JOURNEY and SURVIVOR. More info at: http://www.krescendorecords.com/ and listen here: http://cdbaby.com/cd/rockthestorm
(Points: 9.7 out of 10)
Y&T 'EARTHSHAKER/BLACK TIGER/MEANSTREAK' (KRESCENDO RECORDS)
One of the most underrated Hardrockbands ever, Y&T had a huge comeback back in the early 2000s when they started playing the European clubs after big demands from long time fans. Since then the band returned time and time again, with even a DVD release recorded right here in The Netherlands, the place that helped create a home for Y&T in Europe back in the early 80s with the release of their album 'Earthshaker', although they already received press coverage in Holland way back in the mid to late 1970s thanks to the musicpaper 'OOR'. Anyway, in the USA they never reached the fame and fortune so many other 'fake' bands did receive throughout the 1980s. Meaning that Y&T main man DAVE MENIKETTI is both an excellent singer and guitarist, still sounding and looking as energetic as in his early days with YESTERDAY AND TODAY in the 1970s, so going 30-year strong, something many other frontmen would be jealous about! Well, after many re-issues and some new releases in the shape of live and rare material as well as the DVD, now the UK label KRESCENDO RECORDS has decided to also release the 3 remastered Y&T classics from the early 80s, as they were only available in the USA the past few years, mainly through DAVE'S own site. Anyway, now Europe is pleased with 3 of the finest Hardrockalbums of the 1980s, all containing many Classics, still played by Y&T nowadays during their concerts. These are the albums that made Y&T a household name in Europe, where they now each year sell-out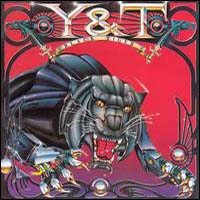 many clubs, especially in The Netherlands, where they truly have their biggest fan base. Having owned myself the LP versions of these classics, these new re-issues definitely sound and look amazing and are a good substitute for the old vinyl version, although the big LP covers are of course still being used for wallpaper! Back to the albums, well,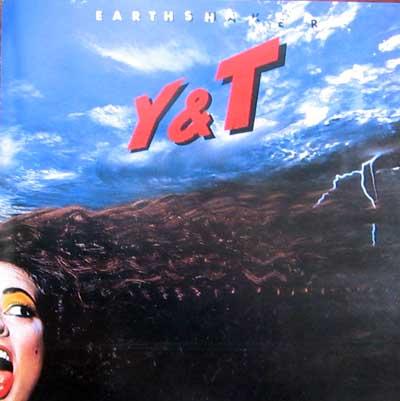 we have little to say as all 3 albums are a must-have, which cover all the Y&T classics you need to have in your collection, such as "Rescue me", "Dirty girl", "I believe in you", "Sentimental fool", "Midnight in Tokyo", "Lonely side of town", "Hang 'em high", "Mean streak", "Don't wanna lose", "Forever", "Black tiger" and "Winds of change". Those are the 12 classics and most of them are of course still in the Y&T live setlist, with Dave sounding better than ever, makes you wanna go to each show each year and I am quite positive someday soon the band will return for another 'Hot live night with Y&T classics' and like always the main focus will be these 3 albums, which are now available on CD in Europe through KRESCENDO RECORDS at: http://www.krescendorecords.com/
(Points: 9.4 out of 10)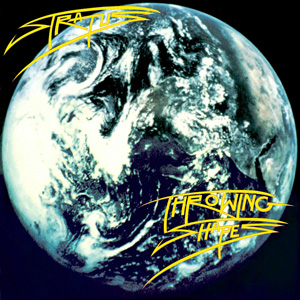 STRATUS 'THROWING SHAPES' (KRESCENDO RECORDS)
Didn't expect to ever see a re-issue of this one-off album from STRATUS, a band formed around members of IRON MAIDEN, PRAYING MANTIS and URIAH HEEP, whom joined hands and recorded a pure American AOR Radio album as STRATUS back in 1983. 25 years later the album has been re-issued on KRESCENDO RECORDS, although I remember it has been bootlegged onto CD before back in the mid 1990s by a German label. Anyway, this is the real deal, officially remastered and sounding good. Musically very JOURNEY/SURVIVOResque AOR material can be found, with lots of keys and catchy hooks, although BERNIE SHAW (later HEEP singer) seems to have a hard time hitting the right notes. Would not call this a classic at all, but it has it's moments here and there, such as the great AOR tunes "Back street lovers", "Gimme something", "Even if it takes" (with a very catchy hook, even reminding of LE ROUX circa the 'So fired up' period), "Never say no" and "Enough is enough" as well as the ballad "Give me one more chance". Great stuff to own and anyone missing the album in the collection, get this digitally remastered CD version. More info at: http://www.krescendorecords.com/
(Points: 8.4 out of 10)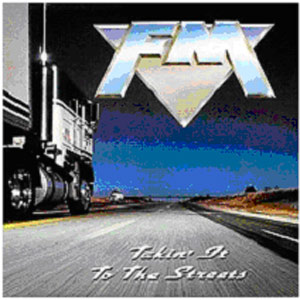 FM 'TAKIN' IT TO THE STREETS/LIVE - NO ELECTRICITY REQUIRED/APHRODISIAC' (KRESCENDO RECORDS)
FM does not requite a long introduction as they have done the classics way back in the 1980s, establishing themselves as a decent Bluesy Melodic Rockband in the 1990s alongside THUNDER and recently reforming with new material coming up. Hopefully that will see a return to their first album, because 1986 FM debut 'Indiscreet' is still their finest piece of work, a timeless AOR classic! Some of the songs from that record we can find back on the re-release of 'Live – No electricity required', although in a stripped down version. Also 2 1990s albums of FM, 'Takin' it to the streets' and 'Aphrodisiac' have been remastered and now re-released. These are good records that contain Steve's superb vocalwork, but not featuring the real FM classic tunes of the first 2 albums, which by the way were re-issued a few years ago as well. Anyway, now looking at these 3 new re-issues, they do not contain any unreleased material, but like mentioned before are remastered digitally, so sound better than the original release. The live acoustic CD is very interesting in case you don't own it yet, because Steve really shines on this one. The other 2 studio albums are the FM as we know them from the 1990s, so mainly bluesy Melodic Rock with here and there a great AOR tune like the wonderful "Only the strong survive". More info through KRESCENDO RECORDS at: http://www.krescendorecords.com/
(Points: 8.4 out of 10)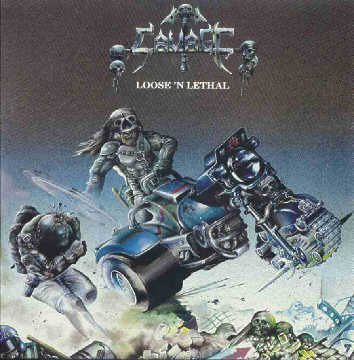 SAVAGE 'LOOSE'N'LETHAL' (KRESCENDO RECORDS)
SAVAGE were on of the thousands of NWOBHM bands that did not quite make it, although they had a large cult underground following. 'Loose'n'lethal' was their debut album from 1983. It took them 4 years to finish it, after recording several demos, singles and tracks for compilation albums before. It was originally released on EBONY RECORDS and now 25 years later KRESCENDO RECORDS re-issues it, with as bonus 1980 demotracks. The album is remastered digitally, but still has that typical early 80s NWOBHM sound where the NWOBHM is known for. Considered a classic, the 'Loose'n'lethal' album is a very strong effort that starts with a very fast and furious early RAVEN/JAGUAR type of pure Heavy Metal tune ("Letting loose") that barkens the borders of Speed Metal. The rest of the album is slower tempo based, pure Melodic Metal which reminds one a bit of PRETTY MAIDS actually and a lot early TOKYO BLADE, with very strong songs like "Cry wolf", "On the rocks" and "Berlin", with some biting and screaming guitarwork. EBONY RECORDS were known for their crispy sounding album releases and SAVAGE's debut was clearly one of them, which you can even hear on this re-issue, but that is something that for the absolute die-hard NWOBHM fans is something appreciated a lot! In that case better check out this CD re-issue asap! More info through KRESCENDO RECORDS at: http://www.krescendorecords.com/
(Points: 8.3 out of 10)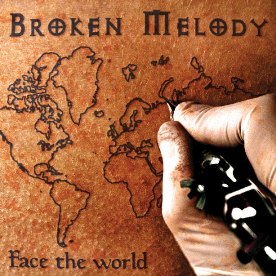 BROKEN MELODY 'FACE THE WORLD' (INDEPENDENT/ALKEMIST FANATIX)
The first couple of songs on the 2007 released album 'Face the world' of the Italian band BROKEN MELODY are fast and very melodic, sorta like DRAGONFORCE meets HAMMERFALL while doing PRETTY MAIDS covers. It sounds very strong, with catchy choruses and also good vocalwork, with the song "Rising" being a very nice catchy little tune a la DRAGONFORCE, POWER QUEST… However with "Face the world" the band slows things a bit down and this is actually a pure 1980s Glamrockish Hardrocktune that sounds like POISON meets PRETTY BOY FLOYD!!! So 2 styles within 1 CD and both sounding great, not many bands are able to do that! Italian band BROKEN MELODY does it very well and their independent demo CD 'Face the world' is the living proof. They even throw in an AORish WARRANT 'Heaven' style ballad with "Thousand miles away"! So enough diversity here, but they all have in common: it's melodic, catchy and it rocks! This band could deliver a sensational album if they had the tools and right producer, but for now this demo CD sounds pretty good too! Better check them out at: www.broken-melody.com and e-mail them at: sitemenagement@broken-melody.com
(Points: 8.3 out of 10)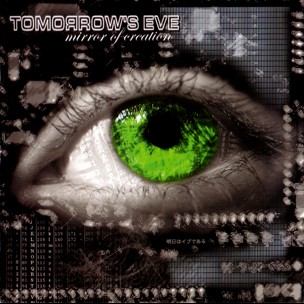 TOMORROW'S EVE 'TALES FROM SERPENTIA' (LION MUSIC/BERTUS)
10 years ago the TOMORROW'S EVE dream started with the release of their first album and now several CD's later the band releases it's new album 'Tales from Serpentia', which could well be their finest effort so far. Musically this is prime-time Progressive Metal of the MIND'S EYE, PAGAN'S MIND sorta level, although the German band TOMORROW'S EVE reminds me most of all of EVERGREY, especially during the fantastic tune "Remember" on their new album. The epic "Muse" will impress you with it's 20 minutes counting playing length. Sometimes the band is aggressive and at other times more melodic, but the already mentioned comparison to EVERGREY is probably the best one to identify this band with, as the sound on 'Tales from serpentia' is not that far away that Swedish Melodic Progressive Metalband.
(Points: 8.4 out of 10)
OTR 'MANONAMA' (LION MUSIC/BERTUS)
OTR is ON THE ROCKS and was formed around ex-URIAH HEEP vocalist JOHN LAWTON and the ex-FOCUS guitarist Jan Dupree, completed by the Brazilian rhythm section of Ney Conceicao on Bass, Xande Figueiredo on Drums and Marvio Ciribelli on Organ. Musically it is melting pot of Funk, Soul and Rock, with of course as most recognizable, the voice of John. It is like mixing SANTANA, TRAPEZE with some good old Rock and Roll, but most of all it is very relaxing Brazilian style Samba Funky Soulful kinda music, with a dash of Rock. The voice of John truly makes this record, as otherwise it would probably go unnoticed. That does not mean it is a bad CD, because without a doubt it is a very professional high quality album.
(Points: 7.7 out of 10)
SHADRANE 'TEMPORAL' (LION MUSIC/BERTUS)
SHADRANE is the band/project of VIVIEN LALU, a French musician who is a successful TV and movie score composer in France, having done music for various TV shows and live orchestral music for the French blockbuster 'Seuls Two', which was released in France in May 2008 and won the 2nd place on French theatres' top 10, just after Narnia II! With SHADRANE he is doing something completely different, as this is a pure Progressive Rock/Metal affair, with some Neo-Classical and Power Metal influences here and there, not far away removed from a PAGAN'S MIND/MIND'S EYE/TOMORROW'S EVE. 14 songs are included, of which some are instrumental. The vocal songs are sung by various singers, with GORAN EDMAN being my fave. The songs are quite impressive, with as highlights "She writes", "Consider it", "Dance of solitude" and the very sensational "Temporal". SHADRANA is all about melodies, instrumental and vocally, very much recommended to the Progmetal fans!
(Points: 8.4 out of 10)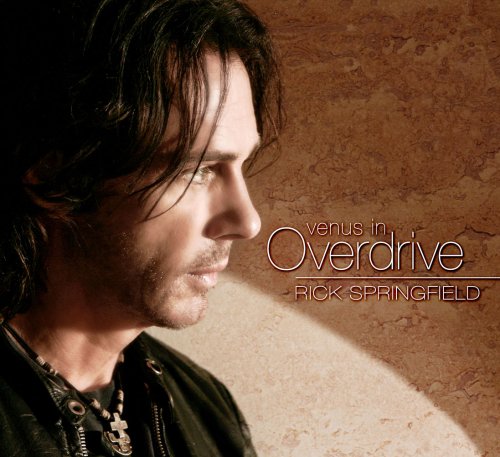 RICK SPRINGFIELD 'VENUS IN OVERDRIVE' (ANGELMILK RECORDS)
The label ANGELMILK RECORDS started a few years ago as being a new UK AOR label that would bring us more new artists and bands. One of their first signings was the Spanish band NEXX, whom released a wonderful female fronted AOR album. However things got a little out of control, when this band decided to quit, leaving the label with no bands signed. Happily then came along our good friend of melodicrock.com, ANDREW MCNEICE, who decided to join the label and make a re-start. This re-start could actually in a few years time result in a real huge and interesting AOR label. Of course we have seen it before and many labels stranded eventually, but this time I think it will work as Andrew has got of course a really big know-how and great contacts. The first release is without a doubt quite a biggie, because RICK SPRINGFIELD is of course a major artist in the USA. He appeared on the OPRAH WINFREY SHOW earlier in 2008 and you can't get any bigger than that if you like the show or not. Anyway, it must have helped the US release of the album as it entered the Billboard Charts close to US TOP 20 and that has not happened with any record of Rick for about 20 years. So the European release of Rick's new album 'Venus in overdrive' has been done through ANGEL MILK RECORDS and I gotta admit, this is quite a good record, Rick's best since his heydays. Me being a huge fan of the big 3 records he cut in the early 1980s ('Working class dog', 'Success hasn't spoiled me yet' and 'Living in Oz') I did not follow that much the rest of his career as the records started to become poppier and less catchy with every release. Now he makes this great real Rockin' comeback that sounds damn catchy and goes back in style to the 'Working classs Dog' classic, without sounding dated as it sounds quite modern and actually not out of place between all the new American Poprockbands and also highly recommended if bands like SUNRISE AVENUE and THE RASMUS are up your alley. Rick still looks like he's 30 years old and with this new record he's also rocking again and that is something I actually was waiting for after his rather disappointing albums from the later 1980s/1990s/early 2000s. Opener "What's Victoria's Secret" is definitely the 'hitsingle' here, the most catchy tune and just pure RICK SPRINGFIELD with guitar riffs and loops a la "Jessie's girl" and a damn catchy uptempo Melodic Rock chorus. This song is a HUGE hit for sure if Radio would pick this up anywhere in the world and by far Rick's best song in like 25 years! The rest of that CD is not as sensational as that first tune, but with uptempo melodic rockers like "I'll Miss That Someday", "One passenger" and "Time stands still" Rick's back and rocking again, sounding very catchy and as melodic as in his heydays, so be sure to check out his new record asap! More info at: www.rickspringfield.com
(Points: 8.4 out of 10)
VENTURIA 'HYBRID' (LION MUSIC)
2nd album of VENTURIA, 'Hybrid' contains some good strong Progressive Metal with some modern touches and great female vs. male vocals, with in each song some great haunting melodies. Imagine a mix between DREAM THEATER, EPICA, DISTURBED and PAGAN'S MIND, then you're close to VENTURIA's sound, which actually sounds quite original. Highlights on the new album are "Be the one", "Love gamers", "Sparkling rain" and "Sublimated dementia". Not a groundbreaking album, but still something to check out if you like Progressive Metal with a big modern produced guitarsound and some typical Dutch Goth Metal female vocals!
(Points: 8.2 out of 10)
KROSSBREED 'CARVED IN STONE' (INDEPENDENT)
Belgium band KROSSBREED sent me a 4-track CD, which sadly contains aggressive Metalcore, despite the fact that PETER DE WINT of Melodic Rockband MYSTERY produced it. If you liked CHANNEL ZERO you will probably love this. More info at: www.krossbreed.be
(Points: -)
EMPYROS 'THE SPECTRE OF BALLANTRE' (INDEPENDENT)
Fast Thrashy Speed Power Metal is the name of the game here when listening to the first song of the first CD of this Estonian band. It actually sounds like 80s Teutonic Metal of the SINNER, ACCEPT, TYRANT, VOX, RESTLESS, HIGHWAY TENSION kind, but then on fast-full-speed, although after the first track, the remaining 8 songs can easily be put right next to mentioned bands. The guitarwork is quite strong actually, while vocally it is typical German, very raw and almost sounding like TANKARD meets RUNNING WILD. Only 200 copies were pressed and fans of GRAVESTONE, RESTLESS, SINNER and such will absolute love this band. More info at: www.myspace.com/empyrosband
(Points: 7.5 out of 10)
DORRN 'SWEET BORDERLINER' (STF RECORDS)
The German female fronted band DORRN returns with a new CD titled 'Sweet borderliner', which contains a good deal of modern Melodic Nu-Metal, like a DISTURBED with female vocals. 12 songs are included and most of them fall in the same midtempo style as opener "See Paris", although here and there the band throws in an uptempo melodic heavy rocker and these are the best songs, such as "Fighter", "Nice to know you" and "Love bizarre". The band reminds me a lot of KITTIE actually, so fans of that band will dig this too. More info at: www.dorrn.de
(Points: 8.0 out of 10)
THRILLS 'FRONTPAGE NEWS' (AOR FM RECORDS)
THRILLS were one more exponent of the large early 80s US AOR/Pomprockscene. The band released 2 albums more than 25 years ago, but their best one was their unreleased third album, which for many years remained unreleased. I had a tape copy of it and played it to death, because that was an incredible AOR Classic a la SPYS, FRANKE AND THE KNOCKOUTS, TOUCH… At the end of the 1990s it was finally released on CD, but their first 2 albums were still only available on LP and very hard to get. Happily, AOR FM Records is now releasing both on CD. First off is 'Frontpage news', a very strong classic early 80s AOR album with some very nice tunes like the uptempo classic AOR rockers "You dont remember me", "Dont you know", "Tonight" and "Take me away". This album was yet another fine example of the classic early 80s AOR/Radiorocksound that was focused on catchy little tunes with nice keyboard vs guitarwork and should be put next to bands like STEEL BREEZE, PREVIEW, SILVER CONDOR, although LE ROUX and ROADMASTER also come to mind due to the catchy keys and hooks used in all the songs… Better check out all on this re-issue at: www.aor-fmrecords.com Already looking forward to the next re-issue of that other THRILLS album!
(Points: 8.4 out of 10)
100 O'C 'BRANT ROCK' (INDIES SCOPE RECORDS)
100C is a band which is very well-known in the Czech Republic, released albums in the 1990s on SONY MUSIC, but are now signed to INDIES SCOPE RECORDS, on which they released their new album 'Brant rock'. Musically it combines influences of the early 1970s T-REX rocksound with today's modern British way of Rock and Roll of the PANIC AT THE DISCO kind. Not many rockalbums have been released on this big Czech label, but this one is definitely rocking. 14 songs are included and the band easily has something to offer here and for fans of the English modern rocksound this is a band to check out, especially since they sing in English. More info at: www.myspace.com/100c
(Points: 7.8 out of 10)
BEN AVERCH 'START AT THE BEGINNING' (HEAD FIRST ENTERTAINMENT)
Multi-instrumentalist BEN AVERCH is coming out of Boston, USA and has already released a few albums as well as playing in a band called BISON during the 1990s. Now he has released his second solo-CD titled 'Start at the beginning'. Musically we are listening to a mix of catchy 80s Poser Melodic Rockchoruses (sometimes), a lot of Poprock in a sort of almost DONNIE IRIS type of setting and some Punkrock, which is kinda weird as it is mixing DEAD KENNEDYS, CHEAP TRICK and SLYBOYZ, which you can hear during the first couple of songs, namely "Two places at one" being a very catchy melodic rock tune with a chorus a la SLYBOYZ, whilst "It ain't me" is sounding like a CHEAP TRICKish Poprock version of DEAD KENNEDYS. But most of the CD is a pure Poprock bliss, some call it Powerpop… Ben is doing everything on his own and although the production is a bit thin, this CD is nice to check out and will mostly attract fans of catchy Poprock. More info at: http://averch.blogspot.com
(Points: 7.8 out of 10)
JUPITER SOCIETY 'FIRST CONTACT/LAST WARNING' (FOSFOR CREATION)
Here we have some very Dark sounding Progressive Rock that sounds like a heavier PORCUPINE TREE and a bit RIVERSIDE. JUPITER SOCIETY comes out of Sweden and is formed around CARL WESTHOLM, better known as being a member of KRUX and CARPTREE. However with his own project he sets his eyes on some quite experimental Progressive Rock, although not forgetting the melody here and there. Vocally it does sound very good, but that is also partly thanks to MATS LEVEN who sings here and does a bloody good job, although singing very low most of the time (a la DAVID BOWIE), but during the choruses that do come up after 5/6 minutes in each song Mats gets higher. Need to add here that several guest singers appear here, so it's not just mats unfortunately. Without a doubt, this is one of those albums you have to listen to several times, because every time you will discover something interesting. Check out all info on them at: www.jupitersociety.se
(Points: 8.0 out of 10)
LONELY CROWD 'WATCHING FROM A DISTANCE' (KARISMA RECORDS)
Formed way back in 1995, the Norwegian band LONELY CROWD is playing a sort of very dark experimental 90s orientated slow progressive/psychedelic rockstyle that sounds like a mix between BAUHAUS, PORCUPINE TREE, PINK FLOYD and COLDPLAY. So they do have their own atmospheric dark sound and will appeal to fans of that genre. 11 songs later I find myself personally longing for some uptempo catchy rock'n'roll! Check it out for yourself at: www.karismarecords.no
(Points: 7.4 out of 10)
BOURBON FLAME 'BOURBON FLAME' (KARISMA RECORDS/DARK ESSENCE RECORDS)
BOURBON FLAME was formed in 2001 in Norway and musically they play typical late80s/early 90s influenced LA Sleazy raw dirty mean Rock and Roll, reminding me a lot of bands like VAIN, JUNKYARD, THE CULT and especially LA GUNS. LA GUNS seems like being copied here, but done pretty good if you listen for instance to the opener "Six feet under". This is the PHIL LEWIS fronted LA GUNS album that was never released and if it had been like 1990, US major labels might have signed this BOURBON FLAME. The guitarwork is also pretty good and LA GUNS fans will absolutely love the 9 cuts. Check it out for yourself at: www.karismarecords.no and www.darkessencerecords.no and www.myspace.com/bourbonflame
(Points: 8.0 out of 10)
MICHAEL ELSNER 'STAINED VOODOO' (GLASS RECORDS)
Here we have a very professional musician with his own solo debut CD. MICHAEL ELSNER is a guitarist from California, where he settled himself in Los Angeles. He has been working on many different projects since 1998, including work for some very well-known productions and working with many famous musicians. These include JON ANDERSON of YES, MICHAEL MCDONALD, BAYWATCH, BOLD AND THE BEAUTIFUL, etc. etc. So he made it as a session musician in the big Los Angeles entertainment industry. In the meantime he started working on a solo record and here with a little help from his friends Michael has a great album out that musically is instrumental of course, yet with some great melodies that come out of Michael's guitarwork. Definitely a must-have for the instrumental rockfans, sounding like PAT TRAVERS, ROBIN TROWER, JEFF BECK, NEAL SCHON and STEVE STEVENS. Check it out at: www.michaelelsner.com and e-mail him at: michael@michaelelsner.com
(Points: 8.3 out of 10)
MICHAEL HILDER 'THE STORM – PART ONE' (WING ENTERTAINMENT)
A real independent sounding record here from Australia that sounds like a 70s Classic Rock type of thing. Best song is definitely the uptempo melodic rocker "The wind of change" that has some cool twin-guitarwork and is a catchy tune with good melodies. The production is based on a very small budget I assume and also the songs could use some upgrading. Hard to compare as it is just plain old Classic Hardrock and suggestion would be that next time female singer CHRISSY PHILIPS may sing more lead vocals as one can hear in the song "The witch" she has a pretty good voice. More info at: www.michaelhildermusic.com
(Points: 7.0 out of 10)
STEVE STEVENS 'MEMORY CRASH' (MAGNA CARTA RECORDS)
STEVE STEVENS does not need any introduction as the man has a long history behind him, starting way back in the 1980s with STEVE STEVEN'S ATOMIC PLAYBOYS, in which also PAUL SHORTINO sang for a while. Steve's latest solo effort 'Memory crash' is a good deal of instrumental guitar orientated Hardrock, spread on 10 songs and belting out melodies all over the place. This guy can definitely play like the best, with such great songs like "Memory crash" and "Cherry vanilla". The one vocal track included here is the ROBIN TROWER cover "Day of the eagle" that sounds like JIMI HENDRIX, exactly, partly also thanks to guest singer DUG PINNICK of KING'S X and of course Steve's pure JIMI HENDRIX' type of guitarwork. Check out Steve's site at: www.stevestevens.net
(Points: 8.3 out of 10)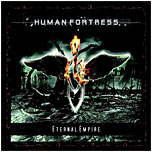 HUMAN FORTRESS 'ETERNAL EMPIRE' (MASSACRE RECORDS)
German band HUMAN FORTRESS has a long history, dating back to the mid 1990s and releasing 2 albums in the early 2000s, of which their debut was released on LIMB MUSIC, followed by a MASSACRE RECORDS album in 2003. However, we had to wait 5 long years before a new album would be released. This is also partly due to the fact that former lead singer JIOTI PARCHARIDIS left the band. Replacement is GALLOGLASS singer CARSTEN FRANK, someone who can easily sing in many different ranges. He is also throwing in some Death growls here and there. Musically the band also has changed a bit as there is no more all-clean Melodic Metal to be heard. Instead it is rawer, heavier and more modern, but still the 9 songs each also contain some interesting melodies (especially during the choruses). At times NOCTURNAL RITES and MYSTIC PROPHECY come to mind, but HUMAN FORTRESS is a bit darker and heavier, with like said before some more aggressive vocalwork here and there, which makes them different than those acts. Highlights are "Contrast", "Borders of insanity" and the Progressive Power Metalish tune "When love and hate collide" (a la ICED EARTH). However, if you like let's say DISTURBED meets MYSTIC PROPHECY meets MERCENARY meets NEVERMORE, then this is your album for sure. A CD that is definitely a grower!
(Points: 8.3 out of 10)
(All reviews by Gabor Kleinbloesem except where noted)