SYBILL
'SYBILL' (INDEPENDENT)
OK from out of nowhere a CD arrives from a band called SYBILL. Now I do remember an awesome AOR band from the 80s with the same name and a Glamband with the same name… but sadly I have not much info on this SYBILL, except for the fact they are coming out of California/USA and have recently re-issued independently onto CDR their unreleased album from 1987. Result is a very impressive record and musically pure 80s AOR/Pompish Melodic rock is what we get to hear. Kinda sounding like a mixture between STRANGER (USA), WHITE SISTER, STEALER, HOLLAND, WINTER'S REIGN, CHAMPION and PROPHET, very Pompy and very Melodic, with catchy hooks here and there and with some great songs like "Why O Why", "Take me back" and the SUPERB LOVERBOYish CLASSIC UPTEMPO AOR Rocker "Tell me" (also reminding me of AVIATOR/AGENT/A440!). Must-have for 80s AOR freaks out there, as it all sounds quite perfect and it seems rather weird they were not able to get this released 20+ years ago. More info at: http://bitmunk.com/view/media/7091077 and http://www.tradebit.com/filedetail.php/1854416-Music-Hard-Rock and http://cdbaby.com/cd/sybill
(Points: 8.3 out of 10)
THE STRIPT 'THE STRIPT' (IFIYMM RECORDS/HEAD FIRST ENTERTAINMENT)
Dirty mean raw sleazy hardrock and roll is the name of the game here, so you get your MOTLEY CRUE, GUNS'N'ROSES, AC/DC, NEW YORK DOLLS, LA GUNS, AEROSMITH, FASTER PUSSYCAT, etc. influences on this 6-piece disc of the Las Vegas settled band THE STRIPT. They sure know how to convince, because all 6 tracks are very strong and so I can recommended this mini album of THE STRIPT without a doubt, go check it out for yourself at: www.myspace.com/thestript
(Points: 8.0 out of 10)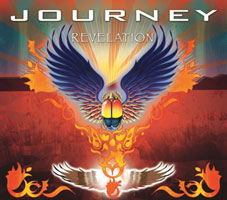 JOURNEY 'REVELATIONS' (FRONTIERS RECORDS/ROUGH TRADE)
Every new CD of JOURNEY seems to be mark in AOR history. The particular album is heavily discussed all over the internet and to each their own opinion of course. 12 years ago 'Trial by fire' was a wonderful STEVE PERRY comeback album of JOURNEY, which also received a favorable review from our side back in 1996. 5 years later 'Arrival' was by far the best AOR album of 2001. 'Generations' from 2005 was very disappointing and seemed to show a band on it's way to the graveyard. Then what happened in the following 3 years should actually not happen to any band, because replacing your lead singer twice within 2 years is ridiculous. JOURNEY also had their TAPEGATE affair with STEVE AUGERI and many more rumors, including the reason why JEFF SCOTT SOTO was suddenly fired without telling him face to face. Anyway, moving on forward to 2008 and the band introduces a new singer called ARNEL PINEDA, a new CD and a sound going straight back to the 1980s AOR sound of the band. If you mix 'Arrival', 'Raised on radio' and 'Escape' with 'Frontiers', then you have 'Revelations'. Sometimes the songs are in the same unreachable AOR level of those albums, but here and there are a few fillers too. Nevertheless, the new JOURNEY CD will definitely become one of the top AOR records of 2008, right next to a WORK OF ART, H.E.A.T. and BROTHER FIRETRIBE. With a new lead singer (number 6 when counting ROBERT FLEISCHMAN and GREGG ROLIE from the early years) in the line-up, Arnel from the Philipines (being the best STEVE PERRY imitator I have ever heard, yet with sill an own vibrato as well as can be heard on the new songs, especially on "What it takes to win"), a great production of KEVIN SHIRLEY, a big WALLMART deal in the USA (2-CD and 1-DVD package for an insane low price), JOURNEY is ready to make a huge impact and comeback with this 'Revelations' album. Happily it's not as ballad-orientated as 'Trial by fire', but even without STEVE PERRY it will have the same result as 'Trial by fire' from 12 years ago, so a high chart entry and a few singles being played on US Radio. The European package has a bonustrack ("Let Me Take You Back", an OK song) not on the US version, but you would rather get the US version as this contains a full-blown recent Las Vegas shot performance. One way or the other, the 2-CD set is available for both of us. CD 1 is filled with new material, while CD 2 is this new JOURNEY line-up doing remakes of JOURNEY classics. Touching classics should be forbidden, but in this case it has been done very well and JOURNEY are one of the few major bands to re-record a full CD with their own tunes. After last year's KEVIN CHALFANT JOURNEY Tribute CD, we can now add a JOURNEY tribute by the band themselves. Back to the new studio-CD, which is of course the main target here to listen to. Well, this is JOURNEY at their very best, with many amazing soon-to-be new AOR Classics, especially uptempo rockers like "Never Walk Away" (RAISED ON RADIO Harmonyvocals, the follow-up to "Be good to yourself"), "Change For The Better" (a little like STEVE AUGERI period JOURNEY), "Where Did I Lose Your Love" (instant AOR Classic, superb song, perhaps AOR song of the year!) and "What It Takes To Win" (wow, this does sound a whole lot like HARLAN CAGE, pure AOR). These rockers are JOURNEY at their very best, reaching classic 'Frontiers'/'Escape' level. Also the (semi) ballads have the incredible high AOR level of 'Frontiers'/'Escape' era, such as "After All These Years" (a definite number 1 hit candidate, the follow-up to "Faithfully", maybe AOR Ballad of the year 2008, right next to WORK OF ART's "Once in a lifetime" one of the few new AOR ballads that hit the spot on the exact right place!), "What I Needed" ("Mother, Father" style) and the THE STORMish "Turn Down The World Tonight". So these are in total 7 super sensational pure AOR tunes, showing that JOURNEY is alive and well, with this fantastic new lead singer, ARNEL PINEDA. Remaining tracks are a slight let-down, because "Like A Sunshower" is a 'nothing special' soft ballad, "Wildest Dream" is quite a good heavy rocker, but a grower as the chorus fails a bit, "Faith In The Heartland" is a remake of the same song JOURNEY recorded on 'Generations' and finally, the instrumental "The Journey (Revelation)" does not make much sense. In the end what we have here is probably the best selling AOR album since 2001's JOURNEY's 'Arrival' and happily it is a very sensational AOR album too! JOURNEY shows how the big boys do it and with a first week sales of 100,000+ in the USA alone by far the most successful pure AOR album since JOURNEY released 'Trial by fire', so better make sure you get this gem asap... The future looks bright for JOURNEY, although you never know what to expect considering the fact their lead singer has been replaced twice within a few years, but for now JOURNEY STRIKES BACK BIG TIME, so better get this 2-CD (in Europe) or 2-CD/1-DVD (in the USA) set asap!
(Points: 9.2 out of 10)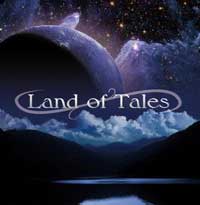 LAND OF TALES 'LAND OF TALES' (FRONTIERS RECORDS/ROUGH TRADE)
Not that long ago we reviewed a demo CDR of the new Finnish band LAND OF TALES, now they are signed to FRONTIERS RECORDS and released their debut CD. Musically they are very much into a Melodic Rockstyle we have heard by many other bands before and therefore remind a lot of bands, such as LAST AUTUMN'S DREAM, ALTARIA, DAVINCI, DALTON, SAHARA, HUMAN TEMPLE, ... so not really original, but for a fan of classic fun summerish Scandi Melodic Rock of course a must-have! Most of the songs follow a same path more or less, with a variety in uptempo and midtempo material, yet all with catchy melodic choruses. Not as sensational as for example KHYMERA, WORK OF ART, H.E.A.T., BROTHER FIRETRIBE and such, but overall a nice record that will probably also be interesting for fans of BONRUD and such melodic rock/aor. Highlights are "Silence", "All The Same", "Fading Away" and "Right As Rain", catchy, melodic and fun to listen to, although compared to another (still unsigned) Finnish melodic rockband DREAM ASYLUM, this LAND OF TALES is not at the top of their game yet, but who knows what the future will brings, in the meantime check them out if you're a fan of Classic Scandi Melodic Rock.
(Points: 8.1 out of 10)
OSADA VIDA 'THE BODY PARTS PARTY' (METAL MIND PRODUCTIONS)
OSADA VIDA is a Polish band, whom released 3 independent hard-to-find CDs in the early 2000s, but release their official 2nd full-length CD 'The body parts party' now on METAL MIND PRODUCTIONS. It is a concept CD about the human body, while musically it is pure Neo-Progressive Rock, a little on the modern side, so comparisons to PORCUPINE TREE, OZRIC TENTACLES, but also RIVERSIDE are possible. 8 songs are included, with 2 bonustracks on the CD digipack release. Ever since RIVERSIDE introduced Poland as a new upcoming Progrockcountry, we have seen many new bands popping up, with SATELLITE and now OSADA VIDA as being the next bands to follow-up RIVERSIDE in becoming a popular Progrockband and I think thehy deserve it because 'The body part party' is a very good Progressive Rockalbum. More info at: www.osadavida.com
(Points: 8.3 out of 10)

KJETIL BY 'UNREQUITED LOVE' (HIT MUSIC)
Wow, without getting nostalgic here, KJETIL BY is a Norwegian singer/guitarist, of whom we reviewed his previous CD probably 10 years ago! That was the time when we were offline, as we started online in 1999! Anyway, musically nothing has changed and KJETIL BY's new CD 'Unrequited love' is in the exact same style as his previous records. That means we get to hear 80s orientated light AOR/Poprock in the style of STAGE DOLLS, RICK SPRINGFIELD, DANNY WILDE, TOM KIMMEL and such. 10 songs are included and especially the uptempo Poprockers "Christine", "Beautiful and dangerous" and "These are the days" are very catchy actually. This time Kjetil brought in the help of members of Norwegian bands like TNT, STAGE DOLLS and BLONDE ON BLONDE. OK, nothing new is brought here, still, fans of the catchy 80s US Poprockstyle of mentioned artists will like this a lot! More info at: http://kjetilby.com/kjetilby.com
(Points: 8.0 out of 10)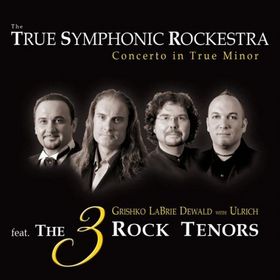 THE TRUE SYMPHONIC ROCKESTRA 'CONCERTO IN TRUE MINOR' (BRAINWORX/SONY BMG)
What do we have here then, well a Concerto in True Minor! OK, it has nothing to do with Rock or Metal, even though JAMES LABRIE of DREAM THEATER is one of the Tenor singers here. What we do have here is a collection of songs covered by 4 Tenor vocalists (DEWALD, LABRIE, GRISHKO, ULRICH) and these are not your ordinary covers, because most of the songs are from the really old days, such as "My way", "America (West Side Story)", a few VERDI songs, traditionals, ANDREW LLOYD WEBBER and many more, 21 in total. All done very professionally and reading the bio is showing that this is a project has been in the works for more than 10 years, so some hard effort has been put into this project. Without a doubt, the result is very impressive and will probably reach a lot of people, as the TENOR singers are in the style of PAVAROTTI, DOMINGO, CARRERAS, with the addition of LABRIE. For the die-hard Labrie fans worth checking out, but I have my doubts if rockers are waiting for something like this…
(Points: 8.0 out of 10)
JUDGE JACKSON 'JUDGE JACKSON' (CURTIS JOE RECORDS/HEAD FIRST ENTERTAINMENT)
Already formed in 1995 in Los Angeles, the band JUDGE JACKSON has so far released 3 CDs, but with the new same titled debut CD they are probably become a little more known, as this CD sounds pretty good. Real Rock and Roll, as groovy as you can get in the American way, with the CD being produced by JOHN HILER of SMASHING PUMPKINS and WILLIE DIXON fame. Nevertheless, to me it does sound like a good old Classic American Hardrock CD the 80s almost Sleazy kinda way, with me thinking of PERRIS RECORDS' releases. It does remind one of a JUNKYARD, DIRTY LOOKS and EVERY MOTHER'S NIGHTMARE here and there, so actually this is typical 1989-1991 USA Hardrock, with a lot of semi ballads, such as "Soon" and "Bandit". Check it out for yourself at: www.myspace.com/judgejackson
(Points: 8.0 out of 10)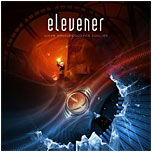 ELEVENER 'WHEN KALEIDOSCOPES COLLIDE' (AOR HEAVEN/ROUGH TRADE)
A surprise from Sweden, although ELEVENER is not bringing anything new to the scene. Nevertheless, their debut record sounds like a great AOR-by-the-numbers record, catchy and sounding picture perfect. Some of the members played on records of SCENARIO, HAMMERFALL, FULL STRIKE and MILLION, so we are dealing here with established musicians. The deal here is a new band/project that is focused on pure 80s catchy Summer/Fun uptempo driven hookfilled AOR/Melodic Rock with memorable choruses to sing-a-long with. It all starts with the super catchy chorus opening uptempo AOR Rocker "This heart of mine", a song that sounds like a cross between CHANGE OF HEART, the very first FM, HONEYMOON SUITE and ATLANTIC. A great way to start off and although in the end, this first track is the absolute highlight, also the rest of the CD follows this catchy AOR style, with as other best tracks "Say if you want" (uptempo Melodic Rock a la HONEYMOON SUITE circa 'Bad attitude'), "Shooting star" (mix "Dreams" of VAN HALEN with MICHAEL BOLTON's "You wouldn't know love" as covered by FM in 1986) and "Could it be you". Close in style to KHYMERA and BROTHER FIRETRIBE, but not as good as them, however better than NEWMAN, which is also in the same style, pure 80s catchy chorus driven AOR/Melodic Rock is the game here and ELEVENER do that very very well. More info at: www.myspace.com/elevenelevenagain
(Points: 8.5 out of 10)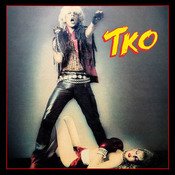 TKO 'LET IT ROLL/IN YOUR FACE' (DIVEBOMB RECORDS/TRIBUNAL RECORDS)
30 years ago the Seattle based band TKO was formed by vocalist BRAD SINSEL, who actually was the only original member to survive 25 years of TKO, as it all began in 1977 and ended in 2001. In their early years they released most of their albums and 2 of them have now been re-issued onto CD by North Carolina's Divebomb Records (a new division of TRIBUNAL RECORDS). Both releases feature bonus tracks and liner notes written by none-other than MARTIN POPOFF (known for writing the triple Heavy Metal Encyclopedia books of the 70s/80s/90s). It's the first time the original TKO albums have been released on CD with full cooperation of the members, because the earlier releases were bootlegs. Musically the 2 albums are quite different, because 'Let it roll' from 1979 contains pure 1970s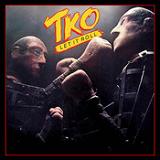 Classic Rock a la THE WHO, while 'In your face' goes way more into the then popular LA Glamrockstyle a la RATT/KEEL. As said before, both CDs feature a dozen bonustracks, live and demos of songs from the particular album. 'In your face' from 1984 was way heavier and really showing a Classic 80s American Mainstream Hardrocksongs with songs like "I wanna fight", "Give into the night" and "So this is Rock and Roll" sounding like a cross between WASP, RATT, KIX, KEEL and such. 'Let it roll' contained a real Rocksound a la THE WHO, just listen to "Rock n Roll again" and "Let it roll". Not bad at all, but 'In your face' was definitely the best record of the band, although 150,000 copies were sold of the first album back in 1979! TKO's final album 'Below the belt' marked the end and was a less interesting record, also not re-issued here. Just a few years ago the only release from 1992 of the next band of lead singer Brad (WAR BABIES, originally produced by PAUL STANLEY) was re-released, but Brad was at his best when screaming out his belts on these TKO releases, which sound now better than ever, thanks to TRIBUNAL RECORDS! More info at: http://divebombrecords.bigcartel.com
(Points: 8.2 out of 10)
ASIAN TYPHOON 'X.Y.Z.-A' (NIGHTMARE RECORDS)
In the past we have had many Japanese bands playing Hardrock and Heavy Metal, sadly most of them sounded exactly the same. It all started with bands like LOUDNESS, VOW WOW, EZO, X, EARTHSHAKER and lately became more melodic with thousands of acts, me being personally quite a fan of that period (late 80s/1990s) with bands like GRAND SLAM, NIGHT HAWKS, RABBIT, WANDS, etc. etc. Throughout the 1990s Power Metal and Neo-Classical Metal became the next big thing, with MALMSTEEN being a prime example for many Japanese bands and so we had towards the turn of the century millions of new Japanese bands playing Power Metal, with of course CONCERTO MOON and GALNEYRUS being the most popular bands. The last few years it all became a little quiet on the Japanese front, but with ASIAN TYPHOON we have another quality Metalband, although the lead vocals are like many other Asian based bands a problem, as it just doesn't sound as good as the American and European bands in the genre. ASIAN TYPHOON is a little rawer and more Heavy Metal bands, reminding a lot of DOUBLE DEALER. 10 songs are included and it is quite a surprise to see them signed on the high pitched vocal driven Progressive/Power Metal label of LANCE KING, NIGHTMARE RECORDS, because ASIAN TYPHOON is somewhat sounding like LOUDNESS could have sounded if they had gone back to their heavy metalsound of the early years. More info at: http://www.blasty.jp/xyz/e/index.htm and http://www.myspace.com/asiantyphoonxyza
(Points: 8.0 out of 10)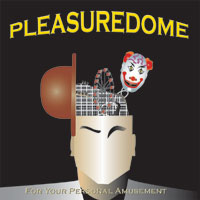 PLEASURE DOME 'FOR YOUR PERSONAL AMUSEMENT' (ESCAPE MUSIC)
PLEASURE DOME is a new band formed around members of DANGER DANGER and SHOTGUN SYMPHONY. Of course lead singer TED POLEY is well-known to every Melodic Rockfan out there, as he is someone who has never left the melodic rock field, either doing a solo thing, a project here and there (BONE MACHINE, POLEY/PICHLER), but of course best known as being first the PROPHET drummer in 1985 and later fronting the successful band DANGER DANGER, whom caused quite a stir in Japan in the early 90s. The latest CD he sings on is the new band/project PLEASURE DOME, who have a CD released on ESCAPE MUSIC. Musically not too far away from Ted's other projects, so catchy Melodic Rock, yet sometimes sounding a bit groovier than a DANGER DANGER. Highlights are "One and only" (catchy uptempo melodic rocker), "Praying for a miracle" (strong semi melodic rockballad), "I Won't cry" (midtempo melodic rocker with vocal share duties of a female singer), "(Who will) Save the world" (catchy uptempo melodic rocker) and "Love is a game" (another midtempo melodic rocker with once again vocal share duties of a female singer). Although not as good as the similar style recent release of MARCELLO VESTRY, still this PLEASURE DOME is something you gotta check if you like the DANGER DANGER type of Melodic Rock, although I have to inform you that the 2nd part of the CD definitely has a slightly different approach, but it doesn't leave the melodic rock field happily! More info at: www.tedpoley.com and http://www.myspace.com/tedpoley
(Points: 8.3 out of 10)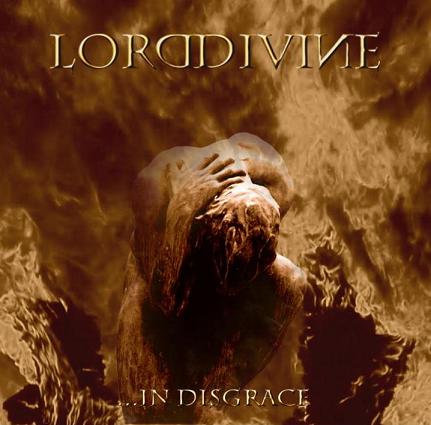 LORD DIVINE '… IN DISGRACE' (2M PRODUCCIONES/ARGENTINA IMPORT)
From out of nowhere comes the Argentinean band LORD DIVINE with a superb Melodic Progressive Metal album that smells a lot like VANDENPLAS, PAGAN'S MIND, MIND'S EYE and such bands. Songs like "By myself", "Train of tomorrow" and "Out of my way" are super sensational songs that combine crystal clear vocals, smooth melodies and bombastic progressive metal parts in a wonderfully produced ambiance. What we have here is something that MUST be heard by any fan of Progressive Metal, because LORD DIVINE deliver something very well here. '…In disgrace' is their 2nd CD so far and having played as support act for SYMPHONY X in Argentina shows that this band has the potential to become bigger and with this CD they have something to show the world and therefore I highly recommend you to check out their site at: www.lorddivine.net
(Points: 8.7 out of 10)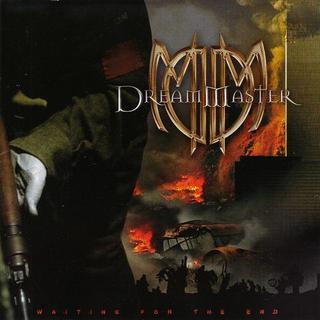 DREAM MASTER 'WAITING FOR THE END' (2M PRODUCCIONES/ARGENTINA IMPORT)
The album IRON MAIDEN is not able to record anymore… that is what I would call this very impressive new CD of the Argentinean band DREAM MASTER. 'Waiting for the end' is the 2nd CD of this band and apart from the contribution of ADRIAN BARILARI of RATA BLANCA in a Spanish sung bonustrack, the CD is sung entirely in English and that does not happen much with bands from Argentina. Thanks to the fantastic lead singer (and guitarist) Ezequiel Wiurnos, this CD is definitely right up there with the European Melodic Power Metal releases. Songs like "Inner suffering", "The circle of life" and "School of dark arts" are without a doubt quite sensational tunes and with 14 tracks in total this little baby gives you 60 minutes of listening pleasure. The production is quite superb and anyone disappointed with the IRON MAIDEN releases of the past few years will like this DREAM MASTER a lot! Recommended to fans of MYSTIC PROPHECY, SEVENTH AVENUE, LORD and DUNGEON. Better check out their site at: www.dreammaster.com.ar
(Points: 8.4 out of 10)
GLOW 'TALES OF PRODIGAL SONS' (BRENNUS RECORDS)
4 years ago we reviewed the previous CD 'Flipside of reality' of the Norwegian band GLOW and sadly in these busy times I forgot all about it and thanks to this new CD it moves me searching for the album again. Why? Well, this new CD of the 1996 formed band GLOW is a very nice Progressive Rockalbum that reminds me a lot of A.C.T. and is also a bit sounding like a heavier version of SAGA with some of the more prog orientated material of URIAH HEEP thrown in here and there. All together this is a very nice album, with as highlights "So the story goes", "Winter song" (with excellent guitarsolo almost an epic prog masterpiece a la FLOWER KINGS/SPOCK'S BEARD) and "Tales of prodigal sons" (the titlesong, the best song, a very strong midtempo PALLAS sounding Melodic Progressive Rocker). It is not a pure Neo-Progalbum, as it is a tad heavier and with the more high-pitched vocals a little Progmetal ish here and there, but I think if you like bands such as 80s MARILLIONM, SAVIOUR MACHINE, TWELFTH NIGHT, GALAHAD and such of the more experimental progbands you will also enjoy this release. So, a good deal of original Progressive Rock is what you get here. More info at: www.glowsong.net and e-mail at: glowsong.records@start.no
(Points: 8.2 out of 10)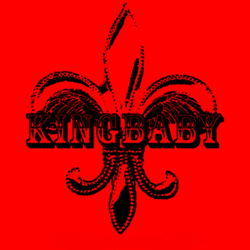 KINGBABY 'FIND MY WAY' (BAD REPUTATION RECORDS)
With the release of the second CD, the American band KINGBABY brings us back 2 musicians from the past, namely LANCE BULEN from BATON ROUGE and producer ROBERT TEPPER. Yes, the man behind "No easy way out" produced the new CD of the three-piece band KINGBABY. Lance also is known for doing backupvocals and co-writing ALICE COOPER stuff, such as the classic "Hey stooped". Anyway, with KINGBABY we are digging into Classic Rock style of the AEROSMITH, BLACK CROWES and BAD COMPANY kinda groovy style, guitar orientated with soulful vocals and some bluesy licks here and there. Typical American orientated, although the style was originally created in the late 60s by the British Classic Rock Bands. The band was formed in early 2004 and now 4 years later CD number two is being released. A nice album to check out, especially if you like AEROSMITH. So despite Tepper and Bulen being involved in this band, it has nothing to do with the Melodic Rock past of these 2 musicians. More info at: www.myspace.com/kingbaby
(Points: 8.0 out of 10)
PAT MCMANUS 'IN MY OWN TIME' (BAD REPUTATION RECORDS)
Guitarist PAT MCMANUS is a musician with a long career behind him, because he was one of the founding members of the Melodic Rockband MAMA'S BOYS. The Northern Ireland born guitarist found his way to fame and fortune with this band for a short period, as he had a number 1 hit in Ireland for six weeks and also scored a massive Billboard charting cover tune of "Mama's weer all crazee now", although QUIET RIOT took most of the fame for that. Anyway, by the mid 1990s MAMA'S BOYS changed into CELTUS, with whom Pat recorded 4 successful Celtic/Irish traditional Pop/Rock albums before returning to his roots with first the band HIGH VOLTAGE and later solo, with this 'In my own time' being his solo-debut album. The music is pure Bluesrock and sounds like a mix between BB KING, JOHN LEE HOOKER, GARY MOORE, ROBERT GRAY and JOE BONAMASSA.. It all sounds very professional and fans of pure Bluesrock will definitely like this a lot. Check it out for yourself at: www.patmcmanus.co.uk
(Points: 8.0 out of 10)
COLDSPELL 'DEMO' (DEMO)
A very impressive demo is what I received from the band COLDSPELL, who are coming out of the cold northern part of Sweden. Musically they play groovy Melodic Hardrock that sounds like a mix between 80s WHITESNAKE, RAINBOW, TYKETTO and also their countrymen of STONELAKE. The band has a very strong raw lead singer (Niclas Swedetorp) and most of the songs go in the same groovy midtempo style, which reminds one a lot of WHITESNAKE. Besides the very impressive EUROPE circa 'Superstitious' sounding "Surrounded" and the awesome midtempo melodic rocker "Greed", "All I want" is sounding like something WHITESNAKE is not able to cut anymore! 7 songs are on this demo and with a full-blown production and plans for a full-length CD to be released later this year, future looks bright for this COLDSPELL. Be sure to check them out at: www.myspace.com/coldspellsweden and e-mail at: micke@coldspell.se
(Points: 8.3 out of 10)
RONNI LE TEKRO 'KINGDOM OF NORWAY' (ESCAPE MUSIC)
After the very disappointing new TNT CD, guitarist RONNI LE TEKRO offers a new solo-CD with 'Kingdom of Norway' where he not only plays guitar, but also sings. Of course Ronni is an excellent guitarist and on this CD we can enjoy that again. Musically the CD is completely different than the TNT stuff, as here we get to hear some sort of late 60s Psychedelic Flower Power meets 70s UK Glam style Rock, reminding of T-REX, THE BEATLES and ENUFF'Z'NUFF. I am quite sure this will only attract a small amount of people, but you got to say it is impressive as a song like "Happy" is sounding exactly like DAVID BOWIE circa 'Ziggy Stardust'. However, we rather hear Ronni shredding with TNT and then making something along the lines of 'Tell no tales', but I guess that is wishful thinking.
(Points: 7.6 out of 10)
SNAKE 'STRIKE' (DEAD FAMOUS RECORDS/KOCH RECORDS/NIGHTMARE RECORDS/UNIVERSAL)
Here we have some typical Classic Aussie Style Rock and Roll, so armed and dangerous with a ROSE TATTOO, AC/DC, KINGS OF THE SUN, AIRBOURNE attack, straight-ahead raw Rock and Roll with huge guitar riffs and a deadly raw lead vocalist who is able to produce a JIMMY BARNES/BON SCOTT type of vocalsounnd, although actually he sounds a bit more melodic and polished, kinda like PAUL RODGERS actually, but anyway he is definitely giving this band an extra dimension as he sounds great. He being bassist LARRY ATTARD. Anyway, the Rock and Roll on 'Strike' is dead serious and this SNAKE could well become the next big thing from Australia. 9 songs are included and of course AC/DC is the big comparison here, with not only uptempo tunes, but also a midtempo tune like "Sweet revenge" that sounds dangerously close to AC/DC and of course a real crowd-pleaser is "In for the kill". If you like this type of Aussie Rock and Roll you will love SNAKE. More info at: www.snakerocks.com
(Points: 8.3 out of 10)
TRIPPING HORSE 'TRIPPING HORSE' (AUTONA RECORDS)
Dark sounding Rock and Roll is what to expect here, kinda like mixing THE CULT with THE 69 EYES is the name of the game here, yet with some Screamo here and there unfortunately too. However most of the 12 included tracks are pure Rock and Roll, raw and a bit Gothic sounding. The band is coming out of Austria and is making their debut with their same titled CD. Sometimes the band has a sort of own style, combining elements of VELVET REVOLVER with some catchy ALICE COOPER sorta choruses if played by a band that sounds like a mix between HIM and THE 69 EYES, which sounds at best during the uptempo rockers "Frightened out of heaven" and "Warchild". Check them out for yourself at: www.trippinghorse.com
(Points: 7.9 out of 10)
THE VAINE 'IT'S A DISEASE' (AUTONA RECORDS)
Here we have an Australian band called THE VAINE, whom are mixing typical female fronted clean vocals with screaming male vocals, Emo meets Melodic Rock meets Gothic Metal, which sounds quite big and is not far removed from a SONIC SYNDICATE and also EDENBRIDGE meets BULLET FOR MY VALENTINE meets FALL OUT BOY could be a description, so yes Emo, yes Metal, yes Melodic and yes Screamo, all mixed together and sounding very professional, especially considering the fact that the 5 members are all way below the age of 20! Of course the screaming parts spoils the listening pleasure a lot, as the band also comes up with some very melodies and instrumental sounds very impressive to say the least. If you're starting to become interested, then do check out their site at: www.myspace.com/thevaine
(Points: 8.0 out of 10)
THE SUNDIAL 'TRANSITION' (AUTONA RECORDS)
THE SUNDIAL is a band from Russia, male fronted, yet also accompanied with a background singing female keyboardplayer. Musically a mix of Neo-Classical Progdeath, Black Metal, Doom Metal and Gothic Metal, so little on the extreme side, despite some nice clean female vocals here and there, with also keyboards added. However, towards the end it is becoming more and more a Black/Death Doom Metal affair, so only interesting for the fans of that genre. Check them out for yourself at: www.myspace.com/sundialband
(Points: 7.5 out of 10)
LAAZ ROCKIT 'LEFT FOR DEAD' (MASSACRE RECORDS)
Formed way back in 1982, releasing a whole string of albums in the 1980s, but disappearing from the face of the earth throughout the 1990s, the cult band LAAZ ROCKIT has returned to the scene in 2005 thanks to a couple of big write-up and praise by the leading Metal magazines in Holland and Germany. Sadly I was never that impressed by the San Francisco based band, which sounded like a poor man's METALLICA mixed with some slight GUNS'N'ROSES. With their comeback album they offer nothing new, although actually sounding heavier than ever, sort of like the Thrash Metal album METALLICA will never make. Still surprised to see so many being overwhelmed by this band, because also this new album 'Left for dead' has a CD title that could well be taken seriously, unless you're a die-hard Thrash Metalfan…
(Points: 7.3 out of 10)
APPEARANCE OF NOTHING 'WASTED TIME' (ESCAPE MUSIC)
APPEARANCE OF NOTHING is a Swiss band, which was surprisingly signed by ESCAPE MUSIC. The band is playing Neo-Classical Progressive Metal that sounds quite melodic and is not far away from SERENITY, which was another underground band from Switzerland (or was it Austria?) that released a CD on ESCAPE MUSIC. The origins of the band go back to the 1990s, but it took them until now before an official CD release was possible, so a big thank you to ESCAPE MUSIC for releasing this record. The Melodic Progressive Metal contains influences of bands like SYMPHONY X, DREAM THEATER and VANDENPLAS, but to reach that high level is a tough task. After repeated listens of the band's first album, I can conclude that 'Wasted time' is not a wasted time at all, because this band delivers some high quality Melodic Progmetal, with as highlight the epic 15 minutes counting "The science of light". The only pity are some aggressive second vocals here and there, not necessary as the band has a great melodic clean singer and the choruses of their songs are very melodic. Something worth checking for the fans of PAGAN'S MIND, MIND'S EYE and VANDENPLAS… Website: www.appearanceofnothing.com
(Points: 8.3 out of 10)
SAINT 'CRIME SCENE EARTH' (ARMOR RECORDS/NIGHTMARE RECORDS)
The Christian Metalband SAINT has a long history behind them, going back to the 1980s and have constantly been making records, with almost always playing the same kind of True Metal that has huge PRIEST influences, yet in the vocal department more like METALLICA. In the end, they sounded like a typical 80s US Power Metalband of the JAG PANZER, ARMORED SAINT, METAL CHURCH kind. Also their new CD 'Crime scene earth' is focusing on that style, so more of the same here. Not bad at all, but probably only for the die-hard fans among us.
(Points: 7.8 out of 10)
POWND 'CIRCLE OF POWER' (NIGHTMARE RECORDS)
POWND is a band from Kentucky, USA and they play a pure 80s Melodic Metal style that sounds a lot like FATES WARNING actually, so high-pitched vocals and melodic harmonyvocal driven choruses, as if TRIUMPH, LEGS DIAMOND and RAIL have reunited with QUEENSRYCHE, CRIMSON GLORY and FATES WARNING. A song like "The stand" is the living proof how well this sounds, although POWND also goes into a more aggressive Metal style sometimes, but happily always throws out the high belted vocals and some excellent guitarwork. 11 songs are included on 'Circle of power', which is the debut CD of the band. Most of the CD are into this great melodic Progmetal style as described earlier, so we definitely have a winner on our hands here if you're a US Prog Metal style fan, while fans of LEGS DIAMOND, TRIUMPH, Q5, RAIL, etc will also find something of interest in here . Better check out this great band at: www.myspace.com/pownd and www.pownd.com
(Points: 8.4 out of 10)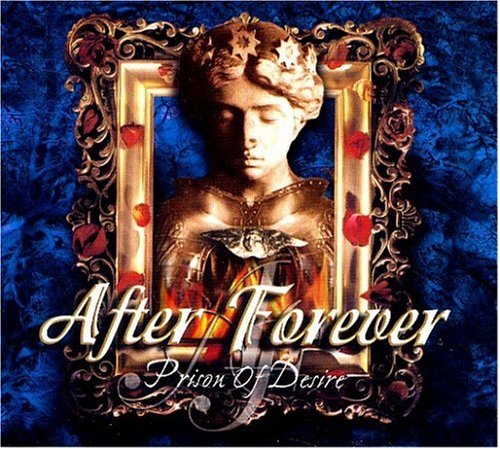 AFTER FOREVER 'PRISON OF DESIRE' (TRANSMISSION RECORDS)
This was a surprise to arrive, as I own most of AFTER FOREVER's sensational later records, but their debut 'Prison of desire' was missing and with the re-release of this album I was able to hear it and also make a review of the album. Clearly it showed that the band was looking for the right style and on later albums melodies became more and more prominent. This first album was definitely a somewhat heavier and more aggressive album that their later albums, very bombastic with Death Metal influences as well, but also female singer FLOOR JANSEN already showing she has been one of the best singers from The Netherlands already since this 2000 album. Now 8 years later the album on which the AFTER FOREVER journey started has been re-released as a 2-CD set by TRANSMISSION RECORDS, who added 20 bonustracks and a very extensive booklet of 28 pages, in which ex-guitarist MARK JANSEN (now with EPICA) talks about this early period of AFTER FOREVER. All together a nice little package, which of course is a must-have if you don't own the record and perhaps for the die-hard fans worth checking out, as the whole CD has been remastered and contains so many bonustracks, although then I need to add that only the song "Wings of illusion" is interesting, because the rest of the material contains demo, instrumental and A-capella versions of songs from the actual album. Nevertheless, the CD showed AFTER FOREVER was already something special, playing Gothic Death Metal with loads of Neo-Classical and Prog influences, epic and bombastic with still enough melodies in songs like "Leaden legacy", "Semblance of confusion" and "Inimical chimera". Floor is one of a kind and on the later albums AFTER FOREVER would also come up with some incredible songs, but this 'Prison of desire' was the album that started it all. More info of course at: www.afterforever.com
(Points: 8.6 out of 10)
TINKICKER 'SOLILOQUY OF THE TRANSPARENT BOY' (MALS RECORDS/RUSSIAN IMPORT)
An obscure release on a Russian label from a band coming out of Denmark. They play a mix of Classic Rock, Progressive Rock and some 80s Gothic/New Wave, kinda like mixing THE MISSION, SAGA, PINK FLOYD and BLUE OYSTER CULT, so quite out of the ordinary, but still very interesting to hear as the band also has some pleasant melodies to offer on their 16 tracks counting CD 'Soliloquy of the transparent boy', such as "Chanson de geste", "Thin white line" (even BLACK SABBATHish Doom Metal riffs here), the uptempo melodic heavy rocker "The bargain" (a song quite different than the rest due to being the only straightforward tune) and "Ghost of my father" (prog). It's a very extraordinary album that could well also appeal to fans of OPETH for that matter, because they are doing the same as this TINKICKER and are worldwide known, so perhaps TINKICKER might grab some attention from that fanbase. Maybe in 10 years from now, this album will be considered a cult classic as it offers something that you don't understand immediately as it really needs a few listens. You might want to check out their site at: http://www.myspace.com/tinkicker
(Points: 8.2 out of 10)
ANDREW ROUSSAK 'NO TRESPASSING' (MALS RECORDS/RUSSIAN IMPORT)
ANDREW ROUSSAK is a keyboardplayer/pianist from Russia who gathered a bunch of German guest musicians around him and recorded an album filled with a sort of light Neo-Progrockstyle. Not that far away from IQ and EVERON actually, although sometimes a bit lighter and also touching JETHRO TULL, with some Jazzy/Fusion rhythms and Classical inspirations as well. He has a guest singer on several songs, although of course Andrew's main focus with this album are his keyboard and piano talents. It all sounds quite impressive, really and for Progfans definitely worth checking out. More info at: www.andrew-roussak.com
(Points: 8.0 out of 10)
DORIAN OPERA 'NO SECRETS' (MALS RECORDS/RUSSIAN IMPORT)
From out of nowhere (I think I always say that) comes a new band. DORIAN OPERA are coming out of Germany and they have released their debut CD on the Russian label MALS RECORDS. The band was formed in May 2007 and so releasing an album within 1 year is quite impressive. 'No Secrets' is a decent melodic Progmetalalbum that somehow reminds me a lot of SAVIOR MACHINE, so a bit epic and complex, still heavy and bombastic. Opener "Ouverture" shows the band's high level musicianship as this an instrumental tune and instrumental it all sounds good throughout the album. However, then we are heading into the first song with vocals, namely "Sacrifice", which lacks a bit, as the production suffers and also the lead vocals are not that strong. Later on the CD it all gets better, although I am afraid some people might be put off as the vocals are not as strong as for example like VANDENPLAS. The singer more sounds like he used to sing in a Teutonic Metalband, so no melodic vocals here to be found! Anyway, still a progmetal-diehard might want to check out DORIAN OPERA at: http://www.myspace.com/dorianopera
(Points: 7.6 out of 10)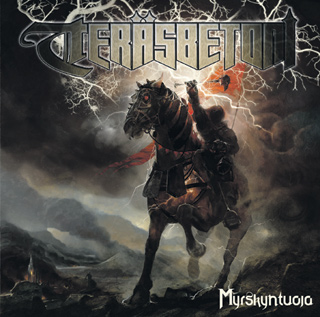 TERASBETONI 'MURSKYNTUOJA' (WARNER MUSIC FINLAND)
TERASBETONI return with a great new album, maybe their best, as it really sounds like a sensational Melodic Metal record in the style of DREAM EVIL and MANOWAR. The band of course rose to stardom a few months ago when entering the Eurovision Song Contest for Finland. In their homeland Finland, TERASBETONI is very well-known, thanks to their pure True Metal sound combined with classic twin-guitarwork, catchy melodic singable choruses and of course the Finnish lyrics about ancient mediaeval times. Mix LORDI and MANOWAR with DREAM EVIL, let them sing in Finnish and you have TERASBETONI. All their previous albums are in the exact same style, but somehow the band nails it this time a little better, with such great uptempo Melodic Metal Anthems like "Voiman vartivat", "Metallin voima", "Missa miehet rotsastaa" (The Eurovision Song Entry) and "Ukkoshevonen". The band goes uptempo all the way on the 12 included tracks and makes this album a must-have for the fans of MANOWAR, DREAM EVIL, LORDI, etc. Check out these guys asap at: www.terasbetoni.com
(Points: 8.6 out of 10)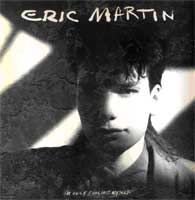 ERIC MARTIN 'I'M ONLY FOOLING MYSELF' (ROCK CANDY RECORDS)
ERIC MARTIN rose to superstardom as lead singer for MR. BIG during the 1990s, but not with the kind of songs you want to be remembered for, because "To be with you" and later the cover "Wild world" were MR. BIG's worst songs, acoustic lullabies for the housewives. Of course MR. BIG was more a Rockband that sounded like a cross between VAN HALEN and AEROSMITH, yet with the amazing vocals of Eric. However before there was MR. BIG, ERIC MARTIN had a solo career thing going on, releasing 3 albums in the 1980s that sounded not far away from MICHAEL BOLTON and RICHARD MARX, so a bit lightweight. However, his debut from 1983 as the ERIC MARTIN BAND definitely was the best thing he ever did! That record is an instant early 80s US/Canadian AOR/Radiorockstyle Classic a la LOVERBOY, STAN BUSH circa 1983, SILVER CONDOR's debut, PREVIEW, etc. etc. A very catchy hooky AOR classic with songs one will never forget! But we are here to talk about ERIC MARTIN's solo-album 'I'm only fooling myself'. After the ERIC MARTIN BAND, Eric went on releasing 2 solo albums in the 1980s, of which 'I'm only fooling myself' from 1987 has now been re-issued onto CD by ROCK CANDY RECORDS. Together with a very extensive booklet and of course a high quality remastering of the album, this is the real deal for anyone waiting on this re-issue. Personally I do not consider this an AOR Classic, as it is a very lightweight album that sounds like a cross between JOHN PARR, MICHAEL BOLTON and RICHARD MARX, with the occasional AOR tune. Even more so the fact that the best songs are also done by other AOR performers, such as "These are the good times", "Everytime I think of you" and "Crazy world like this", songs that were later or earlier also recorded by ROBIN BECK, FM, REFUGEE, ALIEN… Furthermore the other 7 songs are very poppy, with a sax here and there, so with the exception of these 3 mentioned songs, this is not an AOR album, more a typical 80s lightweight Poprock-affair, recommended if RICHARD MARX and JOHN PARR are your fave artists, but after this release Eric went on rocking with MR. BIG, although like said before he scored big time with 2 acoustic tunes and this century he released a couple new solo-albums that also rocked way more than this album from 1987. Nevertheless, still good to see this album re-issued as it was even as LP quite hard to get these days. More info at: www.rockcandyrecords.com
(Points: 8.0 out of 10)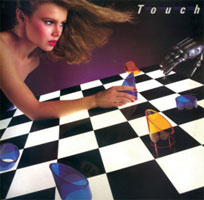 TOUCH 'TOUCH' (ROCK CANDY RECORDS)
More than 28 years ago one of the finest records in music history was released. TOUCH was the name of the band and owing a little thanks to RITCHIE BLACKMORE of RAINBOW/DEEP PURPLE the band was able to sign a major deal and released their one and only album in late 1979/early 1980. Despite some small hitsingles, sadly the album never reached the success it deserved to get. However, in Europe and Japan the album was considered a Cult Classic, especially among the fans of AOR and Pomprock. TOUCH was the magical mixture of STYX, JOURNEY, TOTO and QUEEN. Rich keyboards, big flashy guitarwork, catchy hooklines, high pitched clean lead vocals, superb harmonyvocals and killer choruses is what made this record perhaps one of the finest in history. An absolute AOR CLASSIC and perhaps THE album that did it for me, because after hearing this album back in 1993, it got me into obscure AOR and gave me the reason to keep on digging for gems like this until the present day. Of course TOUCH stands high above any record I heard afterwards, because it is such an incredible album and almost unbelievable it didn't reach the big success back in the late 70s/early 80s. Touring in Europe as support for RAINBOW could have been the big break, even playing the famous Donington Monsters Of Rock Festival in the UK, with TOUCH perhaps being the very first band ever to play on a pure Hardrock orientated Fest in Europe! Anyway, it wasn't meant to be, as a few years later the band split and it's members went on having other successes, of whom MARK MANGOLD kept true to his AOR roots, writing incredible material for MICHAEL BOLTON, THE SIGN, DRIVE SHE SAID, etc. etc. Back to the TOUCH album. Yes it was re-issued onto CD before and yes, FRONTIERS RECORDS did a wonderful job some 10 years ago releasing everything TOUCH ever did on 2 CDs, remastered and sounding terrific, a 10+++ back then. Now recently in Japan this CD was re-released, with an additional DVD!!! And here we are in the year 2008 in the UK and the label ROCK CANDY RECORDS doing a new re-issue, a 2008 remastering of the original album and some might find this a bit over-the-top, I am here to inform you about the release and since it remains a timeless classic I can only give this release 10 points. Songs like "Don't you know what love is" (one of the best songs of all times, who said MUTT LANGE was the man of the big harmonyvocals?), "Listen (Can you feel it)", "Love don't fail me now" (incredible semi-ballad), "So high" (amazing Keyboard/Synthesizerwork by MARK MANGOLD in the style of GREGG GIUFFRIA), "When the spirit moves you", "Yes You need to Rock and Roll" are unbelievable songs that belong to the absolute best AOR and Pomprock has ever offered! Praising this gem is not enough and in case you don't own it, well this is another chance to get hold of it. I must say that this new remastering sounds even bigger and better than the FRONTIERS release from 10 years ago. Play it loud on your stereo to hear how incredible TOUCH sounded almost 30 years ago now. TOUCH had it all, but somehow TOTO had "Hold the line" and STYX and QUEEN were already big in 1979, so it was hard back then to become superstars, with JOURNEY as real competitor due to the fact they had just introduced STEVE PERRY as their new lead singer. Nevertheless, their album from 1979 is one of the best albums in history, right next to JOURNEY's 'Escape' and 'Infinity', SURVIVOR's 'Vital signs' and 'Caught in the game', FORTUNE's 1985 album, so get it while you can, especially since this is a new huge sounding 2008 remastering!
(Points: 10 out of 10)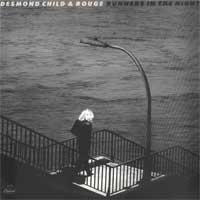 DESMOND CHILD AND ROUGE 'RUNNERS IN THE NIGHT' ' (ROCK CANDY RECORDS)
"Livin' La Vida Loca", "Livin' On A Prayer," "You Give Love A Bad Name,""Dude Looks Like A Lady," "Angel", "I was made for loving you", "I Hate Myself For Loving You,", etc. etc. What do these worldwide major hits from the past have in common? They were all (co-) written by DESMOND CHILD. Before he had his first big break with KISS' "I was made for loving you", Desmond recorded 2 albums with 4 amazingly looking girls called THE ROUGE. 'Runners in the night' has now been re-issued onto CD and sounds very impressive actually, remastering job has been done perfectly in ROCK CANDY RECORDS style, the label that re-issued the album. Musically 'Runners in the night' was all about pure 80s AOR-Rock with some amazing songs like "The Truth Comes Out", "My Heart's On Fire", "The Night Was Not" and "Scared To Live". Imagine a mix between early PAT BENATAR, KISS circa 'Dynasty'/'Unmasked' and LOVERBOY, because somewhere in between this Powerpop-AOR-DiscoRock album should be situated. Not a classic, but still a very good album that sounds better than ever on this 2008 remastering. More info at: www.rockcandyrecords.com
(Points: 8.5 out of 10)
UNIFAUN 'UNIFAUN' (PROGRESS RECORDS)
Here we have a new Swedish band Playing pure 70s Progressive Rock in the style of early PETER GABRIEL led GENESIS, not only musically, but also lyrically and even visually! The band consists of vocalist/guitarist/keyboardplayer/drummer NAD SYLVAN and keyboardplayer/bassist BONAMICI, with Nad taking most of the credit. Like said before, this is pure 70s GENESIS prog, meaning long instrumental passages and extraordinary vocals and some quite bizarre lyrics. 12 songs are included, with as highlights "Birth of a Biggie", "Mr. Marmaduke and the Minister" and "Quest for the last virtue". Not the best 70s GENESIS inspired album we have seen in the past few years, but nevertheless a highly recommended album to fans of that progsound. It also reminded me a little of GALAHAD and TWELFTH NIGHT. More info at: www.progressrec.com
(Points: 8.0 out of 10)
DIABLO 'ICAROS' (SAKARA RECORDS/PLAYGROUND MUSIC SCANDINAVIA)
DIABLO is a Finnish band, whom in their homeland already reached quite some success, with most of their albums entering high in the charts and also their 5th CD 'Icaros' has reached the number 3 position in the Finnish charts. Musically they are close to the extremer side of Metal, reminding a lot of TESTAMENT, 90s METALLICA, some PANTERA and BULLET FOR MY VALENTINE, sort of mixing Death Metal and Metalcore, with a lot of screaming going on sadly. It is not really bad, but after a while you are missing the melodies. In case a band like MESHUGGAH is interesting for you, then you will love DIABLO, but looking for melodies, please don't touch DIABLO's new record. More info at: www.diabloperkele.com and www.myspace.com/diablometal
(Points: 7.6 out of 10)
BUGGSY ROCK'S 'LOST KINGDOM' (INDEPENDENT)
This band from Pennsylvania/USA was previously reviewed by us, also when they were named ON THE ROCKS. Now they have released a new CD titled 'Lost kingdom', which musically is a mix of Pomprock and Melodic Rock, yet with also some Bluesy/Classic Rock influences, sorta mixing BLUE OYSTER CULT (songs like "Love the things ya do" and "Home sick", the weaker songs), REO SPEEDWAGON and STYX (later mentioned highlights on the CD), although a lot of songs go in a LEGS DIAMOND/TRIUMPH style, partly thanks to the wonderful high pitched vocals. 12 songs are included on the CD and the main members of BUGGSY ROCK'S are of course guitarist/bassist/vocalist BUGGSY ROCK and vocalist WILL COURSON, who has got a pretty good voice. Although not all songs are convincing, here and there we can find some nice little tunes that can clearly be classified as pure Pomprock, very close actually to LEGS DIAMOND. Songs like "Led Leppard" (misleading songtitle, nothing to do with DEF LEPPARD, but STYX meets BLUE OYSTER CULT!), "Get it right", "Love will never die" and "Disarray" are the highlights here. Think of RAIL, LEGS DIAMOND and TRIUMPH, then you're very close to the new BUGGSY ROCK CD 'Lost kingdom', Pompish early 80s/late 70s Melodic Rock, for some maybe sounding dated, but for others a blessing! Basically high quality stuff, check it out for yourself at: http://www.mp3.com/artists/49/on_the_rocks.html
(Points: 8.1 out of 10)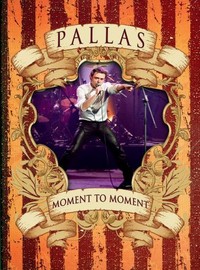 PALLAS 'MOMENT TO MOMENT DVD' (METAL MIND PRODUCTIONS)
In the Progrockworld we have seen many DVD releases and especially thanks to METAL MIND PRODUCTIONS the number keeps rising. The latest DVD release is coming from PALLAS. It is not their first, because we have seen already a few, but as PALLAS is one of the greatest Neo-Progrockbands of all time, this DVD is a very nice one to check out. 'Moment to moment' is the title and this one is focused on the early years of the band. Filmed at the atmospheric venue of Wyspiański Theater in Katowice, Poland in late October 2007, this DVD is a non-stop classic Neo-Progrock affair showing that PALLAS is still one of the best out there with a very interesting back catalogue that covers 3 decades and on this new DVD the 1980s is the main target and we can enjoy the classics "Hide and Seek", "Cut + Run", "Northern Star", "Midas Touch" and "Arrive Alive". Now, a lot of the songs on this DVD are not even played anymore, so definitely a real teaze for the fans of the band. More bands should be doing this and among the Neo-Progbands IQ and PENDRAGON come to mind as they also have some great 80s stuff never played anymore. Admitted, back then Neo-prog was sounding more like a Symphonic version of 80s AOR/Pomprock. Anyway, more info on this DVD at: www.myspace.com/metalmindproductions and http://www.youtube.com/profile?user=MetalMindPoland
(Points: 8.7 out of 10)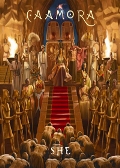 CAAMORA 'SHE DVD' (METAL MIND PRODUCTIONS)
Just recently the new Progrockopera project of Clive Nolan (Pendragon, Arena) and Agnieszka Swita called CAAMORA released it's debut 2-CD set and here we also are surprised by a DVD containing the performance of the entire album. The musical version of 'She' is based on the classic novel of the same name by Victorian adventure writer H. Rider Haggard and the recording of this DVD took place long before the CD was released, namely on 31st October 2007 at the Wyspianski Theatre, Katowice, Poland. With notable guests like Alan Reed (Pallas/Neo) & Christina Booth (Magenta) on vocals, bassist John Jowitt (IQ, Neo), Mark Westwood (Neo) & Martin Bowen on the guitars, Richard West (Threshold) & Steve Williams on the keyboards as also Scott Higham (Pendragon) on the drums, completed with additional orchestra and choirs and some visual aspects, this is a Rockopera you will enjoy watching and of course listening to. For the review of the music I refer to the review of the 2-CD set from a few months ago. The DVD is something you might wanna check out in case the music on the CD really grabbed your attention, because as a musical on your big flat screen it's performance might look a bit so and so. The music itself of course sounds great here on this DVD live too! More info at: www.myspace.com/metalmindproductions
(Points: 8.4 out of 10)
JAM PAIN SOCIETY 'BLACK LIGHT MESSIAH' (LOCOMOTIVE MUSIC/ROCK INC)
Here we have a band from North Carolina/USA signed to the Spanish label LOCOMOTIVE MUSIC. Musically they are sounding very modern, taking influences of a DISTURBED, TOOL, MARILYN MANSON and such to give it an aggressive groovy almost Industrial Metal kinda approach. However, the band has a very strong female lead singer and sometimes throws in some very catchy melodic choruses. Especially the song "Secret" shows how this works best, as this is a very fine tune, kinda like mixing LACUNA COIL/EVANESCENCE with TOOL and NINE INCH NAILS. However, sometimes the rest of the CD goes a bit too much into the Industrial Metal way of life and the guest appearance of ACE FREHLEY on 1 song does not make it a sensational album I am afraid. Still the CD is not bad at all and fans of mentioned bands will surely like it a lot, so then go check them out for yourself at: www.jampainsociety.com
(Points: 8.0 out of 10)
(All reviews by Gabor Kleinbloesem except where noted)