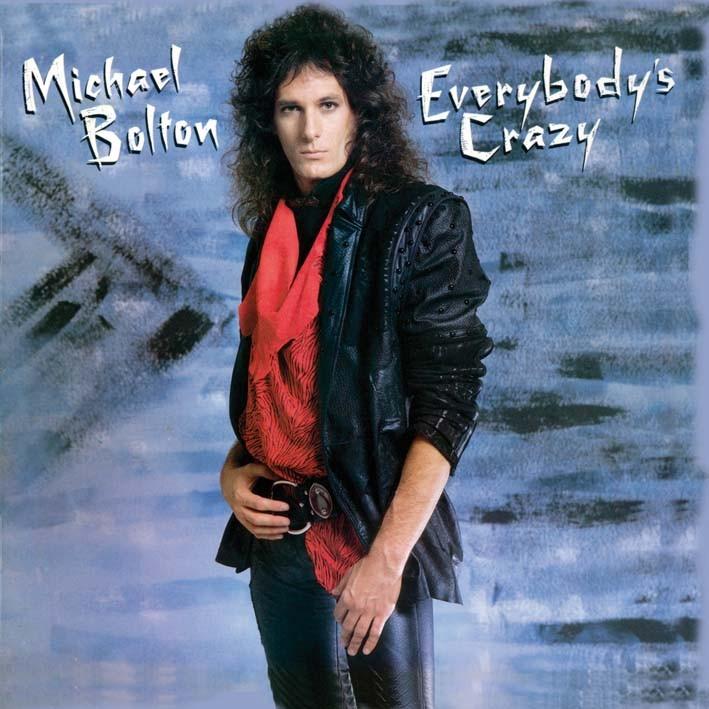 MICHAEL BOLTON 'EVERYBODY'S CRAZY' (ROCK CANDY RECORDS)
Before 'Mr. Desperate Housewives' turned all wimpy he was actually a rocker with a superb voice and released some amazing albums. He was a Bluesrocker with 2 solo-albums in the mid 1970s, following that up with 2 fantastic AOR rockalbums with the band BLACKJACK and then one of the best AOR albums of the 1980s, his same titled solo album from 1983, which features so many instant classics. He turned even heavier and released the Melodic Hardrockalbum 'Everybody's crazy' in 1985. At that point it seemed like we had a real rockhero for the future, who sounded like a cross between DAVE MENIKETTI and SAMMY HAGAR, but after 1985 Michael went into a complete wrong direction and during the 1990s became a soft R&B Pop singer. Anyway, back to his 1985 record 'Everybody's crazy', Michael had recorded together with KISS guitarist BRUCE KULICK, RAINBOW drummer CHUCK BORGI, keyboardist MARK MANGOLD (TOUCH, DRIVE SHE SAID) and various members of KANSAS, FOREIGNER and BALANCE a truly huge sounding album that featured wonderful Melodic Hardrock/AOR fitting somewhere between AUTOGRAPH, mid 80s Y&T and early JEFF PARIS. Although the album has been available on CD and usually can be find in the bargain bins of second hand record shops, ROCK CANDY RECORDS turned this classic masterpiece into a bright shining new edition, with as most important change, a remastered crystal clear sound that blows away the original CD release! Actually, having owned both the original LP and CD, I must say that the LP still sounded much better, however now with this new remastered edition, I can conclude that this new CD version sounds equal to the original LP, with it's big bombastic drumsound, because that is what made this MICHAEL BOLTON album so special. This was thanks to producer NEIL KERNON, who was a master in making the drums sound HUGE! Anyway, with songs like "Save Our Love", "Everybody's Crazy", "Can't Turn It Off", "Desperate Heart", "You Don't Want Me Bad Enough" and "Don't Tell Me It's Over" Michael had delivered instant melodic rock classics, which will never be forgotten by the fans of the genre, despite the fact Michael himself completely ignores anything he did before 1987. The CD booklet comes along with 3,000 word story of the making of the album, previously unpublished photos, all spread out over a super 12 page full colour booklet. In case you never heard this classic, then do check it out asap! More info at: http://www.rockcandyrecords.co.uk
(Points: 9.0 out of 10)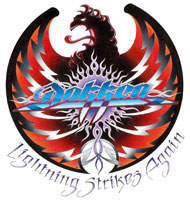 DOKKEN 'LIGHTNING STRIKES AGAIN' (FRONTIERS RECORDS/ROUGH TRADE)
Many times in the past DON DOKKEN announced a real return to the classic 80s DOKKEN sound and with the new DOKKEN CD 'Lightning Strikes Again' on FRONTIERS RECORDS, it would be the band's real return to the sound that made them popular in the first place. Sadly GEORGE LYNCH is missing, so to call this a real DOKKEN record is basically the same as the new WHITE LION record. The singer is there, the rest of the line-up is missing and just like MIKE TRAMP also DON DOKKEN suffers badly from a damaged voice, because he can not reach any high notes these days! Put together a bunch of 80s wannabee classics and the whole new DOKKEN CD sounds like leftovers from legendary records, such as 'Tooth And Nail', 'Under Lock & Key' and 'Back For The Attack'. You simply can not compare this record with those classic melodic rockrecords, because 'Lightning Strikes Again' is just an ok record. Maybe better than anything DOKKEN has done in the past 20 years and basically closer to 80s Melodic Rock, but still the songs lack the memorable melodies old DOKKEN songs had. You will not find on this record a song anywhere near the level of "Dream warriors", "So many tears", "In my dreams" and "Breaking the chains". Also after 3 remarkable nice 80s DOKKEN style tunes ("Standing On The Outside", "Give Me A Reason" and "Heart To Stone"), suddenly comes along a really annoying and awfully modern sounding track called "Disease" that is even worse than the 90s DOKKEN records! All together the album is not that bad, but what is missing here are really great songs to remember, of course George's guitar riffs and Don himself is singing in a much lower key, making the songs less interesting, because in the melodic rock world the singing is very important and as a vocalist you have to go up and down without struggling. DOKKEN in 2008 exists of Don Dokken (vocals), Mick Brown (drums), Jon Levin (guitar) and Barry Sparks (bass), with the album mixed by Wyn Davis (DIO, GREAT WHITE). After hearing some live gigs of Don last year, I already was convinced the DOKKEN flight was ended a long time ago and will not lift off anymore I am afraid. Only for the absolute die-hard DOKKEN fans, this CD might be interesting, because I think it is as dissapointing as the new WHITE LION CD. It seems like FRONTIERS RECORDS major bands' releases can nowhere near compete with the releases of their 'new bands'' releases in 2008, so please better check out the sensational records of SAINT DEAMON, LEVERAGE, WORK OF ART and KHYMERA. More info at: www.myspace.com/officialdokken and www.dokken.net
(Points: 7.7 out of 10)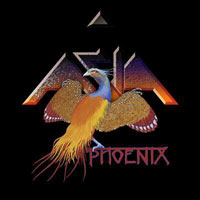 ASIA 'PHOENIX' (FRONTIERS RECORDS/ROUGH TRADE)
Admitted, seeing these bunch of old rockers on stage is kinda sad, especially after watching their phenomenal 1990 Moscow performance DVD, on which they looked and sounded pretty tight. 18 years later with STEVE HOWE back in the line-up, well, they look like the grandfathers of Classic Rock! Anyway, it's all about the music and of course ASIA's albums with JOHN WETTON on vocals are timeless and I am glad to hear them live all over again. In the meantime, the band also recorded a whole new record, which actually follows the same style as the WETTON/DOWNES records. It is a mix of a few uptempo Classic early 80s ASIA Symphonic AOR Rockers and a lot of calmer epic ballads. It is a good record, but not entirely based on the classics 'Astra', 'Alpha' and 'Asia' were 25 years ago. Opener "Never Again" and "Shadow of a Doubt" are 2 amazing Classic ASIA sounding tracks, very catchy and memorable. If the whole CD would have sounded like this, 'Phoenix' would have been an instant classic! Despite so many epic calm semi-ballad tracks, it still is a pretty solid album and makes me look forward to the band's live performances, although I think it's best for all to close the book of ASIA for once and for all after this World Tour, because you can really see the difference with ASIA 1982, with the songs being played much slower than it's original and ASIA was all about uptempo energetic material. Nevertheless, I can still recommend this 'reunion' CD of the band! More info at: http://www.originalasia.com
(Points: 8.3 out of 10)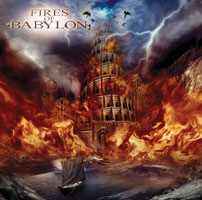 FIRES OF BABYLON 'FIRES OF BABYLON' (METAL HEAVEN/ROUGH TRADE)
FIRES OF BABYLON is a new US band formed around vocalist ROB ROCK (AXEL RUDI PELL, JOSHUA, IMPELLITTERI), bassist Kelly Conlon (ex-DEATH), drummer Robert Falzano (SHATTER MESSIAH) and guitarist LOU ST. PAUL (WINTER'S BANE). Together they recorded a very strong pure American Melodic US Metal style album that will please any fan of classic LEATHERWOLF, HEIR APPARENT, AXEL RUDI PELL, IMPELLITTERI… 10 songs are included and this album could well be ROB ROCK's finest release in years, although he never released anything bad of course! Anyway, songs like "Falling to pieces", "When the kingdom comes" and "Revolution coming" are basically very strong Melodic Metal tunes, which JUDAS PRIEST does not make anymore. Definitely a highly recommended album to fans of high class Melodic Metal!
(Points: 8.4 out of 10)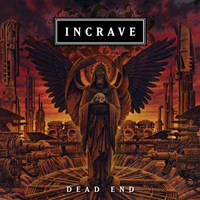 INCRAVE 'DEAD END' (METAL HEAVEN/ROUGH TRADE)
Kind of a surprise this INCRAVE, because their debut CD 'Dead end' is a very sensational Melodic Metal release the typical Swedish way, DREAM EVIL, TAD MOROSE, BLOODBOUND are some of the names that go through my mind when hearing the album. INCRAVE was formerly known as EVERGRACE, as whom they also released a pretty solid album in 2006, which unfortunately did not really make a huge impression 2 years ago. Hopefully this first INCRAVE album will get more attention, because it really is a very strong album filled with like said before sensational Melodic Metal. The album was mixed and mastered by PER RYBERG (BLOODBOUND, MORGANA LEFAY, TAD MOROSE), so the sound/production is of a high level and happily also the musicianship, the songs and the vocals are very professional, so definitely an album to check out if you like mentioned bands. The band is quite young of age, with an average of just 22 years old and they kinda look very non-Metal on the promo pictures, even made me thinking I was looking at the latest British Rock/American Emo-Rock hype! Anyway, songs like especially the final 2 songs "Never more" and "Dead end" show this is a band to watch out for in the future, delivering high class Melodic Metal! More info at: www.incrave.se and www.myspace.com/incrave
(Points: 8.7 out of 10)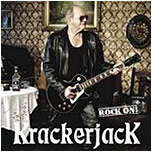 KRACKERJACK 'ROCK ON!' (HOTHOUSE/POUL HANSEN DISTRIBUTION)
Here we have a very interesting Melodic Hardrockband out of Denmark, whom are releasing their 3rd CD with 'Rock on!'. It's the first album I get to hear and although they have been active since 1997 it was not until a few weeks ago I first became aware of them. Their new CD is filled with high quality Melodic Hardrock that has sometimes (when at best) has clear similarities to HAREM SCAREM, DANGER DANGER and JET RED, although some of the tracks also have a Bluesy touch. However, on excellent catchy uptempo melodic rockers like "Lonely", "Back together" and "Lullaby", the band sounds at their best and go into a complete 80s cheeziness Melodic Rock heaven/fest on which fans of TINDRUM, TREAT, DANGER DANGER, FIREHOUSE, RAW SILK could dance and sing-a-long all night to! Wow, these 3 songs are really great and very memorable and although the rest of the CD is not in the same league, this band is definitely a must to check out if you call yourself a melodic hardrockfan! More info at: www.krackerjack.dk and www.myspace.com/krackerjackdenmark and e-mail them at: rene@krackerjack.dk
(Points: 8.3 out of 10)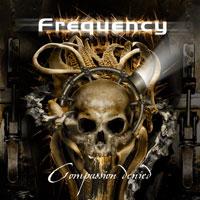 FREQUENCY 'COMPASSION DENIED' (SCARLET RECORDS)
The Swedish band FREQUENCY released their debut album in 2006 and actually it was quite a nice typical little Swedish Melodic Metal affair, but it became quiet around them until now. FREQUENCY has released their 2nd CD 'Compassion denied', which compared to their debut sounds bigger and more diverse, as this new record is more mixing the Power and Prog Metal, while keeping the strong melodies the band already introduced on their debut. Big change is their new lead singer RICK ALTZI, who sounds pretty good and that is not really surprising, because he sang with AT VANCE and TREASURE LAND in the past. A guest appearance is notable from LOST HORIZON singer DANIEL HEIMAN on the song "Life after hell". Although only 9 songs are included, all of them are very good, with as highlights "Beginning of the end", "Alive" and especially the fantastic "New world era". Recommended to the fans of high quality Melodic Metal with Prog/Power Metal influences, like mixing THRESHOLD, VANDENPLAS and DREAM EVIL! Check them out for yourself at: www.myspace.com/frequencysweden
(Points: 8.4 out of 10)
VARIOUS ARTISTS 'WINGS OF STEEL – STAGE DOLLS - A NORWEGIAN TRIBUTE' (NOKKEN RECORDS)
This is really nice, a very well-put-together package of 17 Norwegian bands paying tribute to one of the country's biggest Rockbands of all times, STAGE DOLLS! Outside Norway they are not really known, but in Norway they are big, with even last year chart entries. Musically the band was actually a Poprock based band that reminded me of BRYAN ADAMS and THE OUTFIELD. Somehow they must have been an influence for musicians of all music styles, because on this compilation one can hear Country, Pop, Rock, Metal and Folk go in hand in hand by just covering a STAGE DOLLS tune. Looking at the bandnames, one learns only a few are familiar, namely RETURN, GRIFFIN, ABSOLUTE STEEL, PEER GYNT, MALICE IN WONDERLAND and STREET LEGAL, whom all do some great covers of 'STAGE DOLLS CLASSICS'. From the unfamiliar acts, the one that really caught my attention was DIABLA, a female fronted Melodic Hardrockoutfit ( http://www.myspace.com/diablatheband ) doing a cover of "Shout", but it also triggered me to check them out and it seems we have here a great band on our hands, because some of their original songs are great Melodic Rocksongs, so hopefully more info soon. Also BENTE SMAAVIK with HAMMERS HAREM sounded pretty good doing the cover of "Hard to say goodbye" and the band's most well-known songs ("Soldier's gun", "Still in love" and of course "Love don't bother me" were covered by some really unknown bands (although I assume country female singer LIV MARIT is well-known in Norway). Anyway, a nice tribute with many various acts and styles doing a tribute to STAGE DOLLS (whom this year are celebrating their 25th year anniversary as a band) and congratulations to Anne and Jan Arild for putting it all together, including a really nice extensive CD booklet with all info on the acts, which definitely helps to check out quickly some more info on the particular band doing a cover. More info at: www.wingsofsteel.biz and e-mail at: anne@wingsofsteel.biz
(Points: 8.2 out of 10)
MIKE PREVITI 'LIGHTS' (INDEPENDENT)
2 years ago guitarist/vocalist MIKE PREVITI from Massasuchets/USA released his debut CD 'Extraordinary', which he now follows up with the 6 tracks counting mini-CD 'Lights'. Musically we are listening to somewhat modern but very melodic American Poprock. Produced by ANTHONY J RESTA (COLLECTIVE SOUL, DURAN DURAN, ELTON JOHN…), it has a huge sound and especially the song "Upward" is a real catchy Melodic Poprock tune which BRYAN ADAMS does not make anymore, although you feel Mike also adds some of the influences of the American Poprocksound of today to his music and then I am talking about a band such as FOUNTAINS OF WAYNE. Check it out for yourself at: www.myspace.com/mikepreviti
(Points: 8.2 out of 10)
STRIDER 'GEARHEART' (OLD ONES RECORDS)
In the past we already reviewed 2 albums of the Italian band STRIDER and now they have released a new one titled 'Gearheart', which musically is strong Power Metal with catchy melodies, clearly influences by BLIND GUARDIAN, ICED EARTH and MYSTIC PROPHECY. The only slight difference are some Black Metal screams and Death Metal growls here and there, which makes them sometimes sound quite aggressive, although each song is blessed with a strong melody. 9 songs are included and with a crystal clear production, this is definitely an album a fan of heavy Power Metal will love, especially songs like "Gearheart", "No rest" and "Striking twice". More info at: http://www.stridermetal.com and e-mail them at: pizzu80@hotmail.com
(Points: 8.1 out of 10)
SOUTHWEST SUNRISE 'SLEEP IN THE FIRE' (INDEPENDENT)
Back in 2006, the 2002 Turku/Finland formed band SOUTHWEST SUNRISE released their debut CD 'Judges of eternity', which now has a follow-up in the form of this mini-CD 'Sleep in the fire', a pure 80s inspired Melodic Hardrock/Metal release. Opener "Beginning… of the end" has some Progressive influences, but with "Sleep in the fire" the band goes into a classy 80s uptempo Melodic Metal sound that mixes BONFIRE, DOKKEN, MAIDEN and EVIDENCE ONE, very catchy little tune they have there! The other songs are "Legends never die" (BONFIRE Melodic Rock) and "Dream on" (great semi-ballad with 80s dut-dut keys and chorus, like 80s BON JOVI meets BONFIRE). All sounds pretty good here and makes one look forward to a future release. The typical 80s German Melodic Hardrock reminds of BONFIRE (A lot!), CASANOVA, HOTWIRE, EVIDENCE ONE, DOMAIN, EDEN… Check this band out at: www.southwest-sunrise.com
(Points: 8.2 out of 10)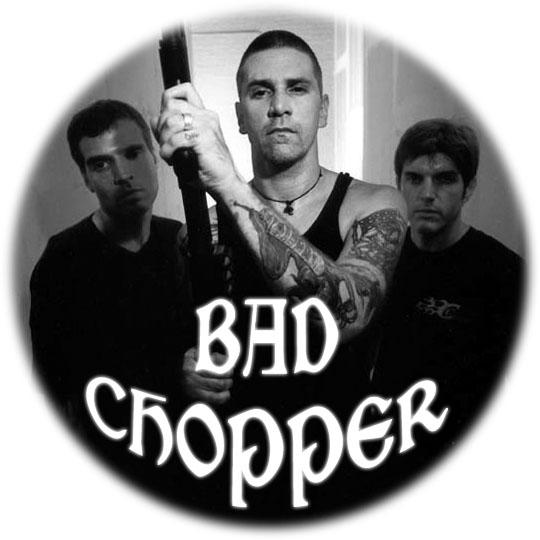 BAD CHOPPER 'BAD CHOPPER' (ACME RECORDS)
BAD CHOPPER is all about NEW YORK ROCK AND ROLL with a Punk attitude, the way our old friend KIM FOWLEY would probably be proud of! BAD CHOPPER is a new band, but with one familiar member, because leader vocalist/bassist C.J. WARD is best known as the only living THE RAMONES member today (CJ RAMONE that is)! With BAD CHOPPER he goes much more Rock and Roll than the 2-minutes Punkpop of THE RAMONES, also clearly heavier and with some screaming guitars here and there, together with strong singable choruses, real Rock and Roll, kinda mixing the old NEW YORK DOLLS with THE DICTATORS and add a big raw punky guitarsound of the present day, of which songs like "Diabla", "Real bad time" and "Headshot" are a few examples of how this sounds at its best! In total 12 tracks are included on this Punky Rock and Roll record, which is recommended to both Punk and Rock and Roll fans! More info at: http://acmerecords.net/badchopper
(Points: 8.2 out of 10)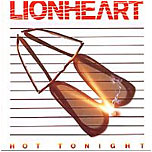 LIONHEART 'HOT TONIGHT' (KRESCENDO RECORDS)
The only LIONHEART album 'Hot tonight' from 1984 is probably the most polished Americanised AOR album ever released by a British band. It sounded as if it was destined to score major hits in the USA, but in the end became a major disaster. The band itself was hailed as the first NWoBHM supergroup formed around former IRON MAIDEN guitarist Dennis Stratton, former DEF LEPPARD drummer Frank Noon, ex-WILDFIRE bassist Rocky Newton and one-time FAST BUCK, BANDANA and LIAR guitarist Steve Mann, with originally former TYGERS OF PAN TANG vocalist JESS COX as singer, but he was replaced several times in the years after the first line-up during the early 1980s by JOHN FARNHAM (yes, that Aussie guy who later found fame and fortune, almost ending up as QUEEN singer!), STAMPEDE vocalist Rueben Archer and finally by the amazing CHAD BROWN. Chad had the voice that could have given LIONHEART a huge success, because this guy could sing like the best. What the band offered on their one and only album was basically picture perfect AOR with harmonyvocals taken out of the STYX book, melodic guitar lines in the JOURNEY style and choruses and hooklines only American bands on the major labels did, even reminding of TOUCH here and there. This is in contrast to what the band did a few years before, because they started as a typical NWOBHM Metalband, supporting DEF LEPPARD. However, the band's 1984 demo secured them a major record deal with CBS in America and then KEVIN BEAMISH took charge of the production, basically polishing it up sounding like a cross between FOREIGNER, JOURNEY, STYX, SURVIVOR and 1983 DEF LEPPARD, with catchy hooks and huge choruses. It's actually weird to see it now re-issued onto CD (by KRESCENDO RECORDS) 23 years later, meaning this album had zero success in the USA. Songs like "Wait for the Night" (STYXish Pomprock, HUGE), "Hot Tonight" (melodic rock DEF LEPPARD/HEAVY PETTIN' style), "Die for Love?" (an incredible song, killer hook and big chorus, videoclip of the song was super cool and reminded one clearly of GOLDEN EARRING's "When the lady smiles" of the same period, both failed to make a huge US chart position despite it all looked perfect, that video by the way featured BOTTOM/YOUNG ONES comedian/actor!), "Towers of Silver" (more STYX bombasticness), "Living in a Dream" (An AOR ballad REO SPEEDWAGON would have been proud of) and closing track "Dangerous Game", they were all part of the perfect sound of LIONHEART. Admitted, the band's original sound had little to do with this record, but for an AOR/Melodic Rockfan this was a great record, which now happily has been re-issued onto CD, yet without bonustracks, only the 9 original, but remastered tracks. The sound is huge and all I can say is that it is a must-have for anyone into classic 80s US style AOR/Melodic Rock. Singer Chad Brown went on singing with THE SWEET, while LIONHEART had another release titled 'Unearthed' (featuring all kinds of excellent demos) in Japan during March of 1999 through the Pony Canyon label, although the band had split up short after the album 'Hot tonight' in the mid 1980s. So far the story on a band, which was destined for fame and fortune, but ended up being your worst nightmare with zero success, despite the incredble potential it's only album had, now available at: www.krescendorecords.com More info at: www.krescendorecords.com
(Points: 8.9 out of 10)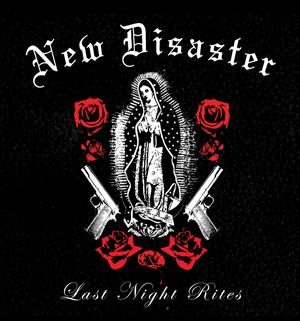 NEW DISASTER 'LAST NIGHT RITES' (CARGO RECORDS)
Raw dirty mean sleazy Rock and Roll is a genre, which has in the last few years has had an enormous lift off, resulting in many new bands playing it. The origins of the style actually go back to THE ROLLING STONES, THE YARDBIRDS, THE KINKS and THE WHO... but became heavier, dirtier and meaner in the 1970s with bands like NEW YORK DOLLS, THE STOOGES, AEROSMITH and actually in the later 80s the style really was set at a standard when GUNS'N'ROSES had their big break and the current revival is basically focusing on that style, so loud, heavy, dirty, mean, real all-original Sleazy Rock and Roll. NEW DISASTER from Texas is the latest arrival, because their CD '' is filled with high level Rock and Roll that sounds like LA GUNS, GUNS'N'ROSES and ROSE TATTOO all mixed up, although it might be better comparable with a HARDCORE SUPERSTAR, a VELVET REVOLVER, a TURBONEGRO or the BACKYARD BABIES, just go-ahead uptempo pure Rock and Roll. The band was formed in 2005 and with songs like "Down Here in Hell", "L.A. Blonde", "Better than Wasted" and "Dead Won't Die" the band offers some great material for fans of mentioned bands. Together with a full-blown production, it is definitely a must-have if you're into TURBONEGRO, HARDCORE SUPERSTAR and such. More info at: www.myspace.com/newdisasteratx and http://www.newdisaster.com
(Points: 8.3 out of 10)
RANDALL ZWARTE BAND 'ROAD TO STURGIS CD/DVD' (INDEPENDENT)
The RANDALL ZWARTE BAND started as ZWARTE a long time ago and I do remember it was Melodic Hardrock at the start, but throughout the years it became more Southern Rock based and their new CD 'Road to Sturgis' is sounding like a cross between MOLLY HATCHET, DOC HOLIDAY and BLUE OYSTER CULT, so typical American Midwestern Rock, yet not of the high level of these bands. The accompanied DVD shows the band on the road, a really nice watch as you can see the band from the moment they leave their home and head their way through the USA to tour. Footage of their performances can be seen and it seems they are actually really a Biker/Festival type of band, which usually is the case with Southern Rockbands. The band is formed around Randall Zwarte, guitarist and vocalist of this Denver/Colorado based band. They are known for their song "Sturgis," which is now the anthem to that legendary motorcycle rally of the same name. So the documentary on the DVD is a must-see for STURGIS fans! The CD offers the band's Southern Rock, which sounds like recent VAN ZANT meets LYNYRD SKYNYRD meets DOC HOLIDAY. Check out all info at: www.randallzwarte.com and http://www.myspace.com/zwarte
(Points: 7.9 out of 10)
JUGLANS REGIA 'VISIONI PARALLELE' (AKOM PRODUCTIONS)
Formed way back in 1992, this Italian band started singing in English, but after a while they went singing in their own language, which actually not many bands do from Italy. Through the 1990s the band only released demo tapes, but with the turn of the century, the band started releasing CDs, with 'Visioni paralle' being their 3rd CD so far. Musically they play Melodic Heavy Metal reminding of JUDAS PRIEST here and there, but then of course with Italian lyrics. This sets them apart from most other bands in the genre of course and the 9 songs on their new CD do sound pretty good, with as highlight the epic closing titletrack, which has a playing length of 8 minutes. Check out the band at: www.juglansregia.com
(Points: 8.0 out of 10)
THIEVES' KITCHEN 'THE WATER ROAD' (INDEPENDENT)
Kind of a surprise this UK based band, as I had never heard of them before, but apparently they have already released 3 CDs prior to this album 'The water road'. So, this being already their 4th CD, it is time to give them some space here, especially since the included music is of a very high level. The music is calmer but complex Progressive Rock with some Epic, Celtic and Mystic behind it, thanks to the wonderful vocals of female singer AMY DARBY. 8 long songs are included on the band's CD and I can give it a big recommendation to fans of let's say MOSTLY AUTUMN, KARNATAKA and such… Especially the 21 minutes counting opener "The long fianchetto" and closing 11 minutes counting epos "The water road" are songs to be loved by fans of long instrumental progness and with here and there very relaxing vocals that make you dream away into higher spirits, as if you're wandering across the Irish landscape, the New Zealand forests or in the Scottish highlands! It's like you're in the nature and really feeling the Earth inside you… OK enough talk… better check out this great UK band at: www.thieveskitchen.co.uk and e-mail at: thieveskitchen@aol.com
(Points: 8.3 out of 10)
OVERLAND 'BREAK AWAY' (ESCAPE MUSIC)
One of UK's best singers of all time, STEVE OVERLAND, who has always sound the same and in my book should be placed next to GLENN HUGHES for having an constant amazing vibrato which has lasted for almost 30 years now, releasing many records with different bands and projects. Now he has a new CD out, a project called OVERLAND, which also features the likes of drummer Gregg Bissonette, guitarist/keyboardplayer/bassist Anders Rydholm, guitarist Ola af Trampe (both of of PROMOTION, GRAND ILLUSION, THE CODE) and guest spots are filled by STEVE NEWMAN and MATT BISSONETTE. Steve's vocals are simply amazing again, such a great thing to hear him sing again. He is one of the few singers out there, who could even make the phonebook interesting when singing the names and numbers included in there! This new CD is filled with typical STEVE OVERLAND music, which is a mix of AOR, Melodic Rock, some Bluesy and groovy riffs and of course superb soulful vocalwork, which comes out best in the SUPERB song "Like a river", incredible song a la FM circa "Only the strong survive", really a terrific tune. Although one must not consider this an album close to the first 2 FM classics, because this OVERLAND record is more well-thought less catchy but still superb vocal driven AOR in the style of a a HEARTLAND and happily, the whole album sounds damn fine and is really recommended to those missing Steve's superb voice, as he is still one of the finest singers around, me hoping to see him live on stage someday!
(Points: 8.5 out of 10)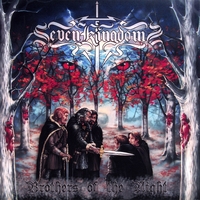 SEVEN KINGDOMS 'BROTHERS OF THE NIGHT' (NIGHT'S WATCH PRODUCTIONS)
They look and sound like they are either coming out of Scandinavia, Germany or somewhere between Italy and Greece, but in fact SEVEN KINGDOMS is a new band based in Daytona Beach, Florida, USA. They recently finished a CD, which they recorded under the guidance of JIM MORRIS at the Morrisound Studios (ICED EARTH, DEMONS&WIZARDS…), so we have a HUGE sound here. Musically it is pure European Melodic Power Metal spread on 10 hard-hitting tunes, which combines the best of bands like HAMMERFALL, SONATA ARCTICA, DOMINE, THE DOGMA and HELLOWEEN. Vocally not as high-pitched as the European bands, but definitely recommended if you're into mentioned bands. Songs like "Blackwater rush" (midtempo) and "Eyes of summer" (SONATA ARCTICA style, fast Power Metal) will definitely appeal to fans of mentioned bands. Better check out this Flordia based Melodic Metal band at: www.myspace.com/nightswatchproductions and www.sevenkingdomsmetal.com and www.myspace.com/camdencruz and e-mail them at: camdencruz@yahoo.com
(Points: 8.2 out of 10)
JOHN G. PERRY 'SUNSET WADING' (ESOTERIC RECORDINGS/CHERRY RED RECORDS/UNIVERSAL MUSIC)
Former CARAVAN bassist/vocalist John G. Berry recorded his first solo-album back in 1976, which has now been re-issued onto CD. Musically it was sorta different to CARAVAN as it was more Progressive Rock orientated, edgier and sometimes close to KING CRIMSON. Together with CARAVAN viola player/flautist GEOFFREY RICHARDSON and session musicians like MIKE GILES (KING CRIMSON), RUPERT HINE and ROGER GLOVER (DEEP PURPLE) he recorded the album 'Sunset wading'. Result was a strong typical 1970s British era Prog Rock affair, which will definitely please all the fans of this genre, which brought so many similar recordings 30 years ago and nowadays a label like ESOTERIC RECORDINGS is very keen on bringing them all to our attention. 14 songs are included and the progrock varies from rocking to more calmer moments and especially KING CRIMSON and JETHRO TULL fans will like this a lot. More info at: www.esotericrecordings.com
(Points: 8.0 out of 10)
MELLOW CANDLE 'SWADDLING SONGS' (ESOTERIC RECORDINGS/CHERRY RED RECORDS/UNIVERSAL MUSIC)
Acid-Folk Progressive Rock is what to expect on the 'Swaddling songs' album of the Irish band, which was originally released in 1971. The band's main members, two female singers, had previously been backed by CLIFF RICHARD during the mid 1960s and later would even tribute to THIN LIZZY on their album 'Shades of a blue orphanage', to whom they also played support act as MELLOW CANDLE. On their now re-issued MELLOW CANDLE album, we can hear some high quality music, which finds itself somewhere between JETHRO TULL, RENAISSANCE and FAIRPORT CONVENTION on 12 separate tracks. Clodagh Simonds, the most important member of the band was besides the singer also the main songwriter for the band and in later years she would go on working with JADE WARRIOR and MIKE OLDFIELD. Now this re-issue is definitely recommended to check out as it shows some highly creative female fronted progrock from the 1970s that also reminds me somehow of EARTH AND FIRE of the early 1970s. More info at: www.esotericrecordings.com
(Points: 8.2 out of 10)
BLACK TIDE 'LIGHT FROM ABOVE' (INTERSCOPE RECORDS/UNIVERSAL MUSIC)
Well, well, well... Finland brought us the amazing Teenaged Melodic Metalband STURM UND DRANG and now the USA brings a similar band in the shape of BLACK TIDE, which consists of a bunch of late 10s making high quality Melodic Metal. The band somehow sounds like METALLICA would have sounded if it had been 1981 and they had been playing the clubs in the UK, so actually the Miami based BLACK TIDE sounds like a NWOBHM band and remind me so much of RAVEN in their prime NWOBHM days. They have been signed to the biggest label worldwide, INTERSCOPE RECORDS, which is a sublabel of UNIVERSAL MUSIC. They recorded a CD, with a huge sound and already I can confirm we have something quite special here, a real excellent Melodic Metalalbum from musicians whom do not reach the age of 20. The band has already appeared on National TV Shows in the USA, including the famous JIMMY KIMMEL LIVE and their debut CD has entered the Billboard US TOP 100 Album Charts, so we should be aware that this band is gonna be big someday soon. The band was formed back in 2004, when one of the members was even 10 years old (!!!) and 2 years later they were already signed by ATLANTIC RECORDS, but had to wait another year before recording an album and switching labels. In late 2007, Black Tide entered a studio in Chicago with producer Johnny K and recorded 12 new tracks which included a cover of METALLICA's first written song, "Hit the Lights". However, most interesting are their own songs, such as the very strong uptempo melodic Metal pieces "Warriors of time" (best song, TRUE METAL!) and "Shockwave" (hello RAVEN!). Better check out this classy piece of Melodic Metal asap! More info at: www.blacktidemusic.com/ and www.myspace.com/blacktide
(Points: 8.4 out of 10)
DIRTY LOOKS 'SUPERDELUXE' (INDEPENDENT)
Formed back in 1984 by Danish-born vocalist/guitarist Henrik Ostergaard, the band DIRTY LOOKS started a Hardrock journey, which never changed it's sound and kept on releasing records, of which the mid/late 80s record 'Cool From The Wire' is still their finest effort. The band in the meantime has released many records and 'Superdeluxe' is their latest CD, the follow-up to last year's 'Gasoline'. 'Superdeluxe' is their 12th CD and although it is not as classic as their late 80s BEAU HILL produced ATLANTIC RECORDS releases, it still is a reasonable AC/DC/KROKUS styled hardrock release. Dirty, mean, raw to the bone, straight-ahead rockers like "Bring Me Down", "A Million Miles", "Fast Ride" and "Steppin Stone" will do very well live on stage. DIRTY LOOKS has never changed their winning team and this new album shows they can still rock out hard! More info at: http://cdbaby.com/cd/dirtylooks2 and http://dirtylooksmusic.com/ and http://myspace.com/dirtylooksmusic
(Points: 8.2 out of 10)
ROOM 'PRE-FLIGHT' (ESOTERIC RECORDINGS/CHERRY RED RECORDS/UNIVERSAL MUSIC)
Originally released way back in 1970, the British band ROOM mixed Folk, Prog and Heavy Bluesrock with smooth female vocalwork. The album featured 7 long songs and musically was not too far removed from what JEFFERSON AIRPLANE was doing in San Francisco a few years earlier, yet with some early PETER GREENish FLEETWOOD MAC influences here and there too. Now almost 40 years later it has been released on CD and like most other ESOTERIC RECORDINGS re-issues it is a high quality remastered edition, with nice looking artwork and a crystal clear sound of the original album, definitely a must-have for the collectors among us! More info at: www.esotericrecordings.com
(Points: 8.0 out of 10)
CLAIRE HAMILL 'OCTOBER' (ESOTERIC RECORDINGS/CHERRY RED RECORDS/UNIVERSAL MUSIC)
Singer/songwriter CLAIRE HAMILL recorded 2 albums back in the early 1970s, which have been re-issued onto CD recently. Musically very calm sorta Folk acoustic tingled poetic Pop that reminds one of MARIANNE FAITHFULL and to what MELISSA ETHERIDGE is doing nowadays, a girl with an acoustic guitar. She sings very well and now 36 years later both albums are available on CD. It has nothing to do with Rockmusic, but it is beautiful music suitable for hot nights on the beach! More info at: www.esotericrecordings.com
(Points: 7.7 out of 10)
(All reviews by Gabor Kleinbloesem)