ALKEMIST FANATIX 'VARIOUS ALBUMS' (ALKEMIST FANATIX)
So we receive another huge envelope from Italy with 30+ CDs included of all kind of obscure Rock and Metalbands from Italy. Sitting on a late Saturday night, we are working our way through the CDs. BACK ONE OUT's 'Helpless' is a very good high quality album recorded in New York and musically filled with typical American uptempo Happy/Fun Punky Melodic Poprock like we have heard it a million times before, however BACK ONE OUT is doing a nice job here and fans of NOFX, GREENDAY, BLINK 182, DIRECT, DE HEIDEROOSJES, FALL OUT BOY etc. will like this a lot. More info at: www.backoneout.com (Points: 8.2) LAZY BUMS is playing Punky Rock and Roll, very much recommended to fans of THE HELLACOPTERS, quite good actually, although also some British Rock can be heard here, with big 70s riffs and more info at: www.lazybums.it (Points: 7.7). ZEROIN is ok, sound is big and is typical American Modern Metal, with big groovy guitar riffs, but happily melodic singing, kinda DISTURBEDish, more at: www.zeroinsane.com (Points: 7.4). KOAN QUARTET is doing things slower and more relaxed as they make calmer Fusion/Progressive Rock, with their debut CD being a strong instrumental piece. More at: www.koanquartet.it (Points: 8.0). BLACK CRUCIFIXION is all about Doom Metal, with their CD featuring recordings from the early 90s, very BLACK SABBATHish, yet with some Darker vocals and sounding very Undergroundish (Points: 7.5). FILTHY TEENS is playing a sort of CyberPunkGothic style a la THE 69 EYES and should be checked out at: www.filthyteens.it (Points: 7.7). With the band LOST REALITY we are in a completely different style, because they are playing 1980s Electronic Gothic Rock a la THE MISSION, THE CURE, THE ALARM, ULTRAVOX, SISTERS OF MERCY and some HUMAN LEAGUE/DEPECHE MODE here and there. Not bad at all and actually they do a pretty good job on their CD 'What remains', although you have to be a fan of the genre! More info at: www.lostreality.it (Points: 8.1). Then we have a band called SILENT VOID, with a good vocal mix on their CD 'Paranoid superhero' and a lot of distorted guitars, still creating a sort of heavy Melodic Punky Hardrocksound which reminds of a mix between DANKO JONES and THE RAMONES! More at: www.silentvoid.net (Points: 8.1). CHARLOTTE'S SHADOW is very Dark Gothic, with very low male vocals, more info on their mini-CD 'Eternal sleep' at www.charlottesshadow.com (Points: 7.5). THEM PILOSOPHY is a female fronted band, combining Hardcore, Emo, Screamo and some THE POGUES rarities into their poppy rockmusic, sounding a bit awkward, check for yourself at: www.thempilosophy.com (Points: 7.3). LOST MOON sounds quite retro on their CD 'King of dogs', 70s BLACK SABBATH/BLUE CHEER/BUDGIE sort of heavy groovy rock/metal, not bad, but very undergroundish www.lostmoon.it (Points: 7.4) ILID delivers one of the better sounding CDs of this huge package, because they released a great sounding mini-CD titled 'The shadow over Arkham', which musically sounds melodic and modern, of course typical FF style, not far removed from PLUMB, EVANESCENCE, IMPERIA… More at: www.ilid.it (Points: 8.3). STILL FEAR and their CD 'Believe or not' is a nice straight-ahead uptempo Rock and Roll record, with some Metal riffs here and there (kinda like OZZY), Not bad at all, check: www.stillfear.it (Points: 8.0). THE CROOKS sound very professional, their CD 'High society rock and roll' is filled with strong quality ROCK AND ROLL, check them out at: www.thecrooks.it (Points: 8.1). THE SHIVER is a female fronted band and play good typical Gothic FF Metal, sounds rather nice, more at: www.theshiver.net (Points: 8.0). NEURASTHENIA sounds very professional, playing Melodic thrashy Power Metal, sounding huge actually and deliver a great CD in the shape of 'Possessed'. More info at: www.neurasthenia.it (Points: 8.3). AIRWAY come up with a FUNERAL FOR A FRIEND meets SILVERSTEIN kinda record, sounding huge, but sadly the Screamo here and there disturbs the joy, more at: www.airwaymusic.com (Points: 7.7). DRIVHELL is by far the most interesting band, because their CD 'Behind the silence' is a very strong Melodic Progressive Metal album, with superb vocals and melodies that even beat the hell out of the DREAM THEATER record, although the band is best comparable with TIME MACHINE. Without a doubt, this is a great band and a must to check out if you're a fan of high quality Melodic Prog Metal! More info at: www.drivhell.net (Points: 8.5). SOUL OF THE CAVE is strong Rock and Roll, with big groovy guitar riffs, sorta like WOLFMOTHER, not bad at all! More at: www.soulofthecave.it The remaining bands are not interesting as they are into the Extreme/Metalcore/Death Metal style. More info on all releases at: www.alkemist-fanatix.com and e-mail at: info@alkemist-fanatix.com
(Points: -)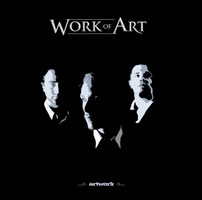 WORK OF ART 'ARTWORK' (FRONTIERS RECORDS)
Late 2006 we sorta discovered this band and immediately we stated that they were one of the best pure AOR bands unsigned in the past 10 years. During 2007, the band was signed by FRONTIERS RECORDS and now in 2008 the debut album has been released. WORK OF ART has already a long history behind them and especially their lead singer LARS SAFSUND (currently a contender in the Romanian Eurovision Song Contest!) is an amazing vocalist, maybe one of the best Swedish singers at the moment. Actually, Lars belongs to one of the best AOR singers at the moment! Musically WORK OF ART is as close to pure AOR as you can get, basically having a sound somewhere between TOTO, RADIOACTIVE, GIANT, JOURNEY, PRIDE OF LIONS and FRANKE AND THE KNOCKOUTS, with some Westcoast (a la JACK WAGNER/DAVID ROBERTS) and 80s Pop/Rock (MR. MISTER) elements to make their sound as catchy and smooth as possible. They have delivered one of the finest AOR releases in the past few years, without a doubt making me ranking them next to PRIDE OF LIONS for sure! The band was formed in 1992, did some demos, had long pauses, but eventually it all came to a wonderful 3-track demo in early 2007, which got a rave review by us and received a stunning 9,5 points out of 10! The songs go from uptempo Summerish fun AOR-Rock to smooth (semi) AOR-ballads to strong midtempo AOR, always in the pure AOR school which made TOTO, JOURNEY and SURVIVOR big in the 80s, but WORK OF ART really has an own sound, with of course a lot of thank you to their incredible singer Lars Säfsund. There are a lot of highlights here, such as the uptempo "Why Do I?", "Her Only Lie" and "Peace Of Mind", the super sensational midtempo "Whenever U Sleep" and the astonishing ballad "Once In A Lifetime", all pure AOR beating anything TOTO has done for the past 20 years! Songs with hooks, choruses and super melodic vocal verses an AOR fan dreams about every night, so what we have here is a record to get asap if you consider yourself an AOR fan. Check them out at: www.woa.se
(Points: 9.3 out of 10)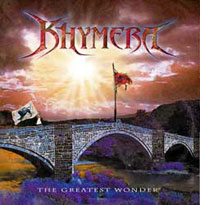 KHYMERA 'THE GREATEST WONDER' (FRONTIERS RECORDS)
KHYMERA started as a studio project featuring KANSAS' STEVE WALSH and Italian multi-instrumentist Daniele Liverani (GENIUS) on it's 1st album, but on the second CD 'A new promise' the line-up changed and now with the 3rd record a steady line-up has been found in the shape of British twin brothers Tom and James Martin (HOUSE OF LORDS, TED POLEY) writing most of the material, Daniele Liverani's keyboards, the amazing DENNIS WARD (producer, PINK CREAM 69) on bass and vocals, Tommy Ermolli on guitars and Dario Ciccioni (HARTMANN) on drums. Especially Dennis showed on the 2nd KHYMERA to be an amazing lead singer himself and also on this new record he shines as a true sensational lead singer, sounding like GARY HUGHES and STEVE LUKATHER meets DAN HUFF. Musically KHYMERA is sometimes close to pure AOR, but basically this is pure Melodic Rock all the way, close to the classic debut record of TEN, the 2nd GIANT album and UNRULY CHILD's classic debut from 1992. Songs like "Borderline" (uptempo), "Love Will Find You" (amazing midtempo piece), "The Greatest Wonder' and "Burn Out" as well as the rest of the CD, it all shows how wonderful Melodic Rock still can sound, without sounding dated. It seems like FRONTIERS RECORDS has set their standards very high this year, because with this KHYMERA, WORK OF ART, SAINT DEAMON, HOUSE OF LORDS and LEVERAGE, they already have released 5 album contenders to reach the top 10 albums of 2008 list and there's much more to come!
(Points: 8.9 out of 10)
SLICK'S KITCHEN 'HALF EVIL – HALF ALBUM' (REDLION MUSIC/ROCK INC)
SLICK'S KITCHEN is a German band formed around members of THE TRACEELORDS and they deliver a good strong catchy uptempo straight-ahead Rock and Roll mini-CD with the 'Half evil – half album' recording that is filled with 6 tracks. Especially "Today's the day" is a very strong tune. More info at: www.slickskitchen.de
(Points: 8.0 out of 10)
ANCIENT GREASE 'WOMAN AND CHILDREN FIRST' (ANGEL AIR RECORDS)
ANCIENT GREASE was a Welsh band formed out of the ashes of STRAWBERRY DUST in the spring of 1970. The band was formed around songwriter John Weathers and MORTY on vocals and GRAHAM WILLIAMS on lead guitar, both of whom found fame and fortune as singer and lead guitarist respectively with Welsh rockers RACING CARS later that decade. RACING CARS had a couple of releases recently on ANGEL AIR RECORDS, but now we are getting to this CD release, which contains pre-RACING CARS material under the moniker ANCIENT GREASE. This album was originally released in July 1970 is now released for the first time on CD. Musically it is ok 70s rock by the numbers, but nothing too sensational, unless you're a fan of RACING CARS, then this might be right up your alley to check out asap! More info at: www.angelair.co.uk
(Points: 8.2 out of 10)
GILLAN 'LIVE AT THE MARQUEE 1978' (ANGEL AIR RECORDS)
And yet another live CD release from GILLAN recorded in the 1970s. This one considers a London Marquee Club recorded concert from 1978, which does not really sound good. The quality of the recording is quite average and I am still thinking to myself who would be interested in this, because it never reaches the DEEP PURPLE level of the early 1970s. Anyway, check it out if you have to, when being a really huge fan of Mr. Gillan! More info at: www.angelair.co.uk
(Points: 8.2 out of 10)
ATOMIC ROOSTER 'HOMEWORK' (ANGEL AIR RECORDS)
ATOMIC ROOSTER is a legendary band, which was very active in the 1970s and released quite a lot material, but throughout the 1980s they were struggling and this new release on ANGEL AIR RECORDS contains a bunch of unreleased material from the band. JOHN DU CANN was the lead singer and songwriter with ATOMIC ROOSTER, but the band was on a roll back in 1979, because he and VINCENT CRANE had just reformed the band and had negotiated with EMI a licensing deal for a new album. After the release of that LP, they made a move to Polydor Records who released two 3-track singles (included here as bonus tracks in their entirety) in 1981 and 1982. These 6 bonustracks are by far the most interesting on this CD release, with great rockers like "Play It Again", "Rebel With A Clause" and "End Of The Day". The other part is an unreleased album, which took the band nearly 9 months writing and recording, but this album for Polydor never saw the light of day until now. Unfortunately it does sound very dated, 70s Classic Rock like so many other bands made at one moment during the turn of the decade 1970s/1980s, but be sure to check out the bonustracks, which are quite strong actually. Of course a must for ATOMIC ROOSTER fans! More info at: www.angelair.co.uk
(Points: 8.2 out of 10)
IN AEVUM AGERE 'FROM THE DEPTH OF SOUL' (INDEPENDENT)
The Italian band IN AEVUM AGERE (Latin for "To Live For Ever") is formed around Bruno Masulli (Annihilationmancer's vocal/guitarist, Ex - Marshall's vocalist, Power Beyond's vocal/guitarist) and he sent me the debut mini-CD of his band IN AEVUM AGERE titled 'From the depth of soul', which musically is Melodic Doom Metal a la CANDLEMASS, KRUX, SOLITUDE AETERNUS... The level is very high on the 5 tracks included here, with not only excellent instrumental work, but also superb vocalwork of Bruno, who shows to be an incredible musician. The sound of the demo is also huge, thanks to guitarist Marcello D'Anna, who is responsible for sound, recording and editing. It would not surprise if this band will be signed in the coming months, because it is filled with super high quality Melodic Doom Metal that is as good as CANDLEMASS. More info at: http://www.myspace.com/inaevumagere
(Points: 8.2 out of 10)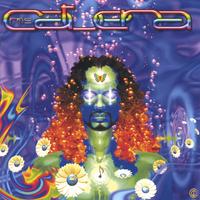 CHRIS CATENA 'DISCOVERY' (ESCAPE MUSIC)
CHRIS CATENA is an Italian singer with almost 20 years of experience and he already released quite a few solo- and project related albums, with a great list of special guests such as Glenn Hughes, Doug Wimbish, Stevie Salas, Bruce Kulick, Tony Franklin, Tommy Aldridge, Eric Singer, Myron Dove, Virgil Donati, Jeff Scott Soto, Vitalij Kuprij and many others. His latest CD is titled 'Discovery', released on ESCAPE MUSIC, it features a lot more guest musicians, such as Bobby Kimball, Earl Slick, Pat Travers, Victor Indrizzo, Martyn Lenoble, Carmine Appice, Uriah Duffy, Tony Franklin, Bruce Kulick, Tommy Denander, Janne Stark, Michael Gapys, etc. etc. Chris seems to be having some very good contacts to get them lined up for his solo-CDs. Musically 'Discovery' takes us a long journey, with in total 18 tracks, musically Melodic Hard/Heavy Rock based that owes a lot to RAINBOW, WHITESNAKE and such classic UK based Hardrock. Chris is a very good DAVID COVERDALE/JORN LANDEish lead singer and it all sounds very strong, although just like the immense GENIUS project, at first sight none of the songs keep sticking in your head, so you have to listen to it a few times more before getting the picture. However, it's quality Melodic Hardrock what we can hear and especially fans of let's say BLUE MURDER and BATON ROUGE might be enjoying this a lot. More info at: http://www.chriscatena.com and http://www.myspace.com/catenaofficial
(Points: 8.3 out of 10)
THE DIVINE BAZE ORCHESTRA 'ONCE WE WERE BORN' (TRANSUBSTANS RECORDS/RECORD HEAVEN)
Back in the 1970s in Sweden there were quite a lot progbands, but also nowadays there are a lot of bands playing this style, with of course THE FLOWER KINGS as leading act for the Swedes, but also BLACK BONZO and WICKED MINDS are good examples. DIVINE BAZE ORCHESTRA is another Swedish band playing 70s prog, with their debut CD being released on Transubstans records. The band is formed around multi-instrumentalist Alexander Frisborg - Vocals, guitars, keyboards, percussion and 'Once we were born' is the debut album, which musically is mixing influences of bands like URIAH HEEP and KING CRIMSON. The heavy organ / mellotron sounds and edgy guitarwork makes it sound quite raw, but of course for a fan of the 1970s prog/hardrock it's this that makes the album a must to check out! More info at: http://www.thedbo.com and http://www.myspace.com/thedivinebazeorchestra
(Points: 8.0 out of 10)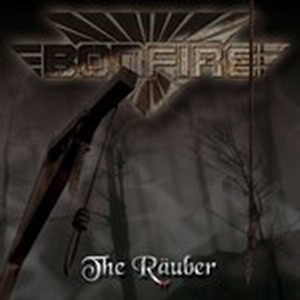 BONFIRE 'THE RAUBER' (NL DISTRIBUTION/GERMUSICA)
Of course BONFIRE will always be remembered for their classic from the 1980s, the album 'Fireworks'. There even was a magazine and a festival named after the record! 'Fireworks' was an instant melodic hardrock classic, which could have been as big as DOKKEN, WHITE LION and STRYPER 20 years ago, but it did not get that big, although worldwide it has gathered a lot of fans. BONFIRE released many more records, some really good too and me personally still thinking BONFIRE was at their best during the pre-FIREWORKS years, with excellent CACUMEN classic albums and also the first BONFIRE album is a classic. Anyway, despite a lot of negative talk about the band being so cliché, BONFIRE always continued and aside from a small mistake release here and there in the late 90s/early 2000s, most of the time it concerned quality releases. Now they have released their 11th (not sure) official album, which is a sort of Rock Opera, something they have never done and to most it will sound surprising. Happily, musically BONFIRE is still all about classic 80s influenced Melodic Hardrock, a little heavier than in the past and maybe I have said it before on earlier comeback albums, but it seems like the band has now made their strongest album in ages, even reaching here and there the legendary 'Fireworks' album. The beginning of the CD is fantastic, with songs like "Bells Of Freedom" (uptempo melodic rock), "Black Night" (big midtempo melodic heavy rocker) and especially the SUPER SENSATIONAL MIDTEMPO MELODIC ROCK CLASSIC "Refugee Of Fate" (AMAZING CATCHY CHORUS, BEST BONFIRE SONG IN 20 YEARS!!!) clearly showing they can still make classic material. The second part of the CD is not that strong, because a song like "The good die young" is like a KISS 'Hot in the shade' leftover, but still believe me that the first bunch of songs on this new album belong to the band's finest material in 20 years, real Melodic Hardrock gems, as good as albums of EDEN'S CURSE, JADED HEART and such. Oh and "Love Don`t Lie" is not the HOUSE OF LORDS/STAN BUSH classic ballad, although BONFIRE's song is also a great melodic rockballad! With the exception of a few ok songs ("Hip hip hurray") and some less stronger material during the second part of the CD, this is a great new BONFIRE CD, which also has a very strong sound/production, so a highly recommended album! Good to see BONFIRE once again releasing a great album! www.bonfire.de
(Points: 8.5 out of 10)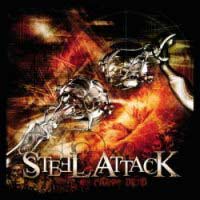 STEEL ATTACK 'CARPE DIEND' (MASSACRE RECORDS)
Swedish Melodic Power Metal band STEEL ATTACK return with a new CD titled 'Carpe diend'. It's the follow-up to 2006's 'Diabolic Symphony' and their 6th album so far. The band started way back in 1997 with high class catchy Melodic Power Metal in typical European style. but after their change of singer in 2003 (Ronny Hemlin), the band and the 2004 album 'Enslaved' took them sadly into a new 'direction', more aggressive and bringing Thrash metal elements. The 2006 release 'Diabolic Symphony' even introduced Progmetal influences, yet these last 2 albums were nowhere near as good as their first couple of releases. During 2007 3 members left the band, Anden Andersson, Tony Elfving and Johan Jalonen. They were replaced by Johan Löfgren (bass), Peter Morén (drums) and Simon Johansson (guitars) and with this new line-up the band recorded their new album 'Carpe DiEnd' during end of 2007/beginning of 2008 and now it has been released. Musically 'Carpe DeInd' is a typical modern day Melodic Metal album that sounds like a mix between PRIEST, MYSTIC PROPHECY, NEVERMORE, ICED EARTH and BRAINSTORM, with heavy Metal riffs of today's standards and high pitched vocals, with as absolute highlight the midtempo ICED EARTHish Melodic Metal Monster "Angels", of which the band also shot a video for with director Owe Lingvall from NOCTURNAL RITES! All in all a nice album, although not as sensational as they once were. More info at: http://www.steelattack.com/ and http://www.myspace.com/steelattack
(Points: 8.1 out of 10)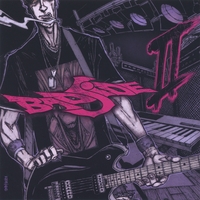 BADSIDE '2' (INDEPENDENT)
Switching to the backside of the 2nd CD of the American band BADSIDE and then noticing the name BEAU HILL, it makes me think how long ago it was I saw that name on a CD. Even the artwork is late 80s/early 90s BEAU HILL (RATT, WARRANT, ALICE COOPER, WINGER, TWISTED SISTER, KIX and many more mostly Atlantic Records related Hair Metal releases of the late 80s/early 90s) ish WARRANT/WINGER type of major label release orientated, so this oughta be good and 80s orientated. Well believe me it is, although Beau only mixed 2 songs, but musically BADSIDE is also on their 2nd CD making 80s inspired Melodic Hardrock with a touch of groovy heavy rock and a Glamrock touch here and there. The band is formed around female singer (GRACE SLICKish vocals)Melissa 'Lissa' Krahnke (vocals, pianos, keys, percussion) and Jason guest musicians Dan Furmanik - drums, backing vocals & bass, Rich Blair - bass & vocals, Jonah Brockman - drums, bass & vocals and Rob Johnson - drums & vocals, although the band is still looking for permanent bassplayers and drummers to go live on stage. The band was Michigan, USA and released their debut CD, simply called BAD SIDE, October 18th, 2005. The new CD, BAD SIDE II was released September 18th, 2007, so has been out for a while now. The band is at their best during the uptempo very strong melodic rockers "Prelude to a Kill" (catchy), "Money Money" (superb guitarwork) and "I'm a Moron". These are quite sensational tracks. A bit weaker ok groovier hardrock orientated are "Soulkiller", "Revenge", "My Body Shakes", "Done Anyway", "14" (bluesier JANIS JOPLIN, ZIA LINDBERG, SASS JORDAN, ALANNAH MYLES), but "Feel Me" and "Filthy Nasty" are great semi-ballads with very strong female vocalwork, raw and all I can say ANOUK eat your heart out, especially during the straight-ahead uptempo ROCK AND ROLL AC/DC riff/HEADPINS style orientated "You're So Hot" and "See Now". Concluded a highly recommended album! More info at: www.myspace.com/badsidemusic and www.badsidemusic.com
(Points: 8.4 out of 10)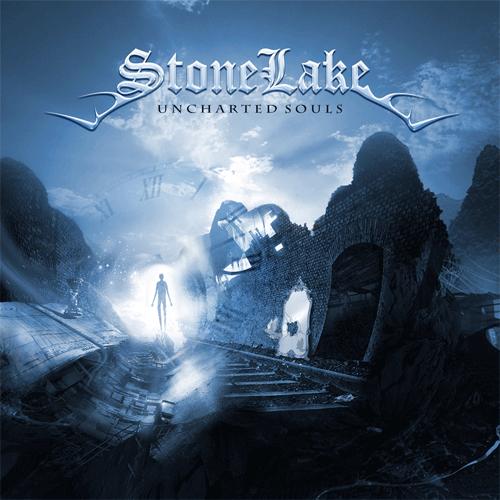 STONELAKE 'UNCHARTED SOULS' (INDEPENDENT)
'Uncharted Souls' is the 4th CD of the Swedish Melodic Metal band to be released on March 30, 2008. Somehow this new independently released album sounds heavier than the earlier releases, although here and there plenty of strong melodies to keep the melodic metal fan pleased. The band's main core line-up consists of 2 veterans who got together in August 1984. Jan played guitar in a band called Ravage and Peter was a singer in a band called Whitelight. They played later together in different bands, but never passed the demo stage, however, with STONELAKE they already have 4 CDs out now, including this upcoming new CD 'Uncharted souls'. The sound is big, somewhat progressive, raw in places, Metalish, sometimes going for that classic melodic approach and in the end sounding like a cross between LEGS DIAMOND meets JAG PANZER/RIOT/LIZZY BORDEN and especially VIRGIN STEELE is a good comparison (especially during 2). The best songs however are "(Tonight) Your´re Beyond The Shadows", "Don´t Leave Me Behind" (both uptempo old TNT/ELEGYish uptempo melodic heavy rocker), "White Flame" , "Saint Or Evil (Bonustrack)" (keys, finally a great 80s type of melodic rocker, best song by far) and "Wonderland (Bonustrack)" (strong Melodic Progmetal). Although towards the end of the CD, the band really gets going, it is a nice album to check out if any of the mentioned bands are up your alley. More info at: http://www.stonelake.se/ and http://www.myspace.com/stonelaketheband
(Points: 8.2 out of 10)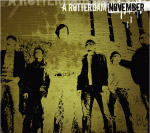 A ROTTERDAM NOVEMBER 'A ROTTERDAM NOVEMBER' (ARN MUSIC)
Now this is really weird, not musically, but lyrically, because first of all this band is called A ROTTERDAM NOVEMBER! Get the picture, who in the USA knows Rotterdam, really, a city in Holland, where I have lived all my life, I was born in Rotterdam, went to school in Rotterdam and now in a live in a suburb not far from Rotterdam, where I go everyday for work and I am about to move back to the city without a heart! Guess what, from out of nowhere, a small town in the USA comes a band called A ROTTERDAM NOVEMBER, making a quality CD filled with songs about Rotterdam, how it was bombed and rebuilt. Although still being that city without a heart for me and many others, the spirit of this band makes it clear that Rotterdam has a new heart and if we have to believe the architects in like 15 years Rotterdam will have indeed a new heart, because there are so many new highrise buildings being built in the near future, Rotterdam will become Europe's New York and the heart of the city will be back, although many people here will not believe the city will ever get it's heart back it had 70 years ago! Incredible a band from the USA is making a full CD around Rotterdam, because even in Rotterdam itself there aren't any rockbands doing this, trust me, so they must surely get some attention here with their debut CD. Musically it is typical American Melodic Emo-Rock like we have heard it before from bands like ACCEPTANCE, LOST PROPHETS, FALL OUT BOY, THREE DAYS GRACE, etc, but nevertheless the songs are catchy and especially lyrically interesting for me as a Rotterdam born. Be sure to check out their sites at: www.arotterdamnovember.com and http://www.myspace.com/arotterdamnovember
(Points: 8.2 out of 10)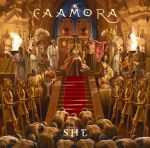 CAAMORA 'SHE' (METAL MIND PRODUCTIONS)
CAAMORA is a new Rock Opera, however not just another one, but a really huge project between CLIVE NOLAN (PENDRAGON, ARENA) and AGNIESZKA SWITA, with a lot of additional musicians. It's also not just a CD they released, but a 2-CD set and for the die-hards also available as 2-CD+DVD or a 2-CD+DVD+2 Live CDs set and for the rich among us, there is a box that includes 2 CDs (studio), 2 Live-CDs and 2 DVDs besides a lot of extra goodies. Anyway, this all means we are dealing with something special and you can indeed rank CAAMORA next to other big Rock Opera like projects, such as AVANTASIA, AYREON, STAR ONE, etc. etc. 'She' is the title of the album, which lyrically is based on the classic novel of the same name by Victorian adventure writer H. Rider Haggard. It took them 2 years to finish it, but the result is quite stunning, as one can also see on the additional bonus DVD, which was recorded on 31st October 2007 at the Wyspianski Theatre, Katowice, Poland. Besides Clive on keys and Agnieszka on vocals, other musicians include Alan Reed (PALLAS/NEO) and Christina Booth (MAGENTA) on vocals, bassist John Jowitt (IQ, NEO), Mark Westwood (NEO) and Martin Bowen on the guitars, Richard West (THRESHOLD) and Steve Williams on the keyboards and Scott Higham (PENDRAGON) on the drums. Musically it is a mixture of progrock, progmetal, melodic rock, sympho, neo-prog, epic metal, hardrock, pop... well each and every style is reflected in CAAMORA's music, although I would not musically place it next to AYREON and such, as the sound is a little lighter and much more song based, so you will not find long instrumental passages here. I think you can best compare CAAMORA to the KAYAK projects 'Nostradameus' and 'Merlin', so most of the songs are filled with emotion and start off quite calm, but develop into bombastic tunes, although must be added that a lot of the songs are calmer and the more rock orientated material can be found on CD 2. Highlights are on CD 1: "The Storm" and "Ambush", while CD 2 has some great uptempo rockers in the shape of "The Eleventh Hour", "Resting Place" and "The Sands of Time", although all the songs need to be seen as one long song divided into 5 scenes. The melodies are very joyable to listen to and like I already mentioned, this is not a pure prog, as it is all much more song based with memorable melodies, really like the Symphonic Rockopera's of KAYAK from the past few years, with some MOSTLY AUTUMN kinda material added. More info at: www.caamora.net
(Points: 8.8 out of 10)
TITANIC 'FULL STEAM AHEAD' (RETROACTIVE RECORDS/ARTIST WORXX)
The American Christian Metalband TITANIC released 2 albums, in 1995 'Maiden voyage' and in 2002 'Screaming in silence', both being claimed underground Metal Classics. The new album 'Full steam ahead' is released on the European market, so will reach more Metalheads and it does sound quite good actually. It is filled with pure 80s US Metal that reminds one of SAVATAGE in their early years, but also SAINT, PAGAN, SWORD comes to mind. ROBERT SWEET of STRYPER guests on 2 bonustracks on the CD. The sound is huge and with songs like "Captain of the ship", "The wind" and "Wisdom", fans of True Epic Underground 80s US Metal have something to check out asap! More info at: www.theseventhpower.com
(Points: 8.3 out of 10)
ULTIMATUM 'INTO THE PIT' (RETROACTIVE RECORDS/ARTIST WORXX)
Not really something to shout about, it's a new album of US Thrash Metalsters ULTIMATUM. The band has a midtempo based Thrash Metal sound, which probably is only interesting for absolute die-hard fans of VENGEANCE RISING, MEGADETH, OVERKILL, etc.
(Points: 6.9 out of 10)
KING'S CALL 'NO ALIBI' (RETROACTIVE RECORDS/ARTIST WORXX)
The guitarist of this project is called ALEX GAROUFALIDIS, who is a very talented musician, played with GRAHAM BONNET, CHUCK WRIGHT and CHERIE CURRIE in the past. His own baby KING'S CALL now has a CD out, which instrumental sounds pretty good, basically filled with Classic Rock guitar riffs like BLACK SABBATH meets CORNERSTONE meets RAINBOW meets THIN LIZZY meets JIMI HENDRIX, yet the problem is the vocalwork, because Alex is not the greatest singer. If he should use a real lead singer, things could work out really well and maybe the future does look bright, because he is a great guitarplayer of the old school kind, but with a better singer it would really work out much better I think, maybe he can get CHERIE CURRIE back and singing like she did when she was in her late 10s/early 20s (remember RUNAWAYS/CHERIE MARIE CURRIE project!). Anyway, the production by the legendary CHRIS TSANGARIDES is very good and you can check out more on this project at: www.artistworxx.de
(Points: 7.7 out of 10)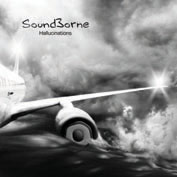 SOUNDBORNE 'HALLUCINATIONS' (REROUTE RECORDS)
Here we have a high class band from Norway. Their CD 'Hallucinations' is filled with superb instrumental Melodic Progressive Metal with incredible guitarwork (and keys) and some amazing melodies. A song like "Unreal" sounds like a superb melodic rocker, where the guitar sings the melody and when that happens it is an interesting instrumental CD, because that is what it is all about, the guitar should sing when there is no singer. This is really a great CD that fits musically between Melodic Rock and Prog Metal, with melodies coming out of the keyboard and guitar. You will always wonder how it will sound with a singer, guess what… the band just hired a singer and so on their next album we can hear a guy called Rick Holmen singing the songs of SOUNDBORNE, but in the meantime check out this huge sounding instrumental record, which was mixed by Daniel Bergstrand (IN FLAMES, SOILWORK, MESHUGGAH). More info at: www.rerouterecords.com and www.soundborne.com
(Points: 8.7 out of 10)
THE UNRIPES 'GUTTER SUPERSTARS' (INDEPENDENT)
Italian Glamrockband with a 7-songs counting CD, which musically goes back to the 1985 LA Glamrocksound of bands like TEAZE, MOTLEY CRUE, LIXX, LIXX ARRAY, SWEET PAIN, CHARON and whatever they were called some 20+ years ago. If you're a fan of this genre, you will love songs like "Darlene" and "Pray for rock'n'roll", although do not expect anything new to the genre. The vocals are not accent-free, although if you are a fan of STEPHEN PEARCY, you will love the RATT type of vocals a lot I think. At some point I thought I was listening to an old compilation LP or album release by the legendary UK label EBONY RECORDS, so if anyone out there knows about those records, which are considered classics nowadays but nobody seems to be touching them and doing actually re-issues on CD, well then check out this RANKELSON type of Italian Glamrock band! More info at: www.myspace.com/theunripes
(Points: 7.8 out of 10)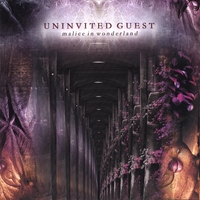 UNINVITED GUEST 'MALICE IN WONDERLAND' (MADDENING MEDIA/ALIVE/ROCK INC)
Out of all the junk, standard and ok releases, suddenly appears a CD out of nowhere from a band called UNINVITED GUEST. This is a UK based band, which is playing real Gothic Rock, mixing the old with the new, taking THE MISSION further than they ever went. The band released their debut in 2005, which caused quite a stir and saw them performing on BBC 2! Now they release a new CD titled 'Malice in wonderland', which is my first exposure to this rather unique sounding band, because basically they mix old UK Gothic Rock with today's European Goth Metal and mix that a bit up with some 80s MARILLION Sympho Rock here and there. The result is quite stunning and surprisingly very melodic and catchy too! This is the perfect mix between 80s MARILLION, THE MISSION, KAMELOT and WITHIN TEMPTATION, quite extraordinary and perhaps appealing to lots of people. With the addition of a BAUHAUS cover, it makes this 13 tracks counting CD recommended to a lot of music fans out there, with of course the Gothic Rockfan being the prime target group. Just listen to the great first 2 songs "Mother nature made a monster" and "Abigail", which are definitely the best songs! Be sure to check out this unique sounding band at: www.uninvitedmusic.com
(Points: 8.4 out of 10)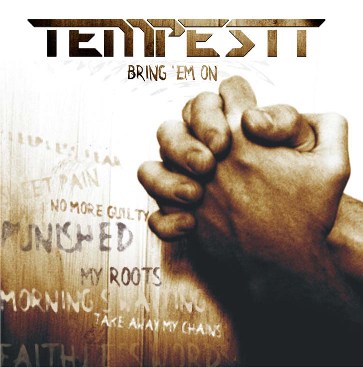 TEMPESTT 'BRING 'EM ON' (METAL HEAVEN/ROUGH TRADE)
Reviewed in early 2007 by us, METAL HEAVEN picked up this band recently and thanks to JEFF SCOTT SOTO they are even preparing an European tour! Brazil is BY FAR the most interesting country musically speaking if we look at the map of the continent of South America. Here we have another HUGE sensation, namely the band TEMPESTT. This Sao Paulo based band released this incredible CD titled 'Bring 'em on' in 2007 and now it has been released on METAL HEAVEN. It contains some excellent Melodic Hardrock, 80s inspired, but with a huge up-to-date sound, kinda like TALISMAN, WHITESNAKE, GOTTHARD and such. The band has an amazing lead singer called BJ, who sounds like a mix between FREDDY CURCI of ALIAS/SHERIFF, the BILOXI singer (who sadly passed away) and the VISION DIVINE singer, so the insiders know this is an excellent singer. Besides, the production of their first CD is HUGE and some of the songs are really terrific hookladen Melodic Hardrocksongs, such as "Enemy in you", "Fallen moon" and "A life's alibi". Although JEFF SCOTT SOTO is singing a duet with BJ on the song "Insanity desire", this Brazilian band does not even need JSS, because they have their own amazing lead singer. TEMPESTT is just like the bunch other Brazilian Melodic Hardrockbands we reviewed in the past (such as the recently reviewed FAIR OFF and WATCHMEN and ASTRA for example, but also bands in the past like CARTOON, MARCO FEREIRA, etc, all resembling the Brazilian melodic rocksound), a fantastic band with a huge sound and HIGHLY RECOMMENDED to fans of TALISMAN, GOTTHARD, HAREM SCAREM… Almost forgot to mention the band has a slight ANGRAish Progmetal influence in the instrumental parts here and there, but mainly this is Melodic Hardrock at it's very best! More info at: www.tempestt.com.br METAL HEAVEN's release adds a few bonustracks, among which is the JOURNEY cover "Don't stop believin", on which they do a pretty good job. Give these guys a chance!
(Points: 8.8 out of 10)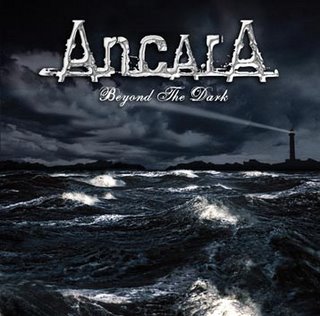 ANCARA 'BEYOND THE DARK' (METAL HEAVEN/ROUGH TRADE)
ANCARA is another band picked up by an European label, METAL HEAVEN, but here's the original review did in 2007. Recorded in the studio of STRATOVARIUS' singer KOTIPELTO, here we have another Finnish band storming the major charts in their homecountry. Their CD 'Beyond the dark' only has 8 tracks (2 songs added and 2 more videos on this European release) and is rather short, but happily what we get to hear is superb high class Melodic heavy Rock/Metal. Heavier than BROTHER FIRETRIBE, WIGWAM and THE POODLES, although the big choruses and hooks are clearly reminding of those bands, however the big heavy groovy guitarsound is more reminding of TALISMAN meets HAMMERFALL. One way or the other, ANCARA is a fantastic new band with excellent songs like "Deny", "Scarred", "When everyone else is gone" and "Circles" on their 2nd CD (believe they released an album prior to this release). Best comparison is definitely LEVERAGE, exactly the same style, heavy and a sound of today, yet with classic elements, especially during the catchy choruses of mentioned songs. More info at: http://www.myspace.com/ancara and http://www.ancarasite.com/ Be sure to that, as ANCARA is yet another sensational new band from Finland!
(Points: 8.7 out of 10)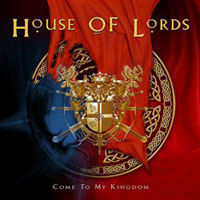 HOUSE OF LORDS 'COME TO MY KINGDOM' (FRONTIERS RECORDS/ROUGH TRADE)
It seems like FRONTIERS has also done some changes in their promotion campaigns for their releases, because they are the next label to cut promo's and also radically change the way to promote soon-to-be released material. Their March releases undergo the change, with promo's being voiced-over multiple times, making it much harder to really make up a good mind about the release, because several times (even during choruses) the voice over takes over and well you miss the whole feeling of a song and just can not get a good view on a certain release. However, the label is mostly keen on releasing high quality releases and HOUSE OF LORDS seems to deliver with their new CD 'Come To My Kingdom' a very strong uptempo Melodic Hardrock release. It will be released on March 14th 2008 and I am sure it will become one of the better releases in the genre in 2008. The sound on the new HOUSE OF LORDS album is a little edgier than the previous record 'World Upside Down' and comes dangerously close in style to HAREM SCAREM's 'Mood swings' classic. The guitars are upfront, James' vocals are superb and the hooks and choruses are killer melodic, memorable and inviting you to sing-a-long. Especially "Come To My Kingdom", "I Need To Fly" and "The dream" are very catchy tunes, but all of the songs follow the same path, a punchy uptempo driving Melodic Hardrocksound mixing the best of early HAREM SCAREM, TALISMAN, GOTTHARD and of course HOUSE OF LORDS themselves. A must for the fans of Mr. James Christian! More info at: www.jameschristianmusic.com
(Points: 8.8 out of 10)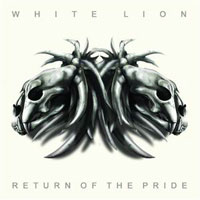 WHITE LION 'RETURN OF THE PRIDE' (FRONTIERS RECORDS/ROUGH TRADE)
'Return of The Pride' is the so-called 'comeback' album of WHITE LION, but is basically a new MIKE TRAMP solo record, with a sound that mixes the old WHITE LION with the 90s MIKE TRAMP solo-material. Although it sounds like the best and most Melodic Rock orientated material Mike has done since the ending of WHITE LION, 'Return of the pride' is not really sounding like the WHITE LION classics. Don't get me wrong here, because the 4 WHITE LION albums belong to some of the best Melodic Rock albums of the 80s/early 90s. However, this new 'WHITE LION' album is just a nice standard Melodic Rockalbum, with Mike trying to do something he did much better with the real WHITE LION bandmembers 20 years ago. The guy aged well, still sings in his own sorta depressive kinda way, which is easily recognizable, but only delivers here some ok material, with here and there a highlight in the shape of for example the "BROKEN HEART" type of melodic rocker "Set Me Free". In case you're a MIKE TRAMP fan, you will love this, but if you really want something close to classic WHITE LION be prepared, as this is not a classic I am afraid...
(Points: 8.0 out of 10)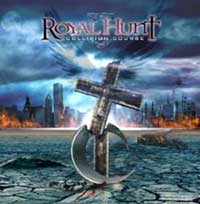 ROYAL HUNT 'COLLISION COURSE PARADOX II' (FRONTIERS RECORDS/ROUGH TRADE)
Legendary Symphonic Melodic Metal Masters ROYAL HUNT return with a new album. The band has so far released 8 studio albums, 3 live albums/DVD´s and a few special releases (EP´s, compilations etc.) with a total combined sales over 1,5 million copies, so I guess you can say that these guys are huge, especially in Japan they are considered GODS!. The new album is a sequel to their 1997 album 'Paradox', which is one of their finest releases. The sequel ('Collision Course… Paradox II') takes off from the idea and atmosphere of its predecessor, also musically, so very strong catchy big sounding Symphonic Melodic Epic Pomp Metal with some really amazing songs here and there. The CD is bringing several guests, such as Doogie White (Rainbow, Y. Malmsteen), Ian Parry (Elegy, Consortium Project), Kenny Lubcke (Jokers Wild, Narita), Henrik Brockmann (ex-Royal Hunt, Evil Masquerade) among others. However, the biggest change is the introduction of their new lead singer MARK BOALS (ex-MALMSTEEN, RING OF FIRE), who has a really great voice of course and it seems like the band can once again adopt a new singer, because if I am correct it's their 4th lead singer and happily again a great singer. Especially the beginning is very sensational, with the songs "The first rock and "Exit wound", both superb Epic Sympho Melodic Metal Masterpieces. Although the rest of the CD is not as strong as the start, for a fan of the band, this new CD release may be seen as their finest since the turn of the decade! More info at: www.royalhunt.com and www.myspace.com/royalhuntmusic
(Points: 8.5 out of 10)
POWERWORLD 'POWERWORLD' (METAL HEAVEN/ROUGH TRADE)
POWERWORLD is a new band formed around former FREEDOM CALL and MOON'DOC bassist Ilker Ersin, German singer Steffen Brunner, Nils Neumann (ex FREEDOM CALL), Barish Kepic (ex JADED HEART, guitars) and Jürgen Lucas (AT VANCE, drums). Their self titled debut album will be released on March 28th, 2008 and to some it might sound very standard, but it is of a very high level. The CD is filled with very strong Melodic Hardrock with a dash of Power Metal, mostly uptempo, hookladen and filled with catchy choruses (and strong vocalwork), sorta mixing THE POODLES with NOCTURNAL RITES, although DREAMLAND comes up a lot of times when listening to POWERWORLD. Most of the songs are very good, with as highlights "Creatures" (typical European uptempo Melodic Power Metal), "Lake Of Eternity" (everybody sing-a-long if THE POODLES were doing a HELLOWEEN cover!), "I reach the light", "Our melody" (midtempo with a chorus that the Swedish THE POODLES would love to have done!) and "Don't Walk On Broken Glass". The band's CUTTING CREW cover "I Died In Your Arms" is done quite well, although after last year's version of NORTHERN KINGS less interesting. Without a doubt, here we have a winner for the fans of catchy Melodic Hardrock meets European Power Metal mixing the best of JADED HEART, THE POODLES, DREAMLAND, THE DOGMA, NOCTURNAL RITES, EDGUY, HAMMERFALL, NOSTRADAMEUS, BLOODBOUND... More info at: www.powerworld.org
(Points: 8.6 out of 10)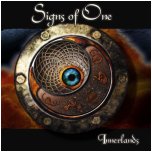 SIGNS OF ONE 'INNERLANDS' (UNICORN DIGITAL)
SIGNS OF ONE is a Quebec City/Canada based band formed way back in 1997, now releasing it's 2nd album, although this 'Innerlands' being their first CD on the UNICORN DIGITAL label. Musically we are pleased with superb high quality Melodic Progressive Rock that sometimes sounds a bit like ENCHANT, KANSAS, especially during the lovely "Wise man", although the band also clearly has some references to a band like ACT, so sometimes a little experimental and Artrockish. 14 songs are included on the CD and from start to finish it is a pleasure to listen to this excellent band. The band has a wonderful lead singer called DAVID SCHRAM, who lifts up the band to a sensational level. "Legend lives" is an amazing song, which has a killer chorus that belts out some superb melodies (ULTRAVOX meets SAGA). Although SAGA will always be seen as the leading Progband of Canada, I think this SIGNS OF ONE definitely deserves a chance with their fantastic CD 'Innerlands'. More info at: www.signsofone.com and www.myspace.com/signsofone
(Points: 8.6 out of 10)
LITTLE KING 'LEGACY OF FOOLS' (UNICORN DIGITAL)
'Legacy' is the new album of El Paso, Texas, USA based band LITTLE KING, a progressive rockband formed some 11 years ago. The progrock of LITTLE KING is a bit RUSHish, also very 1980s orientated, without sounding dated, because it has a sort of underground 80s Art Progrock approach. "Legacy of fools' is their 4th CD by the way and fans of the more guitar orientated uptempo progrock will love the album, The band has created a sort of own style, prog, but more rock orientated, very RUSH like, but different, well, it's hard to describe I guess! It is also sounding a bit dark and well the RUSH fans will love it, so check it out for yourself, more info at: www.littlekingmusic.com
(Points: 8.0 out of 10)
HULDA 'ALWAYS HAUNTED' (INDEPENDENT)
Although the band is said to sound like LACUNA COIL, EVANESCENCE and such, the band is not really Gothic, because HULDA is focused on mostly uptempo modern sounding Melodic Rock and maybe a band like FLYLEAF is a better comparison, as they are basically a real uptempo Rock and Rollband. HULDA is a female fronted band from New York/USA with 2 Australian members, including singer LYDIA. The band has a keyboard in their line-up and although that gave me hope for a more 80s rock direction, that has not happened, because HULDA's CD 'Always haunted' is a real modern day Rock album, however, it sounds pretty good and also melodic enough to keep anyone interested. 10 songs are included and the best one is definitely "Always haunted", the titletrack, which is a catchy uptempo Rocker. More info on HULDA at: www.myspace.com/hulda and e-mail at: Huldaalwayshaunted@hotmail.com
(Points: 8.0 out of 10)
DEZPERADOZ 'AN EYE FOR AN EYE' (AFM RECORDS/ROCK INC)
This German band has already released 2 albums, making this 'An eye for an eye' record their 3rd and it has been produced by DENNIS WARD of PC'69 fame. Musically we are listening to a sort of Melodic Hard Rock and Roll album, yet not of the PC'69/GOTTHARD style, because DEZPERADOZ are vocally more closer to THE CULT and HIM, so a sort of Gothic Rock and Roll approach can be heard here, a bit raw, but always energetic and sometimes catchy too. Dark Melodic Hardrock and Roll is the name of the game and it has been done very well by the band. DEZPERADOZ is formed around Alex "The Marshall" Kraft, who is composer/songwriter/producer and the vocalist/guitarist, so the leader here. All together the band reminds me a lot of THE 69 EYES, so if you're into that band you will love this new record of DEZPERADOZ, which is quite a good record, real ROCK AND ROLL, play it LOUD!
(Points: 8.2 out of 10)
JON OLIVIA'S PAIN 'GLOBAL WARNING' (AFM RECORDS/ROCK INC)
Ex-SAVATAGE singer JON OLIVA returns with another new CD, after he had released an album in 2007. Musically nothing has changed and I am afraid also this album will not be consider a classic in the SAVATAGE tradition. The beginning of the CD is not really interesting and it's during the ALICE COOPERish epic Opera like semi-ballads, when we are getting some good material, but after listening a couple of times I still personally feel it is not really a strong album and will only be interesting to die-hard fans of Jon. I am much more looking forward to a new album of CIRCLE 2 CIRCLE, which is an amazing project of another ex-SAVATAGE member!
(Points: 7.6 out of 10)
ORDEN ORGAN 'VALE' (YONAH RECORDS)
From out of nowhere comes the band ORDEN ORGAN, with an amazing full-length debut CD, which can easily be put next to all the sensational Scandinavian Melodic Metal releases of bands like THUNDERSTONE, NOCTURNAL RITES, STURM UND DRANG, DREAMLAND, BLOODBOUND, DREAM EVIL…The band has a fantastic lead singer and their songs are actually quite diverse, because with songs like "Farewell" and "This is", they deliver superb Melodic Rock that even reminds me of SHY and also of what ARI KOIVUNEN, POWER QUEST and SUPREME MAJESTY have done on their CDs. However, the band is also delivering a lot of times pure European Melodic Power Metal, fast and filled with BLIND GUARDIAN choruses, such as the superstrong opener "To new shores of sadness", although do not expect from start to finish an uptempo Metal bash, because that is definitely not the case here and for me that is for the better, because it makes this album one of the most diverse records I have heard in a long time. Basically, the band takes a bit of every Rock and Metal genre, combining the Melodic Rock of MAGNUM/TEN with the Power Metal a la BLIND GUARDIAN and Neo-Prog of the PENDRAGON kind, adding an own kind of touch and a lot of harmonyvocals. Another highlight is the lovely and super melodic epic metal song "Something pretending" and also the calmer acoustic tingled ballad "…and if you do right" with it's beautiful harmonyvocals and memorable chorus even making it interesting for the Non-Metal fans, as this songs sounds like a Neo-Progband, sorta like THRESHOLD and JETHRO TULL and then I also should mention the great epic "What I'm recalling". Without a doubt, this release is a must-hear and it would not surprise me at all if one of the major Metal labels is knocking on their door in the next few months, because this band might become as big as ICED EARTH and BLIND GUARDIAN in the near future if all goes well. Check them out at: www.ordenogan.de
(Points: 8.8 out of 10)
WINTER'S VERGE 'ETERNAL DAMNATION' (LIMB MUSIC)
Cyprus is not really known for it's music history and I only remember 2 or 3 bands from there, but here we have a new band called WINTER'S VERGE, which should finally put Cyprus on the map for bringing at least 1 sensational band, because their 2nd CD 'Eternal damnation' is basically a very strong Melodic Metal release. Of course they left the exotic Island and headed to Germany where they recorded their debut CD with MYSTIC PROPHECY lead singer R.D. LIAPAKIS. The result is a very impressive Melodic Metal record, traditional sounding, typical European and recommended to the fans of SEVENTH AVENUE (A lot!), HAMMERFALL, MAIDEN, DOMINE, FIREWIND, MYSTIC PROPHECY and such. Songs like "My winter sun" (FANTASTIC!), "Get me out" (catchy fast Power Metal), "Goodbye" (pure SEVENTH AVENUE) and "A secret once forgotten" show that this band has really huge potential and I can only say that LIMB MUSIC did a great job in discovering this sensational band from Cyprus! More info at: www.wintersverge.com
(Points: 8.5 out of 10)
SPLINTER 'DREAMERS' (STICHTING SPLINTER/INDEPENDENT)
From out of nowhere comes the band SPLINTER, a new Dutch Neo-Progband, which delivers with their debut CD 'Dreamers' a very impressive record that can easily match with UK bands like JADIS, IQ, PALLAS, PENDRAGON and such, but is also not that far away from KAYAK and FOR ABSENT FRIENDS actually. The music is really beautiful actually, really taking you from start to finish into a SPLINTER 'Dream'. The CD has a huge sound, looks very professional, along with a DVD, partly thanks to JONAS REINGOLD of THE FLOWER KINGS, who did not only produce the CD, but also co-wrote some songs and did arrangements. Basically a winner for any Progfan out there, also if you like SATELLITE, RIVERSIDE and such, so this is Prog at it's best, very relaxing and with songs like "Bio engine", "Anthony's songs" (fantastic, pure KAYAK!) and the 15 minutes counting epic "Reflections", this band delivers something very impressive without any doubts. Must to check out for the progfans! More info at: www.splinteronline.com
(Points: 8.6 out of 10)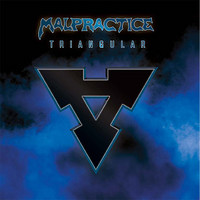 MALPRACTICE 'TRIANGULAR' (SPINEFARM RECORDS)
The Finnish band MALPRACTICE was formed way back in 1994, but after releasing their debut CD 'Of shape and balance in 1998, it took them until 2005 before they would release a follow-up. However that record 'Deviation from the flow' on SPINEFARM RECORDS saw them clearly moving into a sensational Melodic Progressive Metal style, comparable to VANISHING POINT, ANDROMEDA, PAGAN'S MIND, MIND'S EYE, VANDENPLAS, THRESHOLD, ARTENSION, etc. etc. The new CD 'Traiangular' is even better, really sounding quite sensational, with mostly uptempo tunes that are filled with huge choruses and fantastic vocalwork, kinda passing by the prog and more aiming at uptempo Melodic Metal with AOR choruses, with here and there a progbreak, kinda close to SYMPHONY X and QUEENSRYCHE, yet with own kinda sound, especially thanks to their excellent melodic clean lead singer ALEKSI PARVLAINEN. Songs like "Maze of inequity", "Symmetry", "Deadline" and "Platform" are quite amazing and very impressive, while the band also leaves space open for an calmer ballad like "Waves" and an instrumental "Triangular", but the highlight is the lovely closing epic "Fragments", with some haunting melodies, reaching SYMPHONY X at their best! Concluded, MALPRACTICE deliver a monstrous record with 'Triangular'. Must-have for fans of mentioned bands! More info at: www.malpracticeband.com
(Points: 8.5 out of 10)
THE TREAT 'PHONOGRAPHY' (ROCKULAR RECORDINGS)
THE TREAT from the UK are all about Classic Rock, with their debut CD sounding very close to bands like UFO, URIAH HEEP, THIN LIZZY, DEEP PURPLE in the 1970s. 'In Technicolor' was the band's debut album, released in 2004 and it seems like now is the right time to release a follow-up, which musically should also interest fans of bands like FOO FIGHTERS, THE DARKNESS, QUEENS OF THE STONE AGE, THE ANSWER, WOLFMOTHER, because THE TREAT has a sound not far removed from such popular bands. 11 tracks are included and most of them are pure uptempo 70s Hardrocksongs, with here and there an exception ("The deathday parties"), but overall sounding quite close to the URIAH HEEP of the 1970s, with some DEEP PURPLEish influences and also TRAPEZE, MOTT THE HOOPLE and WILD HORSES and such typical 70s British Rock comes to mind when listening to THE TREAT. With a catchy tune like "Reaming" the band has a hit on their hands! Definitely a great band to check out, highly recommended to fans of Classic 70s British Rock/Hardrock. More info at: www.thetreat.co.uk and e-mail at: michaelh@pepperlions.demon.co.uk
(Points: 8.0 out of 10)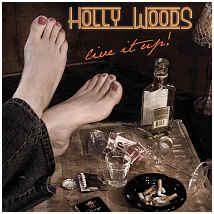 HOLLY WOODS 'LIVE IT UP!' (CYCLONE RECORDS)
In the early 1980s one of the leading female fronted rockbands in Canada was TORONTO. The band recorded 5 albums, of which several were re-issued onto CD more than 10 years by the long defunct German label LONG ISLAND RECORDS, with us being the lucky people to receive the CDs for review when we started our magazine in the mid 1990s. Now we are about 14 years later and finally something out of the cellar of the band has been released on CD. It concerns here their unreleased 1985 album, which was actually recorded as a solo-record for singer HOLLY WOODS. The band's earlier records can almost be considered classics, but the later TORONTO albums saw a more Pop/Poprock approach, same as PAT BENATAR did during the 1980s. However, this new CD release contains unreleased 1985 recorded material, which definitely rocks out in the style of the band's earlier records. 8 tracks are included here and with songs "Only for the moment", "Until we change" and "Hold on" we have some nice DARBY MILLS/ROBIN BECKish Melodic Rock of the late 80s style. Maybe not as good as their first few albums, this is definitely worth checking out. More info at: www.myspace.com/hollywoodstoronto
(Points: 8.0 out of 10)
VARIOUS ARTISTS 'THE GREATEST UNDERGROUND SHOW ON EARTH: CALGARY METAL COLLECTION 2006' (CYCLONE RECORDS)
The 1980s saw Canada become one of the leading countries for great new Rock material, just like we now see with Finland, but sadly in the 1990s Canada had absolutely zero interesting material to offer, with the exception of RUSH, HAREM SCAREM and a few others. This compilation CD brings us the current situation in Calgary, with 14 acts making their way, each with 1 song included. Musically it is very diverse, although a lot of the acts seem to settle in a Black/Extreme/Grind/Death Metal kinda style, so we will not discuss them. Interesting acts are the Thrashy Power Metal band OCCAMS RAZOR, the female fronted Gothic Metalband BLACK SKY and the SAVATAGEish sounding band ROB SPENCER BAND. Find elsewhere some reviews of regular CYCLONE RECORDS releases. More info at: www.cyclonerecords.ca
(Points: -)
FAMILY 'BEST OF FAMILY AND FRIENDS' (ANGEL AIR RECORDS)
In the late 1960s/early 1970s the UK band FAMILY scored a string of hitsingles, with this new CD being a nice overview including all their hits on the CD, while perhaps for die-hard fans the DVD is a nice surprise as it contains a full concert recorded in 2002 by FAMILY leader ROGER CHAPMAN at the Newcastle Opera House. Musically this sounds quite dated and more nostalgic to some then really interesting for most of the other readers here. FAMILY did not play your typical 70s rock, but were very experimental, combining a sort of MONTHY PYTHON humor with Psychedelic ArtRock, a sound of their own, but only recommended to absolute open-minded Music/Theatrical related fans. Think of FRANK ZAPPA being fronted by the NAZARETH singer! More info at: www.angelair.co.uk
(Points: 7.1 out of 10)
DAVEY PATTISON 'MISSISSIPPI NIGHTS/PICTURES' (ANGEL AIR RECORDS)
Scottish lead singer DAVEY PATTISON is perhaps better known as being a frontman for GAMMA, RONNIE MONTROSE, ROBIN TROWER and MICHAEL SCHENKER than being a solo artist. However, in the past he recorded 2 solo albums, which known have been put together on a double-CD by ANGEL AIR RECORDS. The music is laid-back and very bluesy, kinda breathing out a sort of 70s style. Davey is about to tour the world with ROBIN TROWER and some of his finest work was definitely with GAMMA in the late 70s/early 80s when he recorded 3 strong AXE type of Rockalbums (which till this day are still not re-issued properly on CD!), however this 2-CD set shows the man in a laid-back bluesy mood, although need to add here that 'Pictures' from 2003 is rockier than the very soft 'Mississippi nights' from 1999. More info at: www.angelair.co.uk
(Points: 7.6 out of 10)
BLACK SKY 'ILLUMINATION' (CYCLONE RECORDS)
BLACK SKY is the kinda band you would see performing live somewhere in The Netherlands, because over here we have hundreds of these sort of female fronted Gothic Metalbands and trust me, I have seen a lot of similar bands not far from my home. However, this BLACK SKY is coming out of Canada and released their debut a few years ago, currently working on a follow-up. That said, musically they are sounding like our typical Female Fronted Gothic Metalband from The Netherlands, with some Death growls here and there. It's a pity, the production is not that good, with the female vocals being overshadowed by the guitar and the keys also not taking a prominent role, but being put to the back as well. Nevertheless, it is a nice first record, although AFTER FOREVER, KINGFISHER SKY, THE GATHERING, THE DREAMSIDE, LA VENTURA, DELAIN, EPICA etc. etc. quality is not possible yet for this band. More info at: www.blacksky.ca
(Points: 8.0 out of 10)
TWELVE 34 'THE ONLY CURE' (CYCLONE RECORDS)
TWELVE 34 is a Canadian Rockband with a pure 1970s type of JIMI HENDRIX groovy Hardrocksound, also reminding me a lot of THUNDER (UK). 11 songs are included and with some nice artwork it indeed looks like an album from the past, but TWELVE 34 is really a new band with a rather interesting cool Rock and Roll record, which also reminds me a bit of the long gone days of bands like MONTROSE, GAMMA and MOXY, especially on the catchy uptempo "I'll die trying" and "Left me so cold". Definitely a band to check out if you want to hear some good clean original Rock and Roll! More info at: www.twelve34.ca
(Points: 8.2 out of 10)
VOODOO SIX 'FAITH CD-SINGLE' (PROMO)
So we had THE ANSWER, so we had WOLFMOTHER and so we had many of these kind of groovy 70s British Hardrock inspired new bands coming our way and being signed on major labels, well here we have another! They are called VOODOO SIX, come out of the UK and play a monstrous big guitar riff orientated groovy Hardrockstyle, which should please any Rockfan out there. It sounds fresh and retro at the same time and although we had this revival sound some 15 years ago too in the UK with bands like THUNDER, GUN and such, the bands at the present day somehow sound stronger and I think VOODOO SIX might this year become one of the surprises. They have a 3-track CD-single out, which sounds very strong, also thanks to the help of legendary producer MIKE FRASER (AC/DC, AEROSMITH, THUNDER, METALLICA, etc), but are currently working on a full-length CD, so more to follow soon! Check out these rockers asap at: www.voodoosix.com
(Points: 8.4 out of 10)
KICKHUNTER 'LITTLE MONSTERS' (ROCKPHONE RECORDS)
With members of MASTERPLAN, HELLOWEEN, GRAVE DIGGER and PINK CREAM 69 working on an album, one would expect it to be a sensational Melodic Metal record! Well, KICKHUNTER is completely different, because this project-band is playing a style, which is also very popular in Germany, namely Southern Hardrock! It is a little heavier in places, but in general we have here something that is similar to MOLLY HATCHET and quite good for what it is for sure, although with people like DENNIS WARD, JENS BECKER, JAN S. ECKERT and MARKUS GROSSKOPF, all veterans of the Germany Melodic Hardrock/Metal scene, I think it all could have been better, but anyway it is a Southern Hardrockalbum and for that genre this might sound like a very impressive record. More info at: www.kickhunter.com
(Points: 8.0 out of 10)

CHALICE 'BARE/SHOTGUN ALLEY+BONUS BEST OF CD' (ROCKPHONE RECORDS)
I remember it well, the mid 1990s when we started our magazine and especially from Germany we received many albums of pure Melodic Rockbands, among which were acts like MASON, FAIR WARNING, FRONTLINE, JADED HEART, ANGEL HEART, VIRGINIA VALUE, CRIME, BONFIRE, ROKO, TRANSIT, MALLET, MAXINE, STEEL DAWN and many more. It was like every week checking the mailbox to see which new German band had released a Melodic Rockalbum, which most of the time sounded pretty good too, so we were really doing a lot of promotion for German melodic rockbands and one of them was CHALICE! Now we are a 13 years later and the band is still going strong, with a new DENNIS WARD produced CD in the shape of 'Bare', which is bringing the band into moodier ways, as this is an acoustic album, very laid-back sounding and featuring some of the band's best songs in an acoustic way and sometimes actually quite experimental with some other influences (World Music and Pop). Hereby I would also like to make a mention of their 2005 album 'Shotgun alley', which had no review of us back then, but was definitely worth checking out as it is a great Melodic Hardrockalbum a la JADED HEART and the album is also available as 2-CD set (with a great best of record) through: www.rockphone-records.com
(Points: 8.2 out of 10)
SISTER 'AIN'T GOING HOME' (DEMO CDR)
I remember a band called SISTER from the early 80s, settled in LA and playing Glamrock, later to become well-known as WASP. Anyway, now there's a band called SISTER coming out of Sweden and also playing a Glamrockstyle in the best early-mid 1980s LA style of bands like MOTLEY CRUE, PRETTY BOY FLOYD… 3 tracks are on their demo, 2 uptempo sing-a-long rockers, "Ain't going home" and "Faster", as well as a ballad titled "Broken dreams". The boys look and sound exactly like the 80s LA sound and I guess if bands like BRITNY FOX, MOTLEY CRUE, TEAZE, PRETTY BOY FLOYD, LIXX are up your alley, then you're gonna love this band. More info at: www.sisteronline.net and e-mail at: info@sisteronline.net
(Points: 8.0 out of 10)
ALLIANCE 'ROAD TO HEAVEN' (ESCAPE MUSIC)
In the mid 1990s the UK supergroup ALLIANCE released 2 albums filled with AORish Melodic Poprock, but then it became very quiet around this project until a few months ago when the 2 particular albums were released as a 2-CD set digipack style with bonustracks and completely remastered, sounding very good actually. This paved the way for the members of the band (vocalist Robert Berry (GTR, solo, HUSH…), Gary Pihl (BOSTON, SAMMY HAGAR), David Lauser (SAMMY HAGAR) and Alan "Fitz" Fitzgerald (NIGHT RANGER)) to start working on a 3rd CD, which is now finished and titled 'Road to heaven'. Musically nothing has changed and it's still a sort of own sound the band is bringing that mixes melodic rock and aor, yet without a direct catchy approach, sorta like MARK SPIRO and HEARTLAND, with of course the unmistakable voice of ROBERT BERRY. Funnily enough we can find the best tracks towards the end of the CD, with the awesome uptempo pieces "Walkin' away" and "Much more innocent", both classifiable as pure AOR. The rest of the CD is more modest and sort of melancholic melodic poprock orientated, also reminding me of the recent RIK EMMETT project and ZEBRA. Without a doubt a quality record, but not as direct and catchy as the regular AOR releases, as ALLIANCE lets you dig deeper and definitely needs a few more listens before making up a good judgment, a real grower and highly recommended to fans of HEARTLAND!
(Points: 8.3 out of 10)
(All reviews by Gabor Kleinbloesem)